Tilapia, Potatoes and Leeks
It is cookbook review day today with a Tilapia, Potatoes and Leeks recipe that is not only lightened up for the New Year but also perfect for Valentine's Day. The original recipe was for Red Snapper but I am sure the author would agree with me, to use what you have at the ready and what is fresh. I did look high and low for red snapper but fell short. The tilapia in this recipe though was wondeful. This is a sexy one pan dish that would be a perfect sharing dish for Valentine's Day, that won't burst the buckle either.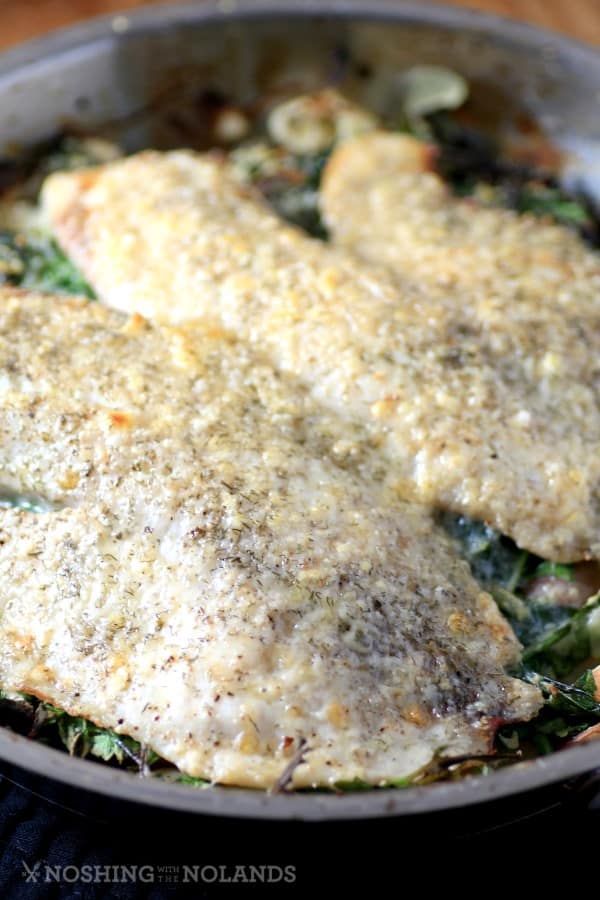 The cookbook that we are reviewing today is Delicious One-Pot Dishes by Linda Gassenheimer. It is recognized by the American Diabetes Association and has quick, healthy, Diabetes-Friendly recipes, that everyone will love.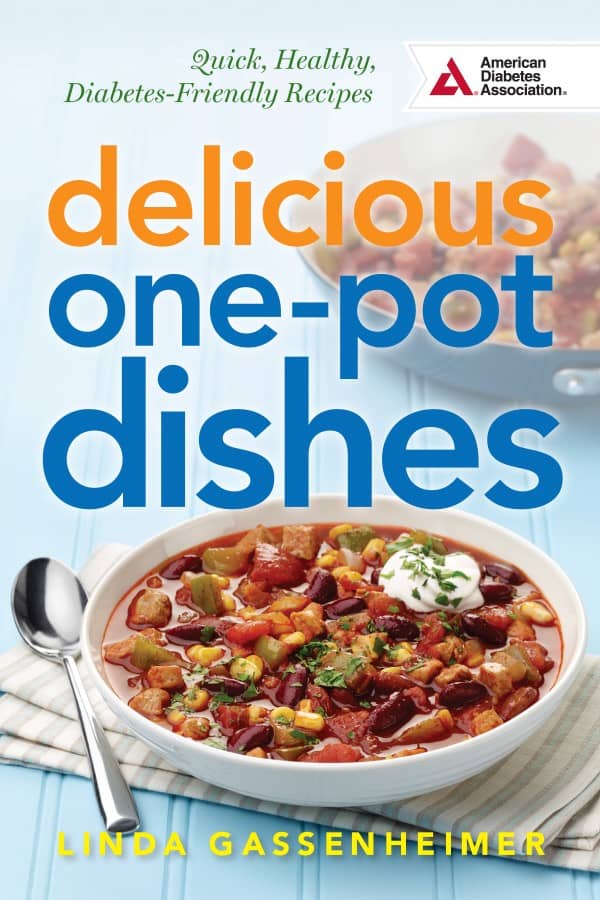 I adore making one-pot meals, there is little mess or clean up! The cookbook shows you meals in a skillet, Dutch oven, or casserole, all one-pot and all healthy and delicious. Recipes like Cioppino (one of our favorites), Buffalo Sloppy Joes, Pork Fried Rice, Chicken Gumbo, Shrimp Jambalaya and Goulash with Caraway Noodles. Don't those sound amazing?
There are no pictures but 60 quick and easy recipes from secitons like Beef, Lamb, Pork, Poulty, Seafood, Veal and Vegetarian. Something for everyone to love! The book also includes sections on shopping smart and stocking your pantry, making it an ideal go-to for anyone looking for quick prep, low-cost and healthy results.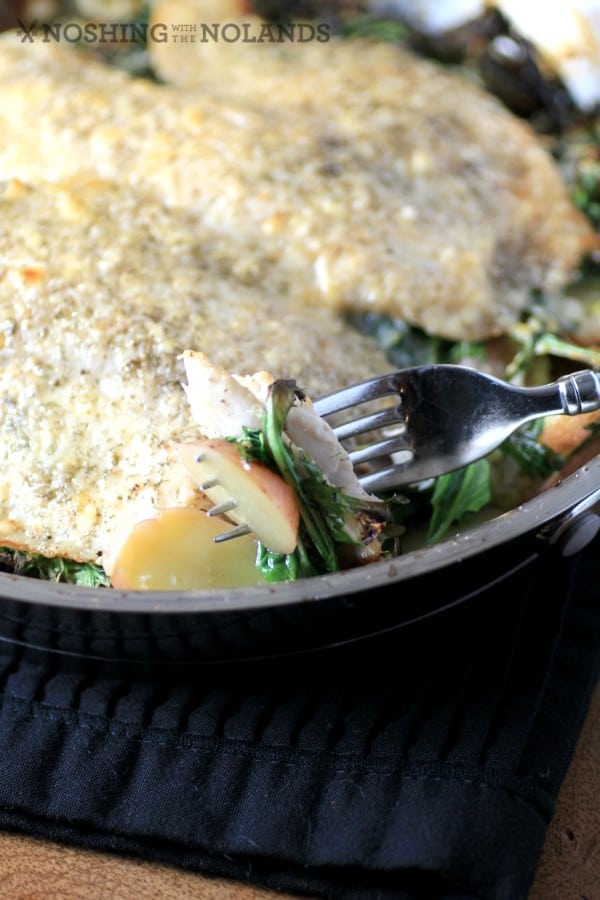 This dish was so flavorful with garlic, leeks, dill, parmesan and the arugula added to the wonderfully fresh tilapia and potatoes. The cookbook will be a go to for big flavor without the hassle of cleaning. It can be a staple in your kitchen too!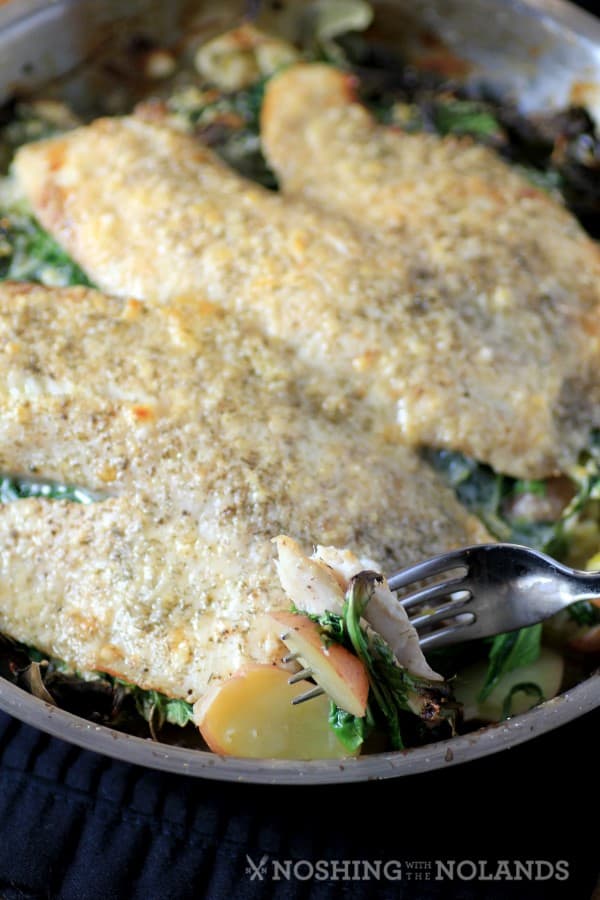 The author, Linda Gassenheimer is a TV and radio personality, syndicated journalist, best-selling author, spokesperson and food consultant. Linda has many credits to her portfolio making this cookbook a must try. Delicious One-Pot Dishes is available at ShopDiabetes.org or in bookstores nationwide.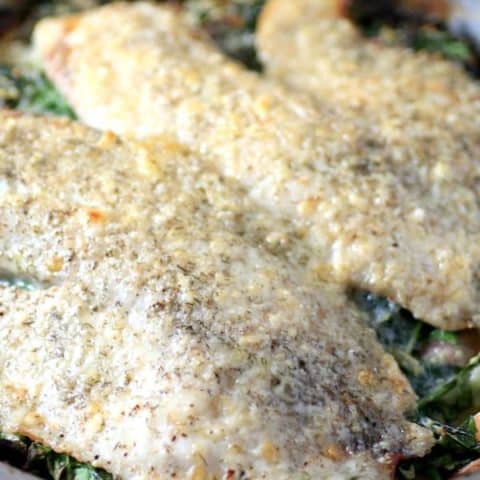 Tilapia, Potatoes and Leeks
Yield: 2
Prep Time: 10 minutes
Cook Time: 25 minutes
Total Time: 35 minutes
Serve this one-pot meal straight from the pan. For this recipe, you can use a heavy-bottomed casserole that can go from stovetop to oven. Failing that, use a medium-size skillet that has an ovenproof handle.
Ingredients
1 pound red potatoes
1 cup fat-free, low-sodium chicken broth
1 cup sliced leeks
2 teaspoons minced garlic
2 cups arugula, washed
3/4 pound red snapper fillets
1 tablespoon olive oil
1/8 teaspoon salt
1/4 teaspoon freshly ground black pepper
1/4 cup grated parmesan cheese
1/4 cup snipped fresh dill
Instructions
Preheat oven to 400°F.
Wash potatoes, do not peel, and thinly slice (about 1/4 inch thick). Place in stove-to-oven casserole with broth, leeks, and garlic. Bring to a simmer and cook 10 minutes. Potatoes will be cooked and most of the liquid evaporated.
When potatoes are cooked, place arugula over the potatoes. Place the fish fillets on top of the arugula. Drizzle with olive oil. Bake in preheated oven 15 minutes.
Sprinkle with salt and pepper, parmesan cheese, and dill. Serve from the pan onto 2 dinner plates.
Choices/Exchanges: 2 starch, 2 vegetable, 5 1/2 lean protein, 1/2 fat Per serving: Calories 480, Calories from Fat 120, Total Fat 13 g, Saturated Fat 3.3 g, Monounsaturated Fat 6.2 g, Trans Fat 0.0 g, Cholesterol 70 mg, Sodium 540 mg, Potassium 2085 mg, Total Carbohydrate 46 g, Dietary Fiber 5 g, Sugars 5 g, Protein 47 g, Phosphorus 650 mg
Shopping List:
pound red potatoes
leek
package arugula
/4 pound red snapper fillet
piece parmesan cheese
bunch fresh dill
Staples:
Fat-free, low-sodium chicken broth
Minced garlic
Olive oil
Salt and black peppercorns
Helpful Hints:
• Other types of snapper, sole, or flounder may be used instead of red snapper.
• Minced garlic can be found in the produce section of the market.
• A quick way to clean leeks is to trim the ragged green ends and root. Slice leek in half lengthwise and in half again lengthwise. Wash carefully under cold running water.
• A quick way to snip dill leaves is to cut them from the stem with scissors.
Shop Smart:
• Fat-free, low-sodium chicken broth with 20 calories, 0 g fat, and 150 mg sodium per cup.