Vegetarian Mushroom Stuffing Cups
I am thrilled today to be doing an original recipe for Bonbon Break, these lovely Vegetarian Mushroom Stuffing Cups. Thanksgiving is coming up fast and these little mushroom stuffing cups are an excellent side.
When I have someone I know to be vegetarian at my dining table I want to give them something really good but yet anyone else would enjoy it with their turkey too. They are just as good on their own with other sides as they are with gravy and turkey.
This is also a wonderful make-ahead side dish and can be made up to two days in advance. I actually prefer them made ahead. They are crispy on the outside when initially done and softened back up in the refrigerator, which is how I liked them. The flavors seem to meld more also.
These little cups would pair well with not only turkey but beef. So give them a try and get a dish done ahead of time so you can relax a bit more with family and friends for your Thanksgiving feast.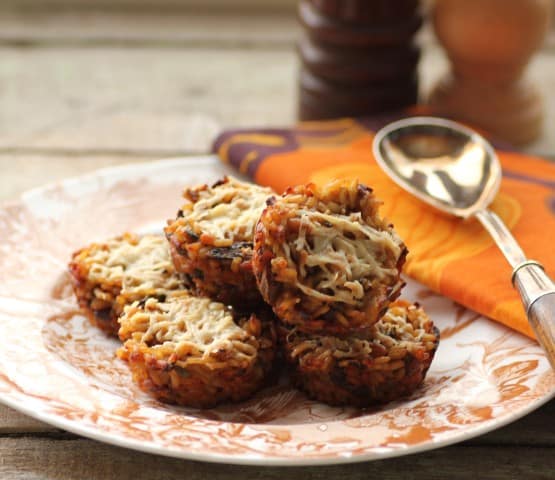 Recipe adapted from BBC GoodFood.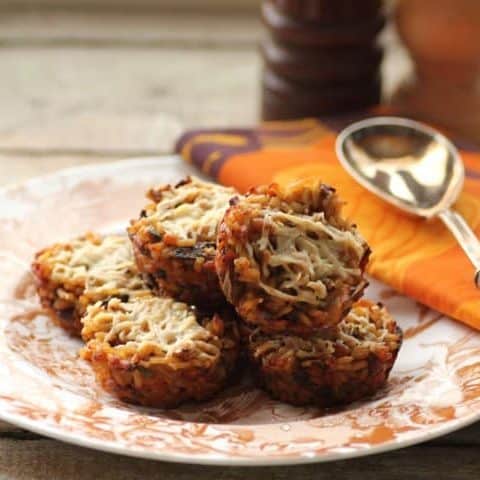 Vegetarian Mushroom Stuffing Cups
Yield: 12 Servings
Prep Time: 25 minutes
Cook Time: 25 minutes
Total Time: 50 minutes
A wonderful make ahead side dish for the holiday season, that is vegetarian but goes great with beef, chicken and turkey.
Ingredients
425ml hot vegetable stock
2 tablespoons olive oil
1 onion (finely chopped)
28g dried porcini mushrooms
2 tablespoons pine nuts
2 garlic cloves (crushed)
1 cup Arborio rice
100ml white wine
1 egg (beaten)
2 tablespoons shredded basil
salt and pepper (to taste)
6 tablespoons Parmesan (finely grated)
Instructions
Heat oven to 375F. Spray a non-stick 12 hole muffin tin with cooking spray. Place the mushrooms in a bowl and pour over the hot vegetable stock. Let the mushrooms soften for 20 min. Strain, reserving the stock, and squeeze out moisture. Chop the mushrooms and set aside with the vegetable stock.
Heat the oil in a large frypan and saute the onion for about 5 min. Add the pine nuts and fry until lightly toasted. Add the garlic and rice and cook for 2 min. Pour in the wine and bring it up to a boil. Add the reserved stock and mushrooms and bring to a boil. Reduce heat to low and cover and let simmer for 10 min. or until the rice is just cooked. Remove from the heat and let cool for 5 min. Stir in the egg, basil, salt, and pepper.
Divide the mixture evenly among the muffin tins and stop with the grated Parmesan. Bake for 20-25 min. until lightly browned. Cool slightly if using right away to firm up the rice. If making ahead let cool in the muffin tins and then carefully lift them out and place in a storage container. Reheat on an oiled baking sheet at 300F for 10 min.
Nutrition Information:
Yield: 12
Serving Size: 1
Amount Per Serving:
Calories: 81
Total Fat: 4g
Saturated Fat: 1g
Trans Fat: 0g
Unsaturated Fat: 3g
Cholesterol: 18mg
Sodium: 182mg
Carbohydrates: 7g
Fiber: 0g
Sugar: 1g
Protein: 2g
Recipe calculation was provided by Nutritionix and is estimation only. If you need nutritional calculations for medical reasons, please use a source that you trust.
Happy Thanksgiving and may your holidays be truly blessed!!