Asiago Stuffed Arancini with a Truffle Cream Sauce
We made these Asiago Stuffed Arancini with a Truffle Cream Sauce after I did a write up on Borgo Trattoria the other day saying that we had their delicious Arancini. Well, I went about to make my own and they are absolutely out of this world.
I wanted some big flavors but in a subtle way. Instead of mozzarella, I used asiago, which I love. Instead of just a cream sauce, I wanted a truffle oil cream sauce but I didn't want either of these flavors to overwhelm.
I feel that I succeeded with an outstanding recipe and my family agreed. We gobbled down these delicate balls with enthusiasm. They make an awesome appetizer that would blow anyone away. The balls can be made ahead of time and then refrigerated and fried just before serving.
This recipe is not for the faint of heart. They are a treat!! They also take some time to pull off but in the end, they are so worthy of your efforts!
Try them for a special occasion you won't be disappointed.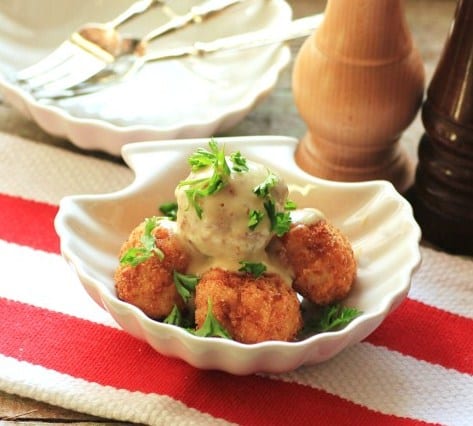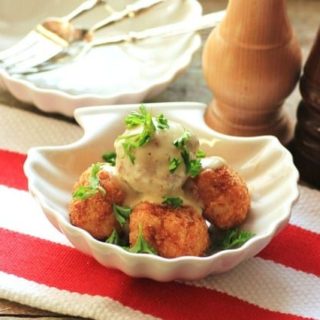 Asiago Stuffed Arancini with a Truffle Cream Sauce
Yield: 22 balls
Prep Time: 30 minutes
Cook Time: 1 hour
Total Time: 1 hour 30 minutes
Amazing risotto balls packed with lovely flavors
Ingredients
Arancini
1 Tbsp. olive oil
1/2 onion, finely diced
2 small garlic clove, minced
1 cup uncooked Arborio Rice
1/2 cup dry white wine
3 cups hot chicken stock
Salt and pepper to taste
1/2 cup Parmesan, finely grated
22 small 1/2" cubes of Asiago cheese
2 eggs
1 Tbsp. milk
1/2 cup flour
1 1/2 cups fine bread crumbs
Canola oil for frying
Sauce
1 cup chicken stock
1/2 onion, quartered
2 garlic cloves, smashed but still whole
1/2 cup white wine
1/2 cup whipping cream
1 tsp. cornstarch
1 tsp. truffle oil
Salt and white pepper to taste
Parsley for garnish
Instructions
!Arancini

Heat the 1 Tbsp. olive oil in a large frypan and saute the onion and the garlic until translucent. Add the rice and cook and stir for 2 min.
Add the wine and cook until evaporated. Add the chicken stock about 1/3 cup at a time and stir constantly until each is evaporated. Adding more or less liquid making sure the rice is done to your liking, but not mushy.
Salt and pepper to taste. Remove from heat and add the parmesan. Remove to a bowl and let cool.
Meanwhile, place the quartered onion and smashed garlic into a small saucepan with the cup of chicken stock. Bring to a boil and reduce by half.
Add the wine and reduce again by half. Remove the onion and garlic and discard. Reduce the broth now to 1/3 cup. Add the whipping cream with 1 tsp. cornstarch and bring to a simmer until thickened. Add the truffle oil and adjust seasoning with salt and white pepper. Set aside covered.
To assemble the arancini, have three containers, one with the two eggs beaten with the Tbsp. of milk, the second with the flour, and lastly the third with the bread crumbs.
Take a heaping Tbsp. of the cooled risotto in your hand and place the cube of asiago in the middle and wrap the risotto around the cheese forming a ball. If it is difficult to squeeze slightly, it will also come together in the flour, egg, and breadcrumbs.
Carefully roll the ball in the flour, then the egg, and lastly the bread crumbs. Repeat until you have 22 balls made. At this point, you can put them into the refrigerator for a few hours.
When ready to serve heat canola oil in a wok about 1/3 full. Test with a small piece of bread.
When the bread is floating and bubbling add the arancini about 6 at a time. Do not overcrowd.
Remove when light golden brown. Keep warm while deep frying the remaining balls.
Reheat cream sauce and serve with arancini. Garnish with parsley.
Nutrition Information:
Yield: 22
Serving Size: 1
Amount Per Serving:
Calories: 129
Total Fat: 6g
Saturated Fat: 2g
Trans Fat: 0g
Unsaturated Fat: 3g
Cholesterol: 27mg
Sodium: 215mg
Carbohydrates: 13g
Fiber: 1g
Sugar: 2g
Protein: 4g
Recipe calculation was provided by Nutritionix and is estimation only. If you need nutritional calculations for medical reasons, please use a source that you trust