Baked Beans
We have special guests here all week for you to enjoy while I am out Stampeding!! Nothing like a big bowl of beans to get a cowboys heart going and Veronica from My Catholic Kitchen has brought over this big beautiful bowl of Baked Beans.
Make Veronica feel welcome and come along and follow her on Facebook, Twitter and Pinterest!! She has a gorgeous site with loads of great recipes and beautiful pictures you will love it. ENJOY!!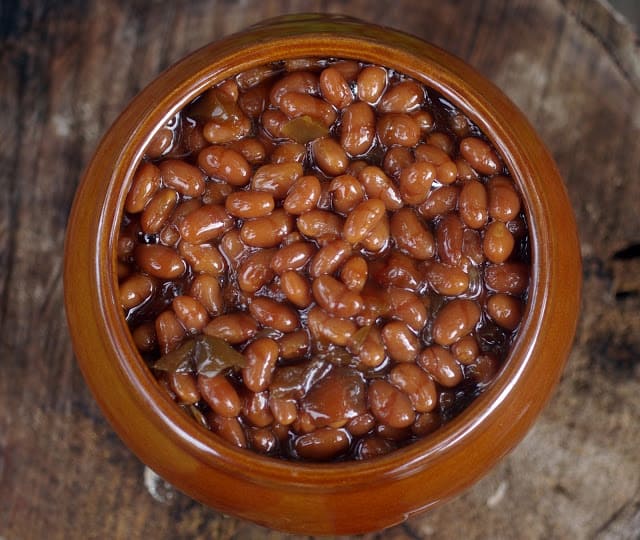 Hello everyone, my name is Veronica Gantley from My Catholic Kitchen.
I am so happy to be here today. I love to guest post and when Tara asked for help on our Facebook group I jumped in.
Tara and I go way back to the Foodbuzz days. She is a wonderful warm person and I absolutely love her blog.
She is doing this stampede theme, you know, Rodeo food, barbecue and stuff like that. So when she mentioned her stampede theme, the first thing that came to my mind was the song Home on the Range, you know, where the deer and the antelope play? It reminded me of Cowboys sitting around a campfire eating beans. Sort of like in those old western movies.
This recipe for Baked Beans comes from my Chuck wagon to yours, Yeehaw!
So kick back enjoy the fire and get along little doggie, get along………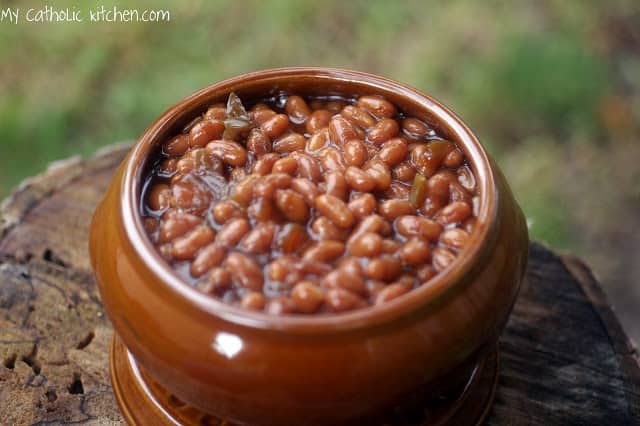 Baked Beans by My Catholic Kitchen
Nothing like a great pot of beans for Stampeding!!
Ingredients
2 tablespoons yellow mustard
¼ cup ketchup
1 cup diced onion
1 bell pepper seeded and diced
2 cups brown sugar
1 (28 ounce) can pork and beans
1 (16 ounce can) red kidney beans chili flavored
4 or 5 strips of bacon
Instructions
Preheat the oven to 350 degrees.
Mix the mustard, ketchup, onion, bell pepper, brown sugar in a large bowl. Add the beans and stir gently to mix the mixture. Pour into a 9 x 13 baking pan. Lay the bacon strips across the top. Cover with aluminum foil and bake for 45 minutes. Remove the foil and bake for another 15 minutes or until bubbly.