Beef Barley Soup
I have a very special cookbook review today, The Classic Slow Cooker by Judy Hannemann. One that has a personal story behind it. I was blown away and honored that it is dedicated to me!! This fabulous cookbook is from a wonderful blogger and a friend. Read on to see the actual dedication from the cookbook and more importantly for the recipe to this amazing Beef Barley Soup recipe.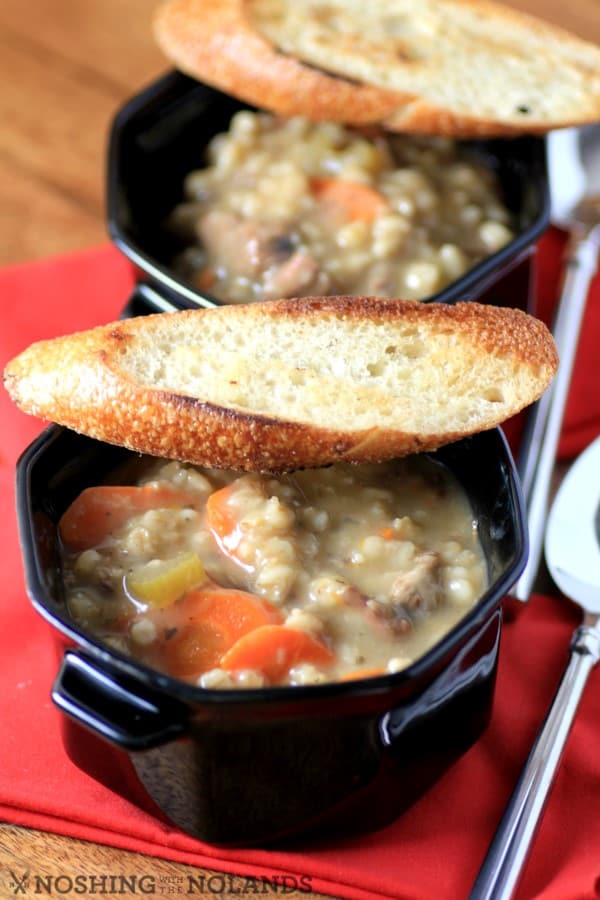 This Beef Barley Soup caught my eye right away. I love how easy it is to pull together and how wonderfully comforting it is for a cold winter night. It is a soup that gets gobbled down in the household quickly. The recipe is nice that it is small and serves only 2, we easily got 3 servings from it. You can also double this to enjoy more too, easily!!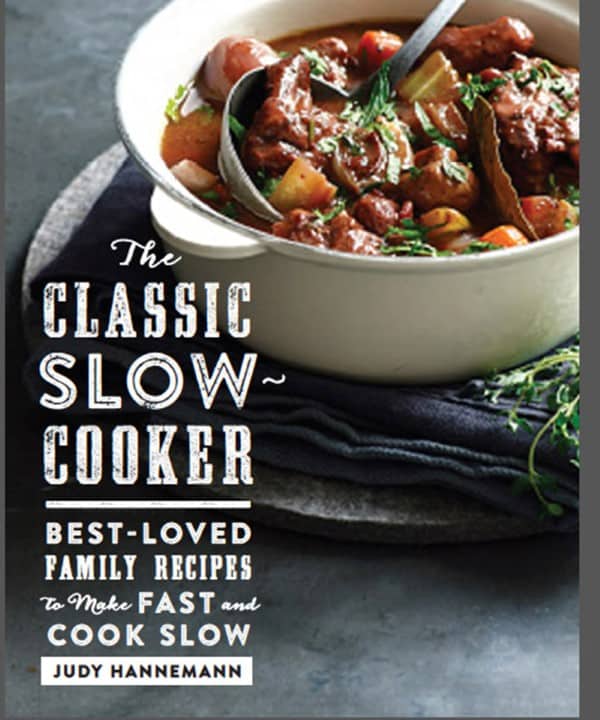 The slow cooker is a common appliance now in households with nearly 9 out of 10 owning one. Some people still don't know what to do with it though. Some recipes work great in a slow cooker while others fail. My friend Judy Hannemann from The Midnight Baker set out to create recipes that really work. She was inspired by a recipe that I had done for Slow Cooker BBQ Ribs, that I had made one cold winter day. That set her on a path, to make some incredible recipes, all in her slow cooker. Recipes like Hot Jalapeno Chile Popper Dip, Smoked Sausage Lentil Soup, Brown Sugar Country Style Pork Ribs, Five Cheese Lasagna and Donut Bread Pudding, to name a few.
The cookbook is a hard cover masterpiece with gorgeous mouth watering photography. In the start of the cookbook, Judy helps you select a slow cooker that will work for you. Then you are lead into sections from appetizers, soups, mains (chicken, pork, beef, pasta), sides and sweet treats.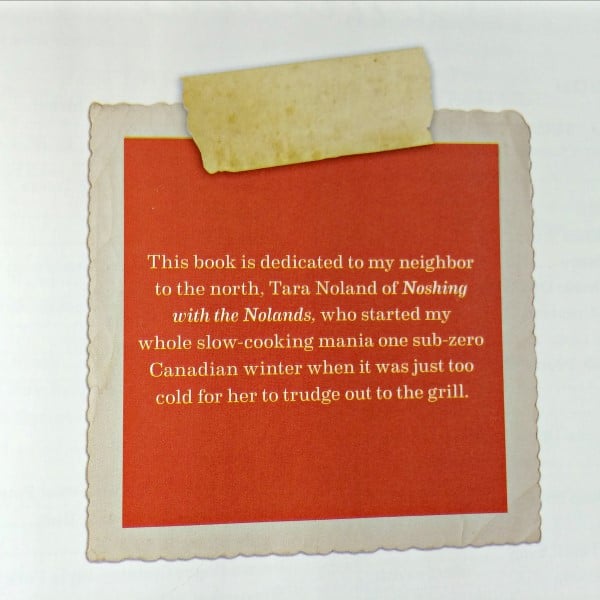 Here is the fantastic dedication Judy did for me at the start of her cookbook. What an honor, I couldn't have been more thrilled.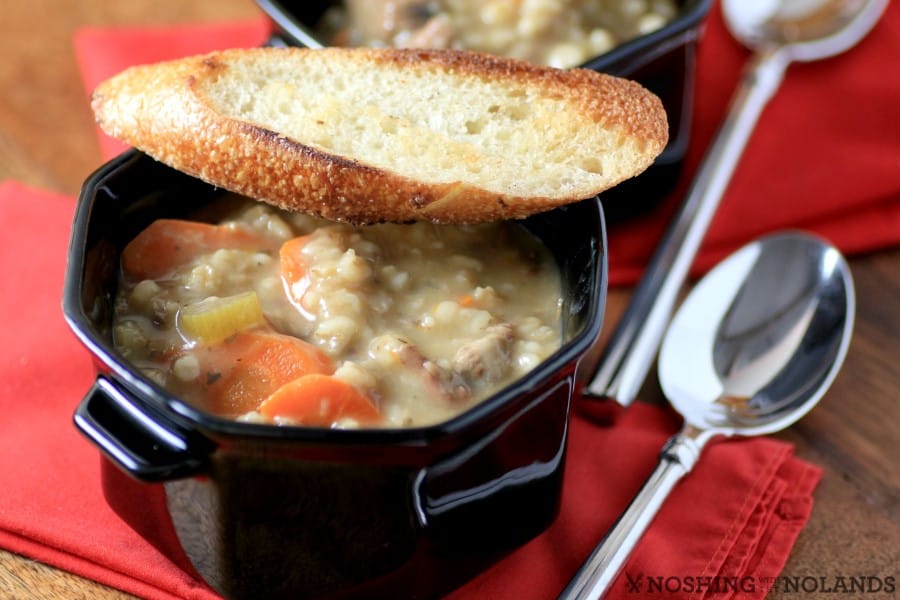 I know that Judith loves these little black bowls so I had to show case her gorgeous soup in them. Hearty and full of wonderful flavor from simple ingredients, you will be wanting to pull out that slow cooker right away!!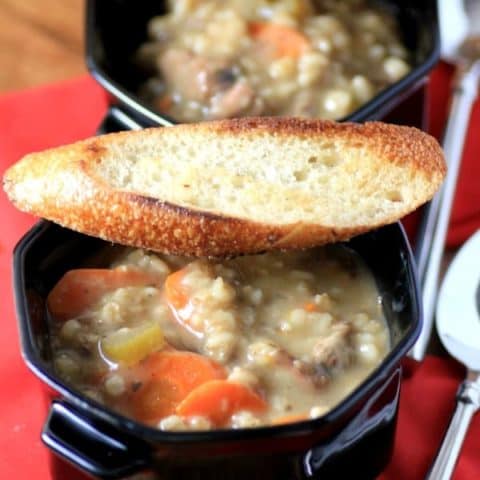 Beef Barley Soup
Yield: 2 servings
Prep Time: 15 minutes
Cook Time: 8 hours
Total Time: 8 hours 15 minutes
This soup is a complete meal. It was my late husband's favorite and we'd have it at least twice a month during the winter. I'd serve it with some nice crusty rolls and a green salad, depending on how hungry we were. My husband could skip the salad, but never the rolls with this. The soup is absolute perfection when you include them in the menu.
Ingredients
2 carrots, sliced
2 stalks celery, sliced
1/2 cup pearl barley
1 teaspoon salt
½ teaspoon freshly ground black pepper
1 tablespoon olive oil
1 pound beef chuck roast cut into cubes
4 cups beef stock
Instructions
Place carrots, celery and barley in a 4-5 quart slow cooker.
Brown the beef in the 1 tablespoon of olive oil in a large skillet over high heat. Add browned meat and 3 cups of the stock to the slow cooker. Add the remaining cup of stock to the browning pan and scrape up all the browned bits into the stock. This is called "deglazing." Now add the deglazed liquid to the slow cooker and stir.
Cover and cook on low 8 hours, on high 4 hours.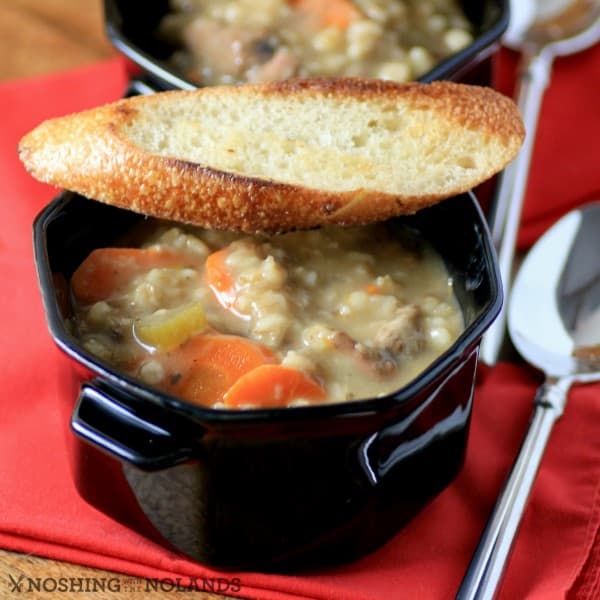 We also have a copy for a giveaway of Judy's wonderful Classic Slow Cooking for you to have! Giveaway is open to US and Canada until January 27th at 12:00 am when at that time a random winner will be selected. The winner will be notified by email and have 48 hours to respond or a new winner will be selected. Good luck everyone!