This cake today is going to blow you away with yumminess! It is called the Best Reese's Peanut Butter Chocolate Cake for a reason. It has the new uber-cool Reese's Peanut Butter Chocolate Spread mixed right into the cake.
Then more spread is heated and then slathered onto the ultra amazing chocolate poke cake. The entire thing is then topped with a whipped topping, peanuts, Reese's Minis, and then MORE Reese's Peanut Butter Chocolate Spread is heated and drizzled on top. Yup, it is the BEST!!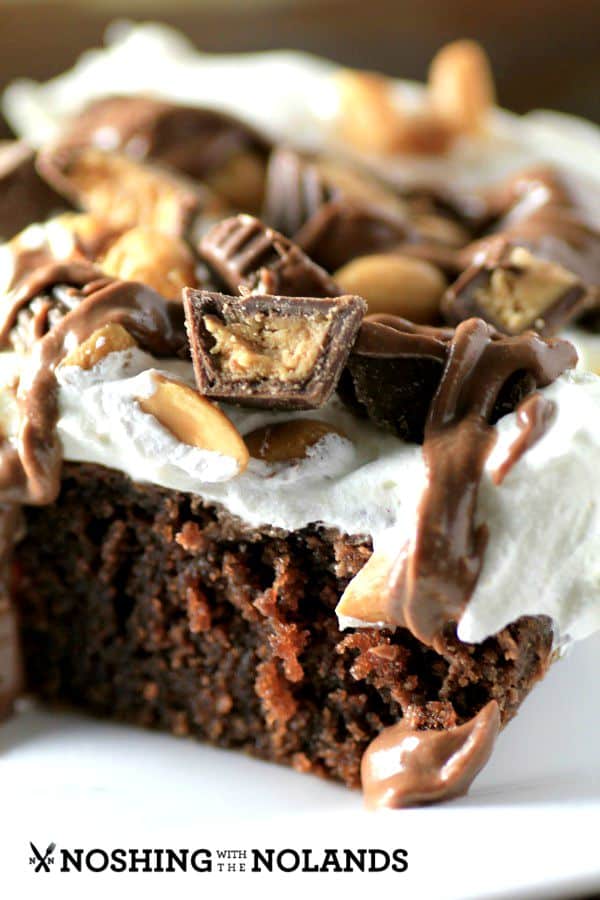 If you are Reese's peanut butter cup lover, and honestly who isn't, then you will be all over this cake!! It is the ultimate peanut butter and chocolate experience. One that is unforgettably delicious!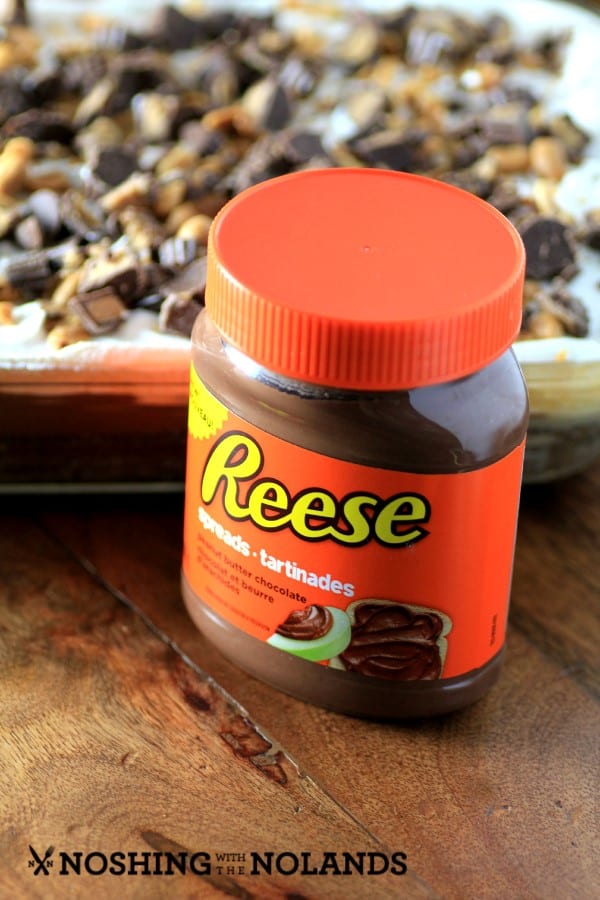 Is it hard to make, heck no, using Reese's new divinely delicious peanut butter and chocolate spread? They have done all the work for you. You could and I DID dive right into this jar with just a spoon!! #DoYouSpoon is the great hashtag and yes, I admit, hands up, I sure do!! I think I licked and used every spoon in our drawer as I was making this cake!!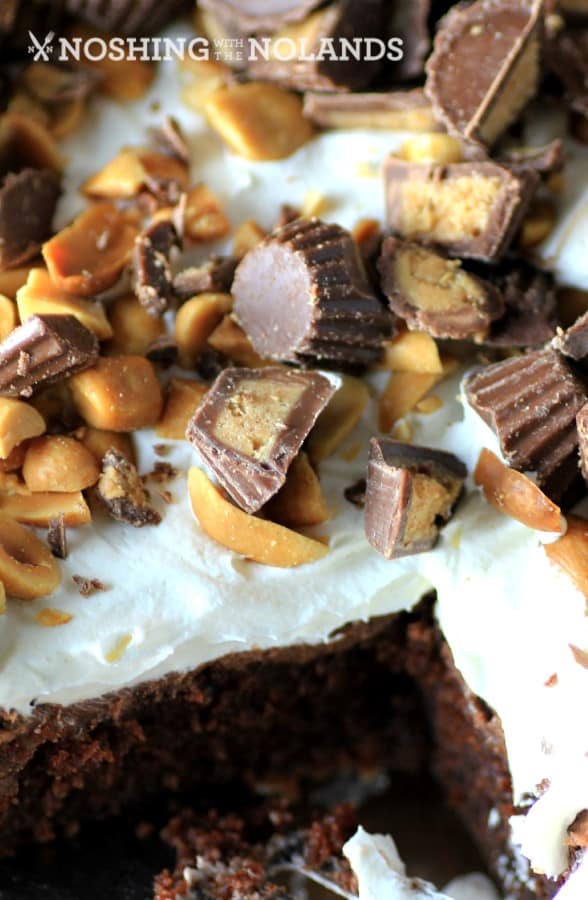 The cake is fantastic and so is the topping. You will get rave reviews from young and old alike. Plus you can pop this cake into the freezer to serve later or for leftover (but as if there will be any left, who am I kidding!!).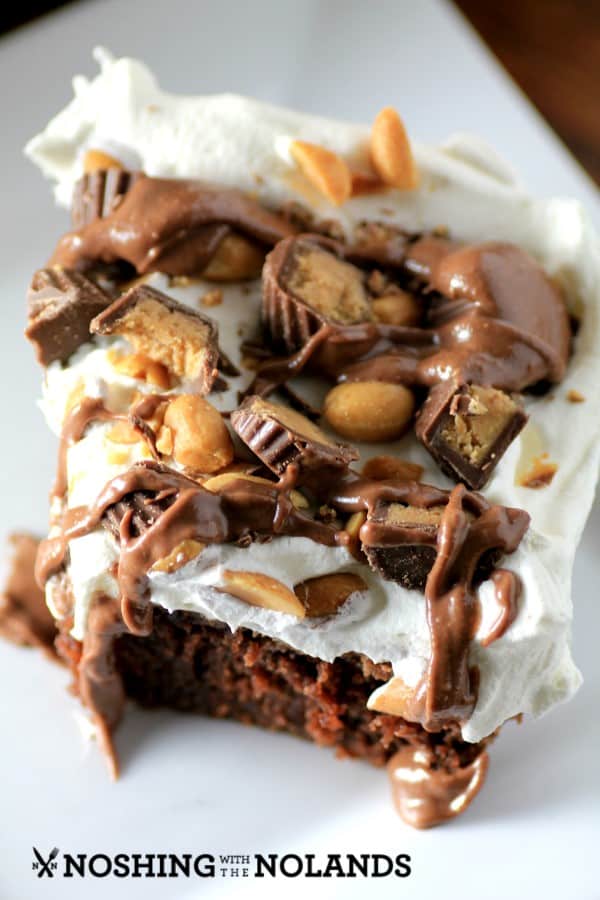 I know you want to dive right in with your finger, a SPOON, or a fork, I sure did!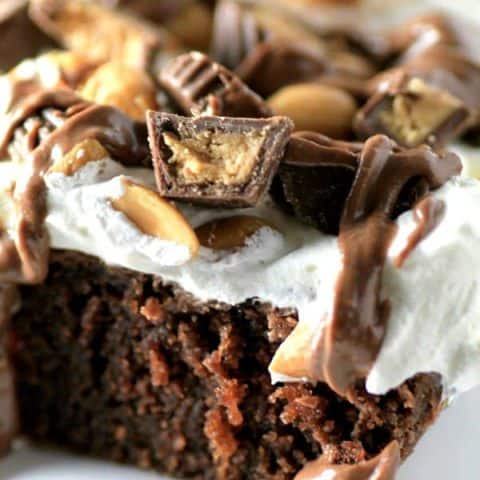 Best Reese's Peanut Butter Chocolate Cake
Yield: 20 Servings
Prep Time: 10 minutes
Cook Time: 35 minutes
Total Time: 45 minutes
The ultimate peanut butter and chocolate cake, that will be a sure fire hit with family and friends.
Ingredients
Cake
2 cups of sugar
2 cups flour
1/2 cup butter
1/2 cup canola oil
1 cup of water
1/4 cup cocoa powder
1 tsp. baking soda
1/2 cup 2% milk
1 tsp. lemon juice
2 eggs
1 tsp. salt
1 tsp. vanilla extract
1/2 cup Reese's Peanut Butter Spread
Toppings
1 cup Reese's Peanut Butter Spread plus more for drizzling
12 oz. Cool Whip, thawed in the refrigerator
Reese's minis, chopped
Peanuts, chopped
Instructions
Preheat oven to 375F. Grease and flour a 9x13" pan, set aside.
Mix together the sugar and flour and set aside. In a small saucepan add the butter, oil, water, and cocoa. Mix together and bring to a boil. Remove from heat and add it to the flour/sugar mixture. Dissolve the baking soda in the milk with the lemon in a small bowl. Add the eggs, salt, and vanilla to the cocoa mixture along with the milk mixture and stir well. Add the 1/2 cup Reese's spread and stir well.
Pour the batter into the prepared pan. Bake for 30 min. or until a cake tester comes out clean. Let cool for about 15 min. Microwave the 1 cup Reese's spread for about 30 seconds to 1 minute. Stir to evenly heat. With a fork poke the cake all over. Spread the hot Reese's spread on and cover the entire cake evenly. Let the cake cool completely. You can cover it and refrigerate it at this point.
When ready to serve, spread the cake with the whipped topping, sprinkle on the peanuts and Reese's minis. Cut into desired size pieces and drizzle on more heated Reese's spread.
Nutrition Information:
Yield: 20
Serving Size: 1
Amount Per Serving:
Calories: 397
Total Fat: 23g
Saturated Fat: 10g
Trans Fat: 0g
Unsaturated Fat: 11g
Cholesterol: 32mg
Sodium: 312mg
Carbohydrates: 46g
Fiber: 1g
Sugar: 33g
Protein: 5g
Recipe calculation was provided by Nutritionix and is estimation only. If you need nutritional calculations for medical reasons, please use a source that you trust.
Recipe adapted from AllRecipes and Six Sisters Stuff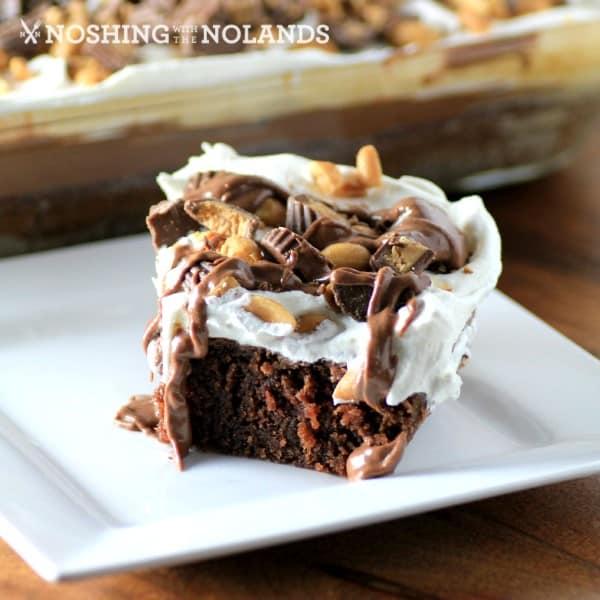 Disclaimer: The post is in my own words but it is sponsored by Hershey's Canada and I have been compensated monetarily and with the product.