Cheesy Shepherd's Pie
One of the best comfort foods in my mind is Shepherd's Pie and then to up it, I made a Cheesy Shepherd's Pie. The whole family will get into this easy casserole and be asking for it again and again this winter.
The name Shepherd's Pie came to be a long time ago according to Wikipedia. This dish originated in 1791 but used to be called Cottage Pie and the two names are interchangable after 1877 when the name Shepherd's Pie first appeared. The dish originated in England and was made with leftovers from the Sunday meal usually a roast and sometimes lamb, hence the name Shepherd came to be. The dish traditionally in North America is served using beef, so it has kind of lost it true meaning as shepherds have nothing to do with cattle. Another name for this dish and probably more suited if using beef is Cowboy Pie. Whatever you want to call it is delicious!!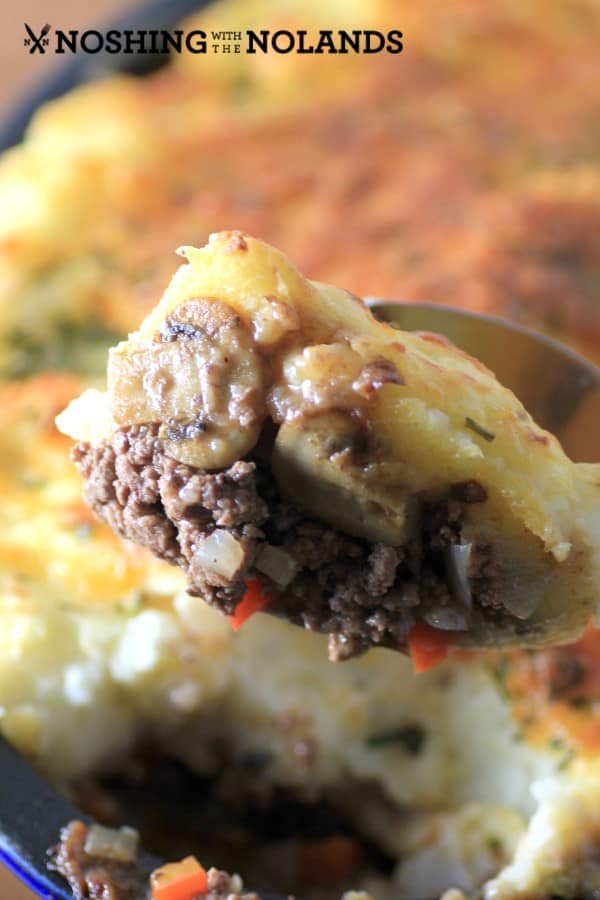 There are also variations to the main theme like using ground chicken or ground turkey. Both of those would be delicious too. I stuck wth the beef for this and made it a really comforting dish.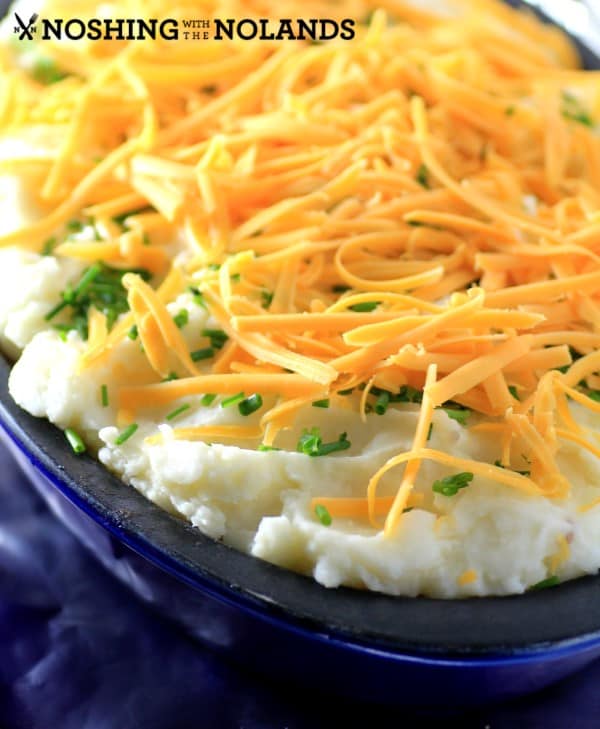 The key to making this extra delicious is a nice topping of cheese before it goes in the oven. I had never done that before but will from now on!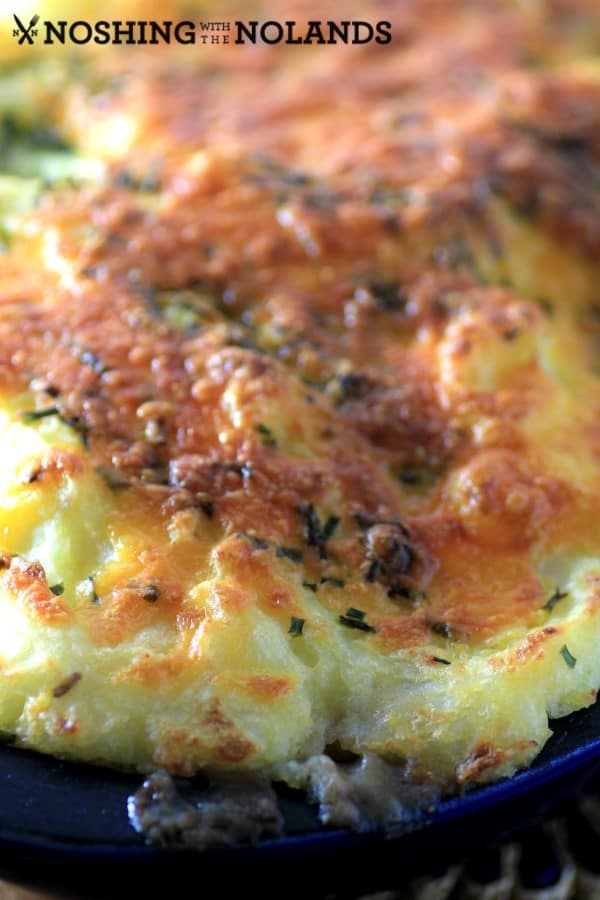 With the cheese being added you get this gorgeous cheesy crust above the fluffy potatoes. Just an extra bit of goodness!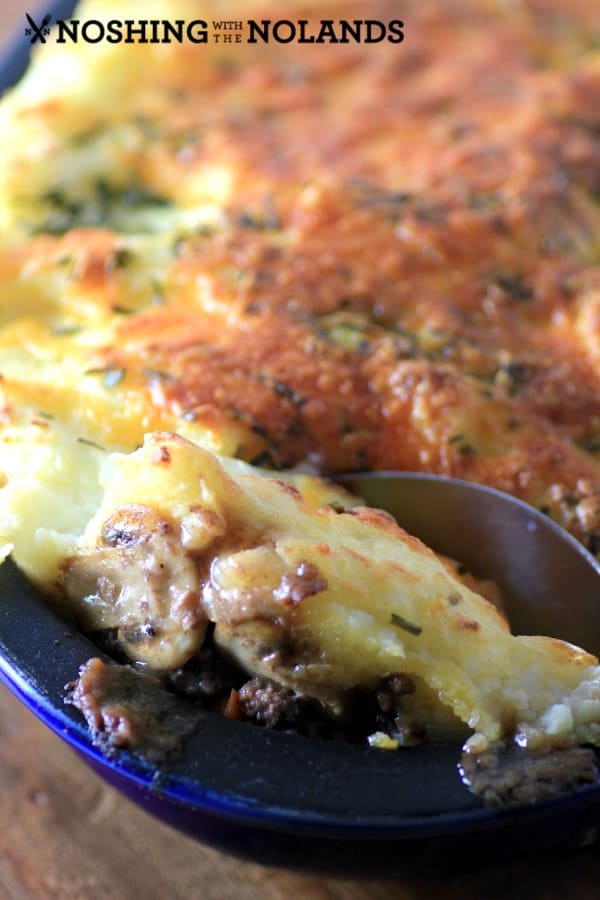 Wonderful rich gravy ladden meat and vegetables await you under all that cheese and potatoes. You will be wanting to make this soon, I am sure!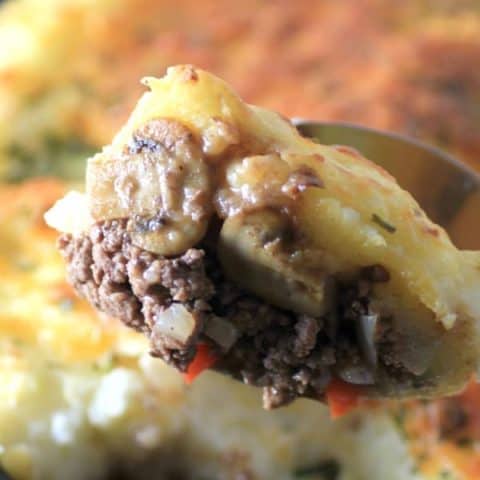 Cheesy Shepherd's Pie
Yield: 6 servings
Prep Time: 45 minutes
Cook Time: 25 minutes
Total Time: 1 hour 10 minutes
A classic Cheesy Shepherd's Pie that the whole family will love!
Ingredients
2 lbs. medium potatoes, peeled and cut into chunks
Salt to taste
2 Tbsp. canola oil
1 large onion, diced
1 large red pepper, diced
10 oz. mushrooms, sliced
1 1/4 cup beef broth
1 Tbsp. flour
1 lb. extra lean ground beef
1 tsp. fresh thyme, chopped
Salt and pepper to taste
2 Tbsp. ketchup
1 Tbsp. Worchestershire sauce
3 Tbsp. sour cream
1/2 cup 2% milk
2 Tbsp. butter
2 Tbsp. chives, chopped
1/3 cup packed grated cheddar cheese
Instructions
In a large pot add the potatoes and cover with water. Add salt to taste. Boil until tender, about 15 min.
In the mean time, heat a large skillet with 1 Tbsp. of canola oil over medium high heat. Add onions and red pepper, cook until lightly browned about 10 min. Transfer vegetables to a bowl with a slotted spoon. In the same skillet add the last tablespoon of oil and fry the mushrooms over medium-high heat until browned about 10 min. Transfer to the bowl with the other vegetables.
Mash the potatoes with the sour cream, milk and butter. Set aside.
Blend the stock with the flour until smooth and set aside.
Preheat oven to 400 F. In the same skillet cook the ground beef. Add salt and pepper to taste, and thyme. Cook until the beef is browned, about 10 min. Add the ketchup, Worchestershire sauce, the cooked vegetable and the stock/flour mixture. Cook until it comes to a boil and thickens slightly. Spoon the mixture into a 2 quart casserole dish.
Top with the mashed potatoes, followed by the chives and the cheese. Place casserole on a rimmed foil-lined cookie sheet to catch any spills. Bake until the cheese is melted and browned and the casserole is bubbling!
Recipe adapted from Good Housekeeping 100 Best One Dish Meals.