Here is another cookbook review for you. A fun cookbook with yummy desserts in jars. There is a trend lately with serving desserts in jars, I pick the Black Forest Surprise. What fun!!
So easy and so inexpensive to pick up a big case of jars or to use ones you have from canning or find that beautiful antique jar.
Whichever the case this cookbook gives you 150 different recipes to fill those jars!!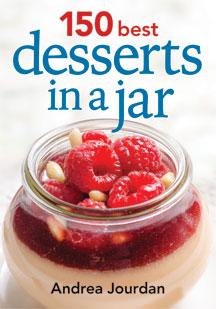 I think the best part is that they are ready for you when want to serve them, already done in a single serving size. What could be easier than that for summer desserts!!
Everything from pies and cakes, to pudding and cobblers, can be made in jars!! There are tips and tricks and helpful techniques all outlined in the cookbook. Along with 2 dozen color photos.
The author Andrea Jourdan has spent over 25 years in Europe learning her skills. She has published several cookbooks and is also a television personality, food writer, and innovator of web gastronomy.
She is Canadian and lives in Quebec.
My pick from this cookbook is one of Ken's favorite, one that I have not made him in a long time and that is black forest cake.
I did cheat a bit as I had a cake already made and it was a marble bundt so I used that but it worked perfectly too!
It seems like there are endless desserts to choose from in this exciting cookbook. I will be diving in to try more. I hope you get a copy!!! Enjoy!!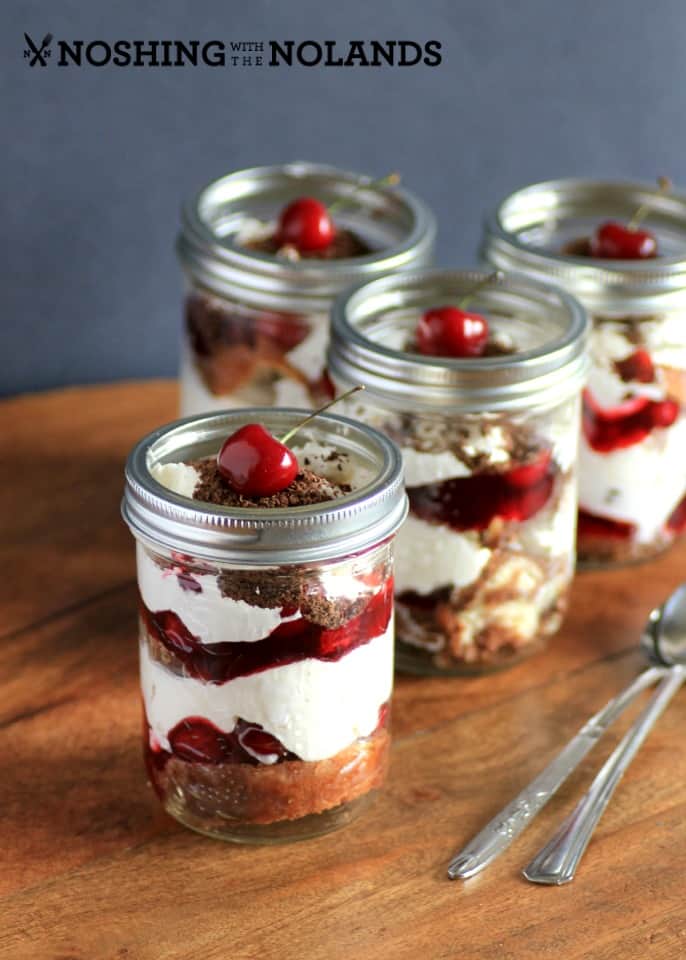 Black Forest Surprise
Yield: 8 Servings
Prep Time: 2 hours 30 minutes
Total Time: 2 hours 30 minutes
So simple and so delicious!!
Ingredients
3/4 cup Kirsch
3 Tbsp. sugar
1/4 cup water
1 1/2 cups pitted Bing cherries
1 1/2 cups heavy or whipping cream
2 Tbsp. icing sugar
1 tsp. vanilla extract
1 chocolate pound cake fresh or frozen
1 1/2 cups cherry pie filling
1 1/2 cups marshmallow cream
1/2 cup chopped dark (70%) chocolate
Instructions
In a saucepan, combine Kirsch, sugar, and water. Bring to a simmer, whisking to dissolve sugar. Set aside to cool.
Set aside 8 cherries to use as garnish. Cut remainder in half and set aside.
In a bowl, using an electric mixer, whip cream, icing sugar, and vanilla until stiff peaks form. Set aside.
Slice pound cake into 16 thin slices. Using a cookie cutter, cut 16 rounds to just fit inside the jars.
Place one circle in each jar.
Pour 2 tsp. Kirsch syrup over each cake circle. Cover with a layer of cherry pie filling and 1 Tbsp. marshmallow cream. Add a few fresh cherry halves.
Cover with a thin layer of the whipped cream. Add another layer of cake and remaining Kirsch syrup, cherry pie filling, marshmallow cream, and halved cherries.
Top with whipped cream.
Garnish with chopped chocolate and one whole cherry. Refrigerate for 2 hours before serving.
Nutrition Information:
Yield: 8
Serving Size: 1
Amount Per Serving:
Calories: 334
Total Fat: 18g
Saturated Fat: 11g
Trans Fat: 1g
Unsaturated Fat: 5g
Cholesterol: 56mg
Sodium: 64mg
Carbohydrates: 44g
Fiber: 1g
Sugar: 25g
Protein: 2g
Recipe calculation was provided by Nutritionix and is estimation only. If you need nutritional calculations for medical reasons, please use a source that you trust.
Excerpted from 150 Best Desserts in a Jar by Andrea Jourdan © 2013 www.robertrose.ca May not be reprinted without publisher permission.