Brownie Delight

Brownie Delight – Gluten-free. And it's all good!! Today we have a special post, on a product that I have been asked to review. I found the brownies at our local Walmart.
I knew what I wanted to make the second I saw them. Strawberries are so good this time of year, fresh, sweet, plumb, and juicy. Pairing chocolate with strawberries is always one of my favorites.
I was a bit leery to try the brownies as I have not had a lot of gluten-free products and some that I have had are just plain nasty. I was hugely surprised and pleased after tasting one of their brownies and snuck a second one in no time.
They are moist, soft, and full of chocolate flavor, everything you want in a brownie!!!
Finally, a healthy, tasty, smart, gluten-free alternative to all your favorite foods.
Discover All But Gluten™ – a proud offering from Weston Bakeries, North America's bakery products leader for over 125 years. All But Gluten™ offers a variety of meal options for breakfast, lunch, dinner, and dessert, most enriched with fiber, vitamins, and minerals, and all the goodness that you deserve.
Come and follow along with All But Gluten on Facebook, All But Gluten on Twitter and All But Gluten on Pinterest.
All But Gluten 3 brand pillars: taste, nutrition, and safe
taste as good as traditional baked goods
most gluten-free All But Gluten products are enriched with vitamins, and minerals and are a source of fiber
manufactured in a dedicated gluten-free facility and bears the Canadian Celiac Association's Gluten-Free Certification Program Mark of Trust on the packaging
Safety, taste, and nutrition are the three pillars of the All But Gluten™ brand. "The bread, focaccias, pizza shells, and muffins are a source of fiber, and are enriched with vitamins and minerals," says Shelley Case, registered dietitian, international celiac disease expert, and consulting spokesperson for All But Gluten™. "This is an important feature of All But Gluten™ because many gluten-free products on the market are not enriched and often lower in iron, B vitamins, and fiber" states Case.
Explore the world of All But Gluten ™ and rekindle your love of baked goods.
I don't have Celiac disease but I have a close friend that does and from her, I have learned a lot about this disease.
She is lucky enough to be symptom-free but there are many others that have horrible side effects from ingesting gluten. There are also a lot of other people who have chosen to be gluten-free as they have untoward reactions from gluten but might not necessarily have Celiac disease.
Unlike most gluten-free baked goods, All But Gluten™ can be found in the fresh bakery section, not the frozen section of major Canadian retailers. Consumers following a gluten-free diet really miss delicious baked products and now they can stroll down the aisles that were previously off-limits.
The All But Gluten ™ brand invites consumers to 'Rekindle your love of baked goods.'
Summer desserts shouldn't be time-consuming. We are all on the go enjoying the great outdoors. With All But Gluten Brownies and fresh strawberries, you have a dessert that everyone will love, whipped up in no time at all. Enjoy!!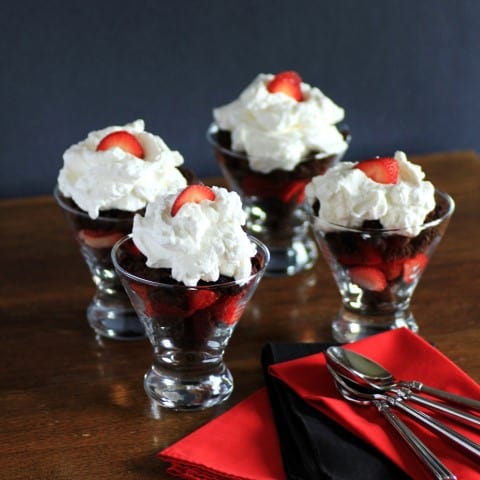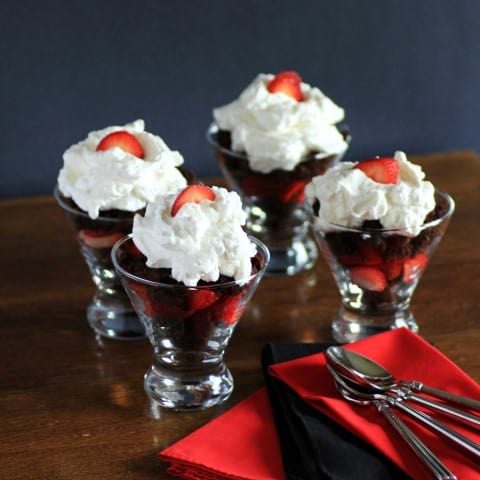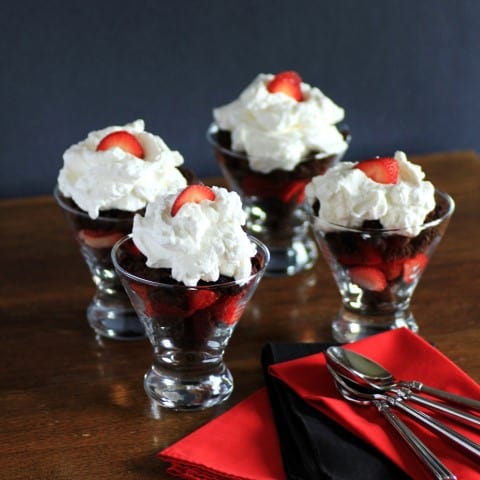 Brownie Delight with All But Gluten Brownies
Yield: 4 Servings
Prep Time: 10 minutes
Total Time: 10 minutes
A gluten free dessert you can have whipped up in no time.
Ingredients
10 All But Gluten Brownies
1 cup whipping cream
1 Tbsp. natural icing sugar sweetener or icing sugar
1 1/2 cup strawberries, sliced
Instructions
Chill a large bowl from a standup mixer along with the whisk attachment in the freezer for 20 min.
Attach bowl to the standup mixer with the chilled whisk and whip cream until it is starting to thicken, then add the icing sugar.
Continue whipping until stiff peaks are formed.
Crumble one brownie at the bottom of each glass. Divide the strawberries among the glasses, keeping 4 slices aside for garnish.
Crumble 1 1/2 brownies on top of the strawberries. Divide the whipped cream among the four glasses and top with a strawberry slice.
Serve immediately or chill in the refrigerator for several hours.
Nutrition Information:
Yield: 4
Serving Size: 1
Amount Per Serving:
Calories: 407
Total Fat: 25g
Saturated Fat: 15g
Trans Fat: 1g
Unsaturated Fat: 9g
Cholesterol: 76mg
Sodium: 60mg
Carbohydrates: 45g
Fiber: 1g
Sugar: 36g
Protein: 3g
Recipe calculation was provided by Nutritionix and is estimation only. If you need nutritional calculations for medical reasons, please use a source that you trust.
This sponsorship is brought to you by The Gluten-Free Agency who we have partnered with for this promotion.
All But Gluten™ products are also dairy-free and Kosher.
The line includes Whole Grain Loaf, Cinnamon Raisin Loaf, Sliced White Loaf, Roasted Onion Focaccia, Rosemary Focaccia, Plain Pizza Shells, Carrot Raisin Morning Muffins, Mini Brownies, and Coconut Macaroons.