I love cookbooks!! I love doing cookbook reviews, as you probably know if you are a fan of this site. I adore looking at the big glossy pictures and flipping through to find just the right recipe. Today I have another great cookbook for you and it is all about stir-fry, perfect for an easy weekday meal or one that is bumped up for a weekend fare for company!! 300 Best Stir-Fry Recipes by Nancie McDermott.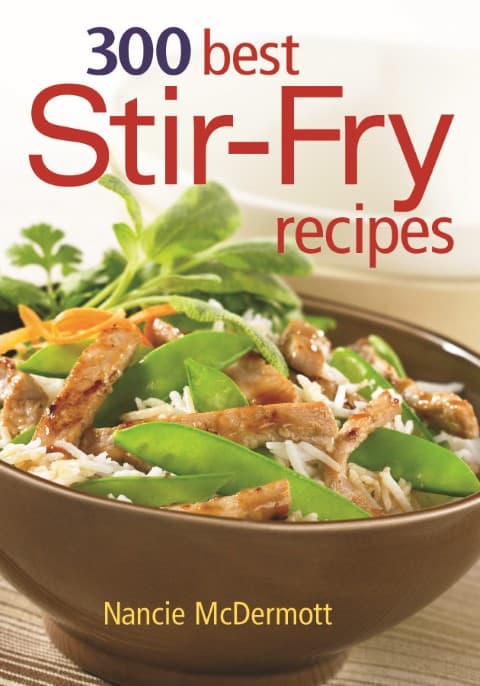 This cookbook has a lot to offer. Not only are there 300 magnificent recipes but there is also information like, the history of Stir-Fry Cooking, how to season a wok or skillet in the equipment glossary, prep work for stir-fry and loads of ingredients explained in the Ingredient glossary, very helpful.
The cookbook has some delicious looking recipes like Chicken with Sweet and Hot Peppers, Little Meatballs in Red Curry Peanut Sauce, Pork Slices with Bursting Peas, Spicy Lamb with Tomatoes and Edamame Beans, Shaghai-Style Bok Choy and so many more.
We chose Chicken and Cherry Tomato Toss for two reasons, a simple ingredient list and I adore little cherry tomatoes when they are heated up like in a stir-fry or on a pizza. They just burst with flavor!! We served this over rice and accompanied it with broccolini.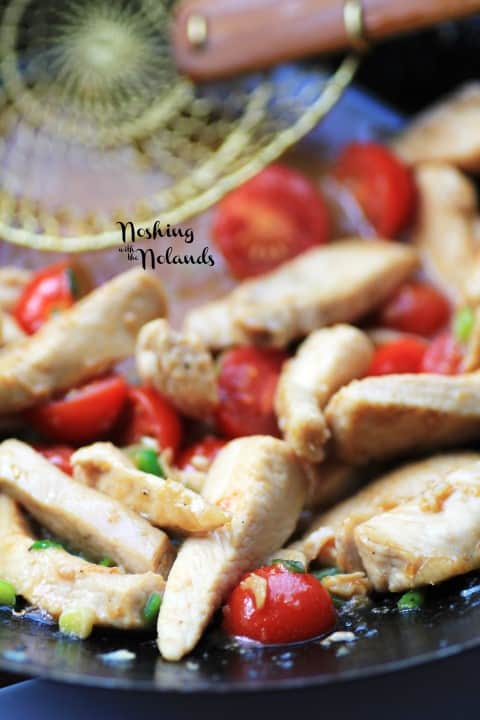 Everyone can enjoy doing stir-fry, from the novice to the most seasoned chef. There are also many vegetarian dishes in the cookbook so you can enjoy a wonderfully prepared meal while being health conscious. I love to incorporate a meal or two that is vegetarian into our weekly menu.
Nancie McDermott is the author and an expert on the food and culture of Thailand. She has written several cookbooks and contributes recipes and features on food and travel to Food & Wine and Bon Appetit magazines. She lives in Chapel Hill, North Carolina.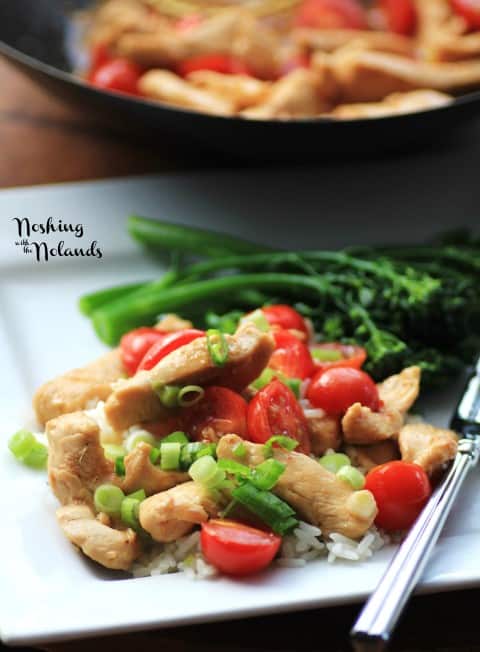 The author writes, "This recipe is simply beautiful, and beautifully simple to cook. I keep fresh ginger, green onions and peeled garlic on hand and a chicken breast in the freezer. Serve with rice, couscous or noodles."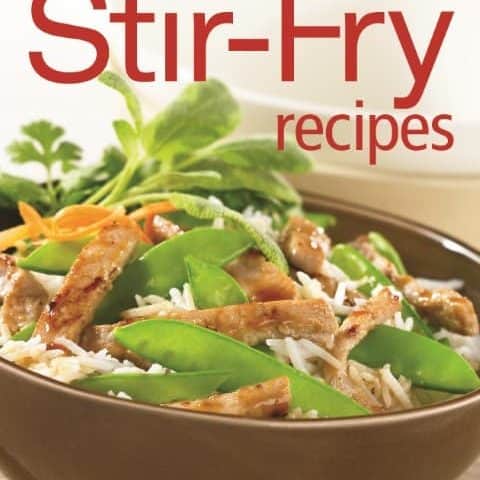 Chicken and Cherry Tomato Toss
An easy and delicious stir-fry with uncomplicated ingredients!!
Ingredients
3 tbsp chicken stock 45 mL
1 tbsp soy sauce 15 mL
1 tsp dark soy sauce, optional (see Tips) 5 mL
1 tbsp granulated sugar 15 mL
1 tsp salt or to taste 5 mL
2 tbsp vegetable oil 25 mL
1 tbsp coarsely chopped garlic 15 mL
1 tbsp finely chopped fresh gingerroot 15 mL
12 oz skinless boneless chicken breasts, cut into 11⁄2-inch (4 cm) pieces 375 g
1⁄3 cup thinly sliced green onions, divided 75 mL
3⁄4 cup halved cherry tomatoes 175 mL
Instructions
In a small bowl, combine chicken stock, soy sauce, dark soy sauce, if using, sugar and salt and stir well. Set aside.
In a wok or a large deep skillet, heat oil over medium-high heat. Add garlic and ginger and toss well, until fragrant, about 30 seconds.
Add chicken and spread into a single layer. Cook, undisturbed, until edges turn white, about 1 minute. Toss well. Cook, tossing occasionally, until no longer pink, about 1 minute more.
Add chicken stock mixture, pouring in around sides of pan. Cook, tossing occasionally, until chicken is cooked through and coated in a thin, smooth sauce, 1 to 2 minutes more.
Reserve a generous pinch of green onions for garnish, and add remaining green onions and cherry tomatoes to pan. Cook, tossing once, for 1 minute more.
Transfer to a serving plate. Sprinkle reserved green onions over chicken. Serve hot or warm.
TIPS
Dark soy sauce adds handsome color and depth of flavor to 
stir-fry dishes, but is not essential to the recipe. Omit it if you don't have it on hand. It's a good background stir-fry seasoning, and keeps long and well, 
so consider buying a bottle if you stir-fry often.
You'll have a pleasing amount of dark, delicious sauce, perfect for spooning over rice along with the spicy chicken. The sauce 
will be thin, Thai-style, since no cornstarch is used to thicken it.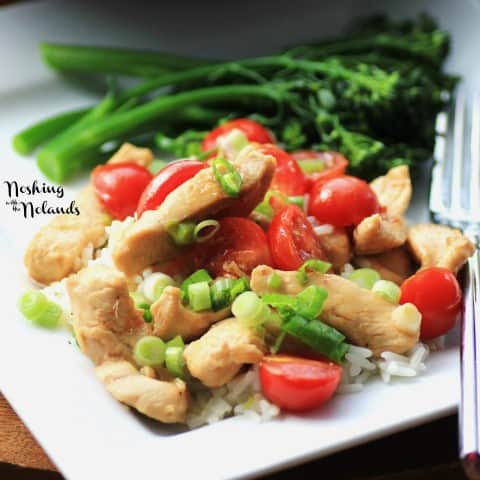 Courtesy of 300 Best Stir-Fry Recipes by Nancie McDermott © 2014
www.robertrose.ca
Reprinted with publisher permission.