Chicken Chorizo Paella
This Chicken Chorizo Paella is a request from a great friend named Shelley. Sorry, it has taken me a while to get this to you but I wanted to get a real paella pan. I did some research on paella and found out these five facts for making a great paella.
How to Make Paella
1. The rice should be a medium grain such as bomba, Valenciano, goya or arborio. I used the latter as it is widely available.
2. Your pan should be a traditional paella pan which is wider rather than deep with small sloping sides. The key to paella is that the rice is touching the surface of the pan so pans grow in width, not depth. I got a 16″ pan.
3. The heat source. You want as much of the pan to be in contact with the heat source. Therefore we had it over two burners. You could also use your BBQ or an outdoor grill.
4. The sofrito is the mixture of aromatics you use. Tomato, onion, garlic and any other herbs you may want to add.
5. Your cooking liquid. In Spain they frequently use water but I always like the flavor of a broth. I recommend a sodium-reduced chicken broth or a homemade stock. You could even boil the shells of the shrimp and use that as a broth.
Preparing Paella
It wasn't hard to make. Ken did most of the work as I popped in and out. It was after an already long day in the kitchen. One mistake people make is to overload the pan. The rice must be center stage as this is the star of the dish, not the additions.
Another tradition that we tried was to eat the paella right out of the pan. So we placed it on the table and all crowded around naming our section and eating from the outside in. Ken and Amber both weren't into this at the start. They quickly realized the amazing flavors you get from the bottom of the pan so they soon gave up their fears and dove right in.
Amber quickly called half the pan hers!!! That kid can eat!! This was a truly memorable dish that we will be making again and again.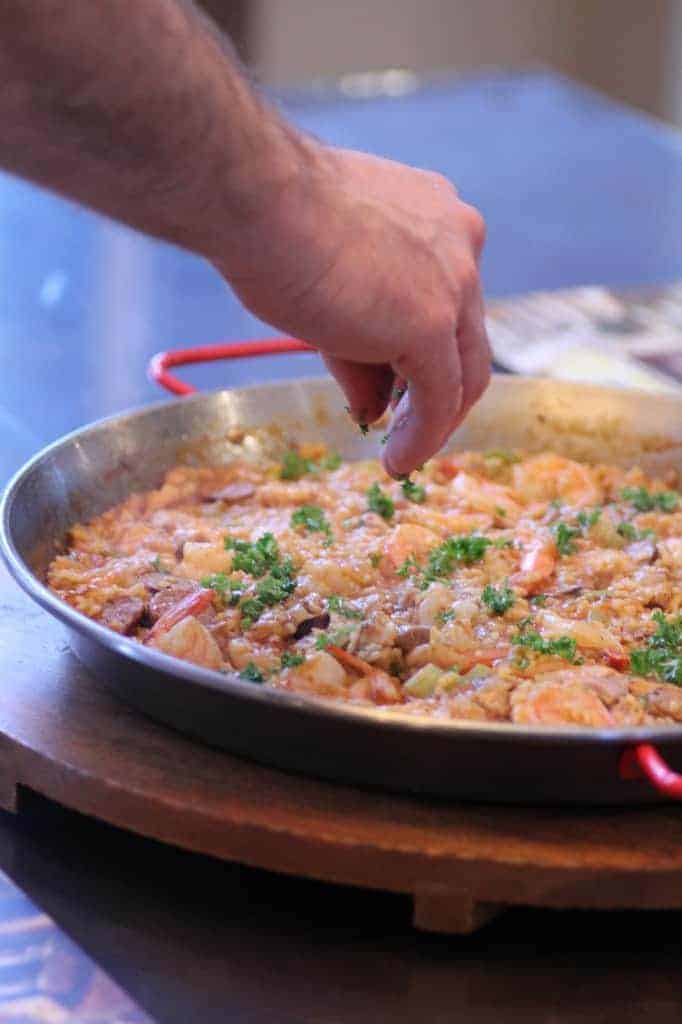 Chicken Chorizo Paella
Yield: 6 Servings
Prep Time: 15 minutes
Cook Time: 1 hour 10 minutes
Total Time: 1 hour 25 minutes
This Chicken Chorizo Paella is a request from a great friend named Shelley. Sorry it has taken me a while to get this to you but I wanted to get a real paella pan!
Ingredients
1/4 tsp. crumbled saffron
1 cup sodium-reduced chicken broth
1/4 tsp. salt
1 lb. boneless skinless chicken thighs, cut into bite-sized pieces
2 Tbsp. olive oil
1/2 onion, diced
2 celery stalks, diced
3 cloves garlic, minced
2 Tbsp. tomato paste
1 generous cup Arborio rice
1 cup water plus more if needed
3 chicken chorizo sausages, cooked and sliced
340 gms. 26-30 count defrosted shrimp
1 tsp. smoked paprika, optional
2 Tbsp. minced fresh parsley
Instructions
Stir saffron into broth and let sit for 10min.
Sprinkle salt over chicken.
In a 16″ paella pan heat 1 Tbsp. of oil over med. high heat and brown the chicken.
Transfer the chicken to a platter with the juices and set aside.
Add another Tbsp. of oil and cook onion and celery over low heat until onion is translucent about 8-10 min.
Stir in garlic and tomato paste let cook for 30 seconds.
Stir in rice and cook stirring for 1 min. Add saffron broth, 1 cup water, and paprika if using.
Cook 10 min. then add chorizo and the chicken with its juices.
Cook over medium-low heat for another 20-30min. adding more water mixed with a little tomato paste, maybe 1/4 to 1/2 cup more water until rice is tender but also making sure there is no liquid left at the end.
Add shrimp in the last 5 min.
Sprinkle parsley on top and serve in the pan.
Nutrition Information:
Yield: 6
Serving Size: 1
Amount Per Serving:
Calories: 359
Total Fat: 18g
Saturated Fat: 5g
Trans Fat: 0g
Unsaturated Fat: 12g
Cholesterol: 187mg
Sodium: 982mg
Carbohydrates: 13g
Fiber: 1g
Sugar: 2g
Protein: 36g
Recipe calculation was provided by Nutritionix and is estimation only. If you need nutritional calculations for medical reasons, please use a source that you trust.