Want a delicious and nutritious dinner in no time, well I have it here for you today. These Chicken Couscous Wraps is a recipe is from a friend of mine, Marie, who is also a fan of the site.
This is a recipe I got from her a couple of years ago we made it a few times and really liked the wonderful flavors in this easy wrap. I came across it again and it worked for the most hectic of nights.
I had an evening meeting for BonBon magazine I am now an editor and Ken had to work late. Everything was all ready to be assembled for a late-night meal and it was as delicious as I remembered.
This one is a keeper!!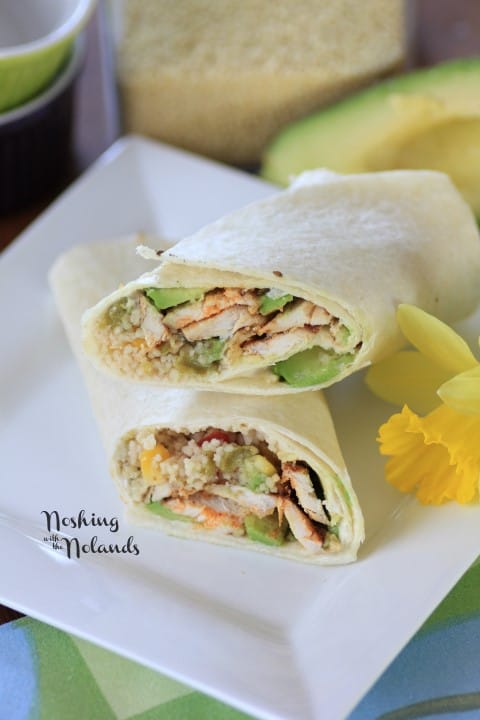 Spicy chicken and smokey jalapenos with creamy avocado and couscous, you have it all in this wrap!!!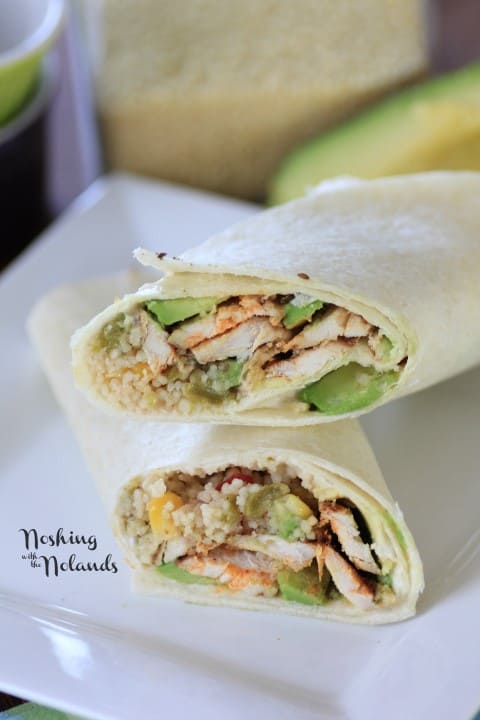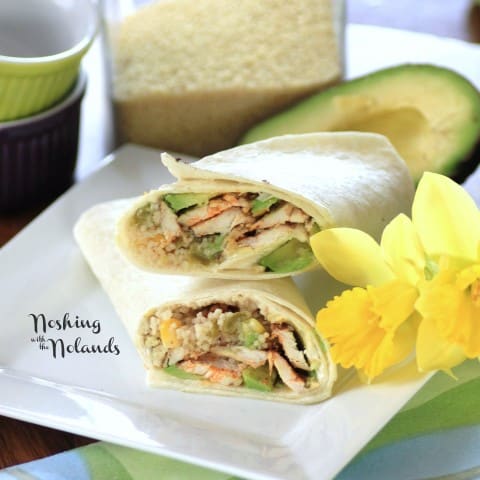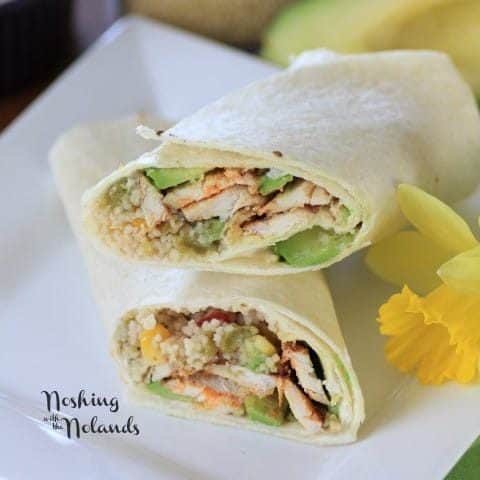 Chicken Couscous Wraps
Yield: 4 Servings
Prep Time: 15 minutes
Cook Time: 35 minutes
Total Time: 50 minutes
A fantastic blend of spicy chicken and smoked jalapenos with creamy avocado and couscous!!
Ingredients
3 jalapeno peppers
1/4 cup light mayo
1 Tbsp. canola oil
2 tsp. chili powder
1/2 tsp. dried oregano
3 skinless chicken breasts
Filling
2/3 cup couscous
1/4 tsp. salt
2 Tbsp. canola oil
2 Tbsp. lime juice
1/2 tsp. sugar
pinch of pepper
half of an avocado, diced
1/2 cup kernel corn
1 plum tomato
Tortilla shells
Instructions
On a baking sheet, broil the jalapeno peppers, turning occasionally, for 7-10 min. or until blackened. Let cool slightly. Remove skins and seeds, chop finely.
Stir 1 tsp. of the chopped jalapeno into the mayo and set aside.
In a bowl, mix the couscous with salt. Add 2/3 cup boiling water, stir once then cover and set aside for 10 min.
Whisk together the remaining jalapeno, oil, lime juice, 1 Tbsp. water, sugar, and pepper. Stir into couscous. Stir in avocado, corn, and tomato.
Meanwhile, stir together oil, chili powder, and oregano, and then brush all over the chicken. Broil on a greased baking sheet for about 5 min. per side or until chicken is no longer pink inside. You can BBQ the chicken if you prefer. Cut chicken into thin strips.
Take tortilla shells of your choice and spread the mayo mixture over each tortilla, leaving a 1" border.
Starting just below the center of the tortilla, mound couscous filling, top with chicken, and fold and roll up as usual for a tortilla.
Nutrition Information:
Yield: 4
Serving Size: 1
Amount Per Serving:
Calories: 452
Total Fat: 24g
Saturated Fat: 4g
Trans Fat: 0g
Unsaturated Fat: 19g
Cholesterol: 84mg
Sodium: 449mg
Carbohydrates: 27g
Fiber: 5g
Sugar: 3g
Protein: 33g
Recipe calculation was provided by Nutritionix and is estimation only. If you need nutritional calculations for medical reasons, please use a source that you trust.