Chocolate Rocky Road Bundt for #BundtaMonth
This month the pick was chocolate so I made a Chocolate Rocky Road Bundt for #BundtaMonth. It could be truffle, milk, white or dark. I didn't know what to make. Not having made many bundts in my life. I am excited to experiment!!
I wanted to do a white chocolate one but saved that for Valentine's Day for you, so stick around for that!! That was the birthday cake I wanted!! I didn't see anyone else in the kitchen making me one!! I wanted something special!!
Oooh Chocolate
So I went for a rich chocolate bundt cake. I added in pecans on the top and decided to go the Rocky Road route but didn't know how to incorporate the marshmallows. I knew they would just melt right into the cake if it was baked and possibly leave little holes behind. Hmmm, that wouldn't be good.
So I came up with a marshmallow glaze that worked great. You can serve it warm over the bundt and it would be fabulous. A small scoop of ice cream along with it and it was amazing. I was very happy how my cake turned out and I hope you all try it too!
Happy Birthday to me!!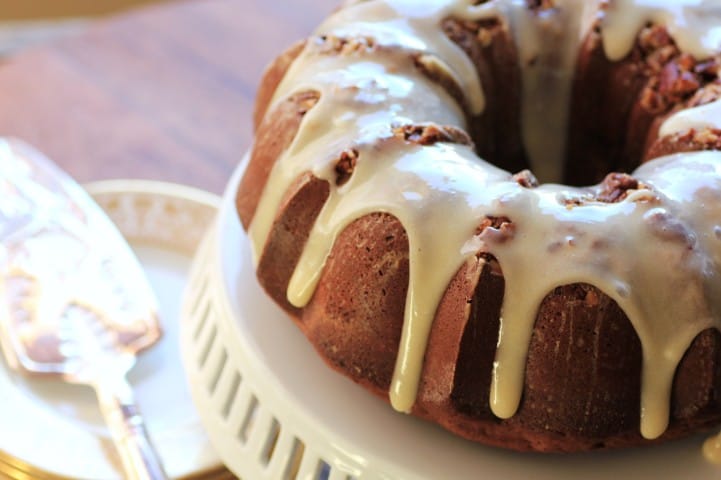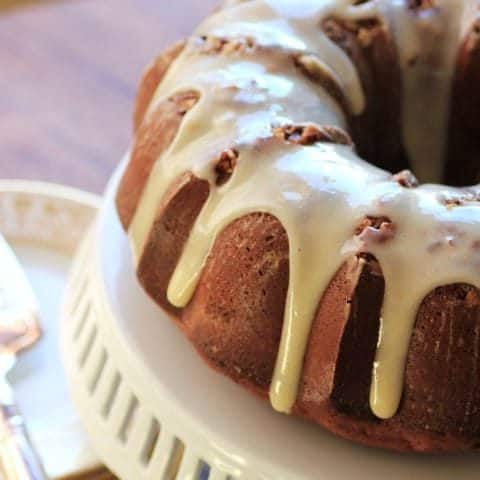 Chocolate Rocky Road Bundt for #BundtaMonth
Yield: 12
Prep Time: 15 minutes
Cook Time: 1 hour
Total Time: 1 hour 15 minutes
A gorgeous rich chocolate cake that tastes like rocky road fudge!!
Ingredients
Cake
1 cup chopped pecans
1/2 cup butter
1 1/3 cup sugar
2 eggs
1 1/2 tsp. vanilla
2 cups flour
1/4 cup cocoa
1 tsp. baking soda
1/2 tsp. salt
4 oz. melted semi sweet chocolate, cooled slightly
1/2 cup sour cream
1/2 cup half and half
Marshmallow Glaze
2 cups miniature marshmallows
2 Tbsp. half and half cream
1 Tbsp. butter
Instructions
Grease and flour a bundt pan. Pour the pecans in the bottom. Preheat the oven to 350F.
In a standup mixer with a paddle attachment. Cream butter and sugar together, add eggs and vanilla and mix until smooth. Whisk flour, cocoa, baking soda and salt together. Add to the batter alternating with the cooled melted chocolate. Add the sour cream and half and half. Mix well scraping down the sides as needed.
Bake for 50-60 min. until a cake tester comes out clean.
Just before serving, melt the marshmallows, cream and butter in a microwave safe dish on half power for 2-3 min., stirring at 1 min. intervals until melted and smooth. Pour over the bundt cake and serve. Serve with vanilla ice cream if you like also!!
Here now are all the fine chocolate bundts for this month, enjoy!!
Berry Chocolate Bundt Cake
by Heather from
Hezzi D's Books and Cooks
Chocolate Bundt Cake with Balsamic Strawberry Sauce
by Alice from
Hip Foodie Mom
Chocolate Chobani Bundt Cake
by Carrie from
Poet In The Pantry
Espresso Chocolate Bundt Cake
by Holly from
A Baker's House
Chocolate Raspberry Swirl Bundt Cake
by Anita from
Hungry Couple
Rocky Road Chocolate Bundt Cake
by Tara from Noshing With The Nolands
Chocolate Turtle Bundt Cake
by Kim from
Cravings Of A Lunatic
Deep Chocolate Be Mine Bundt
by Stacy from
Food Lust People Love
Double Chocolate Swirled Bundt Cake
by Laura from
The Spiced Life
Chocolate Peanut Butter Layered Bundt Cake
by Karen from
In The Kitchen With KP
Sour Cream Chocolate Bundt Cake
by Renee from
Magnolia Days
Quadruple Chocolate Bundt Cake
by Dorothy from
Shockingly Delicious
White Chocolate Raspberry Bundt Cake
by Paula from
Vintage Kitchen
Powered by Linky Tools Click here to enter your link and view this Linky Tools list…