No Cream Creamy Tomato Soup
Day 3 of 5 Days of Soup and this No Cream Creamy Tomato Soup is one that is a bit lighter than the last two but we are so not compromising on the flavor. This soup is fantastic. I did use my homemade canned tomatoes but that can be remedied with any canned tomato and some sprigs of fresh basil. There is also a trick to make a soup more flavorful and creamy without the calories and that is to use Parmesan rinds.
We love Parmesan here and I mean by that Parmigiano Reggiano, I buy nothing else. Expensive yes, but you don't have to use tons for great flavor and if you use everything including the rind, even better!! I just save them and add them to soups or stews when I am making them.
The Best Ingredients!
As I have said before when I use olive oil it is EVOO and when I use Parmesan it is Parmigiano Reggiano and as Mario Batali says "The Undisputed King of Cheese".
To also make this soup creamy I used a potato, a little secret that I got from Joan Lunden's cookbook. It makes it creamy and thick. Nicely done Joan and thanks for the idea!!
Lastly, I added a little Greek yogurt to up the creaminess but to take away the tartness I did this next trick.
I have done this for years, adding a bit of sugar cuts the acidity from the tomatoes and the tartness of the yogurt, and adds a bit more flavor too! I always use a sprinkle with sliced tomato sandwiches or BLT's, try it next time and you will see the difference.
Onto the soup at hand. We all loved this one and you will too!!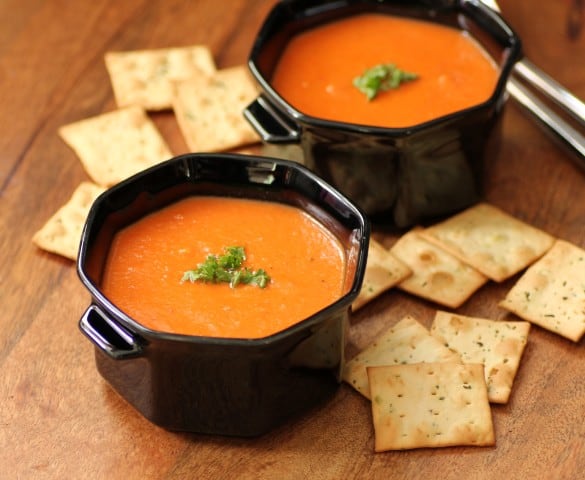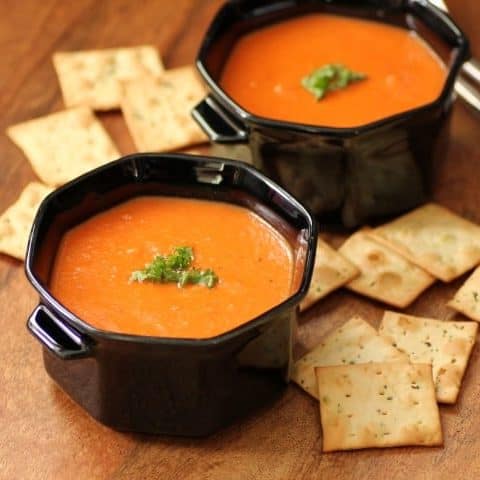 No Cream Creamy Tomato Soup
Yield: 4-6 servings
Prep Time: 10 minutes
Cook Time: 32 minutes
Total Time: 42 minutes
Fantastic creamy tomato soup with no cream!! No Cream Creamy Tomato Soup is light and healthy yet still so full of flavor! You will love this soup at any time!
Ingredients
1 Tbsp. olive oil
1 onion, diced
3 garlic cloves, minced
3 large sprigs of basil
42 oz. canned tomatoes
2 cups vegetable or chicken stock
1 large potato, diced
1 12 oz. jar roasted red peppers
1-2 Parmesan rinds
1 tsp. sugar
1/4 cup Greek yogurt
Salt and pepper
Instructions
In a large pot saute garlic and onion over medium heat in the Tbsp. of olive oil until translucent. Add tomatoes, broth, basil, potato, roasted red peppers, and Parmesan rinds.
Cook for 30 min. simmering, stirring occasionally. Remove Parmesan rinds. Let cool slightly and blend in a blender until smooth. Return to pot and add sugar, salt, and pepper to taste and yogurt, whisk well and reheat and serve.
Nutrition Information:
Yield: 6
Serving Size: 1
Amount Per Serving:
Calories: 182
Total Fat: 6g
Saturated Fat: 1g
Trans Fat: 0g
Unsaturated Fat: 4g
Cholesterol: 3mg
Sodium: 390mg
Carbohydrates: 29g
Fiber: 7g
Sugar: 12g
Protein: 7g
Recipe calculation was provided by Nutritionix and is an estimation only. If you need nutritional calculations for medical reasons, please use a source that you trust.