Chorizo and Roasted Red Pepper Soup
By overwhelming demand, I bring you 5 Days of Soup with Chorizo and Roasted Red Pepper Soup. I asked on Facebook what you would like to see, 5 days of Soups, Salads, Meatballs or Pasta and by a landslide you picked soup. Well, it is that time of year!!! Perfect for a big bowl of steaming soup. I came up with 5+ wonderful soups and will share them with you over the next two weeks.
They will be interrupted by our usual Mouth Watering Mondays and BundtAMonth but I will be sharing them all with you.
I came up with what I think are very unique soups, not your usual here but every single one is fabulous. Some decadent, some healthy, some low in fat but I guarantee all delicious. My family loves soups and when I wrote out a list of what I wanted to make we couldn't slim it down to only five. So some of them will carry over into the second week.
Easy Prep
Soups are easy once you master the basics of them. Start with a little fat, then onion, garlic may be a carrot or celery thrown in. Then the veggie to shine through and flavoring like herbs and spices, maybe a protein like meat or beans, then broth, cream or tomatoes, and voila you have a soup. They can then be pureed or not.
Additions like croutons, crostinis, a dollop of sour cream or cheese always add something too but the wonderful thing about soups is that the list is endless. Your mind is your only limitation. Leftovers work great or what you have hanging around in your pantry. Go wild, experiment, you might even surprise yourself. All for the love of soup!!
Today I bring you a wonderful creation of a slightly spicy, soul-warming Chorizo and Roasted Red Pepper Soup. Enjoy!!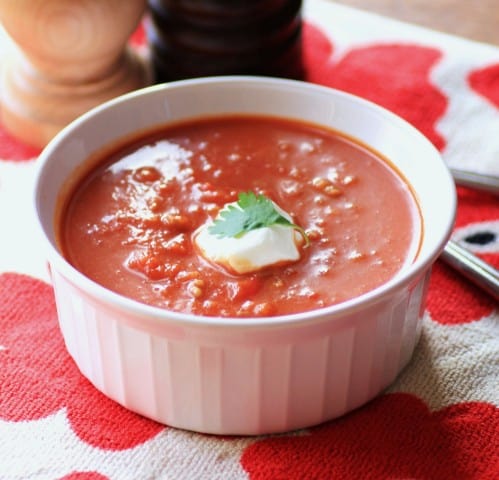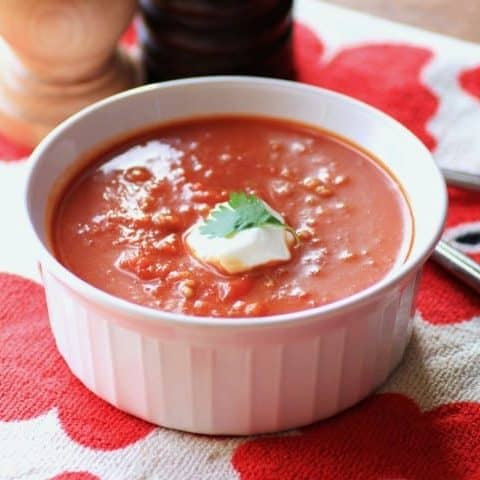 5 Days of Soup-Chorizo Roasted Red Pepper
Yield: 4 servings
Prep Time: 15 minutes
Cook Time: 35 minutes
Total Time: 50 minutes
A lovely combination of roasted peppers and Chorizo make this soup shine!!
Ingredients
3 red pepper, seeded and halved
2 red jalapenos, seeded and halved
4 links or Chorizo
1 Tbsp. olive oil
1/2 red onion, chopped
2 cloves garlic, minced
1 tsp. paprika
1 tsp. smoked paprika
pinch of crushed red pepper flakes
Salt and pepper to taste
19 oz. can diced tomatoes with celery and onion
1 1/2 cups chicken stock
Sour cream for garnish
Instructions
Place the peppers on a rimmed cookie sheet and broil until the skin is blackened. Place the peppers in a Ziploc bag to steam. When cooled remove the blackened skin and dice the red pepper and mince the jalapenos. Set aside.
Remove the Chorizo meat from the casings and saute in a large pot over medium heat until browned. Remove the meat onto a paper towel-lined plate. Drain any fat.
In the same pot over medium heat add the Tbsp. of olive oil and saute the onion until translucent. Add the garlic, paprika, smoked paprika, crushed red pepper, salt, and pepper. Saute for 1-2 min. Reserve 1/4 of the red pepper and add the rest with the jalapenos. Add the chicken stock and canned tomatoes. Cook simmering for 15 min.
With a handheld immersion blender or standup blender, blend until smooth. Add the reserved Chorizo and peppers, heat through, and serve with a dollop of sour cream.
Nutrition Information:
Yield: 4
Serving Size: 1
Amount Per Serving:
Calories: 412
Total Fat: 29g
Saturated Fat: 10g
Trans Fat: 0g
Unsaturated Fat: 17g
Cholesterol: 57mg
Sodium: 1111mg
Carbohydrates: 20g
Fiber: 5g
Sugar: 11g
Protein: 20g
Recipe calculation was provided by Nutritionix and is an estimation only. If you need nutritional calculations for medical reasons, please use a source that you trust.