Cheddar and Asiago Mac and Cheese
Don't you just love mac and cheese? Nothing more comforting!! I came up with this Cheddar and Asiago Mac and Cheese when I was messing around with an original recipe and making it in something else. I loved the combination of these two cheeses. Something different you don't always see in mac and cheese. A little crispy bread topping and you are good to go!!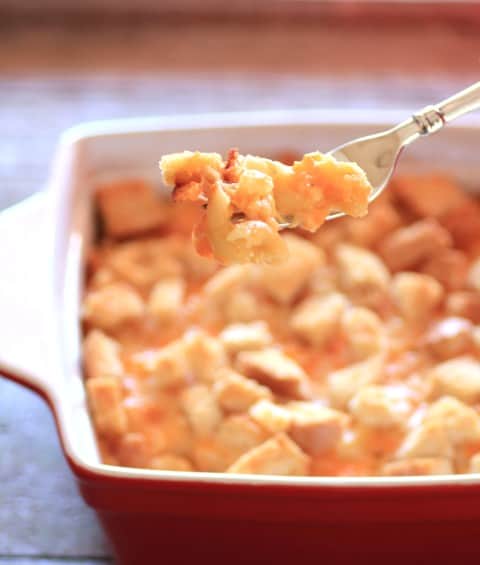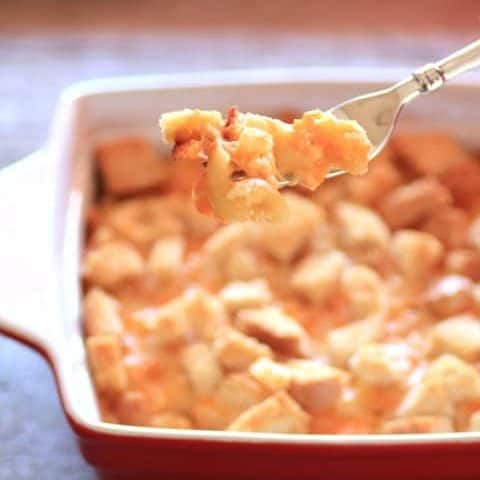 Cheddar and Asiago Mac and Cheese
A comforting dish anytime!!
Ingredients
8 Tbsp. butter, plus more for dish
6 slices good quality white bread, torn into 1/2 inch pieces
5 1/2 cups milk
1/2 cup flour
1/2 tsp. salt
1/4 tsp. freshly grated nutmeg
1/4 tsp. freshly grated black pepper
1/4 tsp. cayenne pepper
4 1/2 cups old sharp cheddar cheese, grated
2 cups Asiago cheese, grated
1 lb. elbow macaroni
Instructions
Preheat oven to 375F. Butter an 8x11" and an 8x8" casserole dishes or one larger pan, set aside. Melt 2 Tbsp. butter in the microwave. In a small bowl add the bread cubes and toss with the melted butter. Set aside.
In a medium saucepan heat the milk. Fill a large pot with salted water and place on high heat.
In an other medium saucepan melt the remaining 6 Tbsp. butter and then add the flour, stirring and cooking of 1 min.
Whisk in the hot milk slowly and continue cooking and whisking until mixture bubbles and thickens. Remove from heat.
While the milk mixture is still hot. Whisk in the salt, nutmeg, black pepper and cayenne pepper and 3 cups of the cheddar and 1 1/2 cups Asiago. Stir well with a wooden spoon until cheese melts. Set aside.
When water has come to a boil add the macaroni and cook until 2-3 min. less than manufacturers directions. You want this more underdone than el dente. Drain and rinse in a colander. Stir into cheese sauce.
Pour into prepared dishes, and sprinkle with remaining cheese. Top with bread crumbs. Bake for 45-60 min. or until browned on top. Let cool for 5 min. before serving.
Adapted from Martha Stewart