Pear Tart
There were some lovely Bartlett pears at the store, perfect actually, so I grabbed a bag of them. Pears are well received in this house hold. Amber loves them and when I am making anything with them she is begging me for one. I always have to buy extra.
I grew up with seven huge pear trees in our backyard. Pears bring me back to my childhood. I loved going out a picking one right off the tree. We made pear everything when they were in season, some things more successful than others. Pear wine was a big "gack" that no one liked.
Mom hated cooking but gardening was more her thing. I remember her selling them roadside. They was always a little table set up for people to buy them. She just did it on the honor system, leave you money and take the pears. She really took care of those trees and she did enjoy preserving and canning. I have peeled many a pear in my day!!!
Childhood Memories!
This tart was exactly what I was looking for when I found it. The only thing that concerned me was the caramel. You can go from just perfect to absolutely burnt in no time. So I cautioned on the lighter side and didn't cook it as much. The tart was juicy and sweet and still crispy. Amber loved it!!
I will give you what I did and then a link to the original recipe for you to decide. Enjoy!!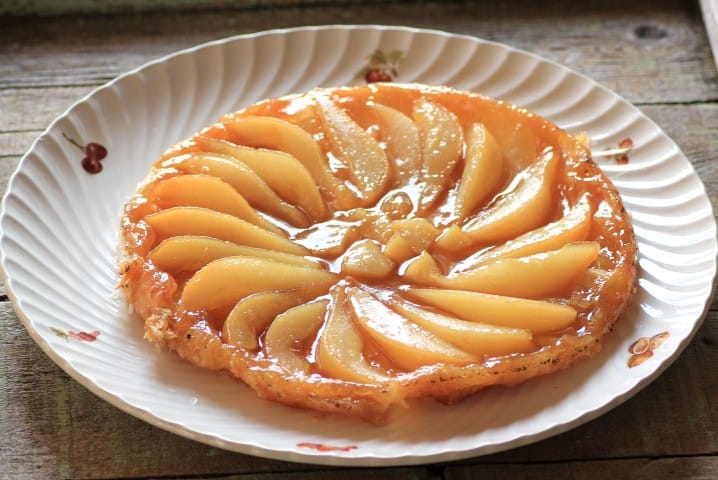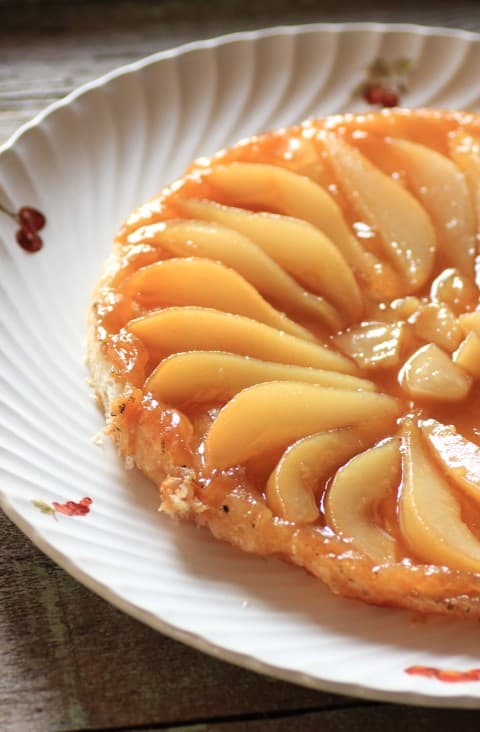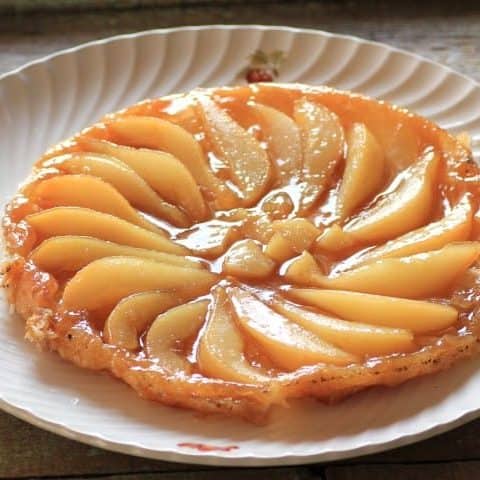 Pear Tart
Yield: 6-8
Prep Time: 20 minutes
Cook Time: 45 minutes
Total Time: 1 hour 5 minutes
A perfect pear tart done simply in a cast iron pan!!
Ingredients
Flour for rolling
Puff pastry sheet, thawed
1/2 cup sugar
1 1/2 tsp. cider vinegar
2 Tbsp. water
2 Tbsp. unsalted butter
3 firm but ripe Anjou or Bartlett pears, peeled halved cored and cut into 8 slices
Instructions
Preheat oven to 375F. Lightly flour a work surface, roll pastry out to 11 1/2" square. Place an 11" pie plate onto the pastry and cut out a circle. Refrigerate or leave pie plate on top until ready to use.
In a medium cast iron pan, add the sugar, vinegar and 2 Tbsp. water. Stir to combine. Over medium heat cook without stirring for 10-12 min. until just turning golden. Stir in the butter and remove from heat. Arrange pear wedges in a circle keeping a few slices to chop largely and fill in the center. Careful your pan will be very hot.
Drape the pastry over the pears and fold an edge inward all the way around. Again careful as the pan will be very hot. Place a lid or oven safe plate over the top wrapped in foil. Bake for 15 min. Remove lid/plate and bake for 15 min. more until golden. Let the tart cool in the skillet for 15 min. Run a knife around the edge and carefully invert onto a platter. Serve warm.
Adapted from Martha Stewart Pear Tart Tatin