Lasagna Soup by Cravings of a Lunatic
Another edition in celebrating the amazing recipes we showcase each week here at #SundaySupper. Lasagna Soup by Cravings of a Lunatic caught my eye. Kim is very inspiring with her fun and creative site. She is a fellow Canadian living in Ontario and is very supportive and encouraging. There is a sweet tooth going on over there with lots of eye popping desserts like these incredibly fun Trix Krispies. They actually inspired my Fruit Loop Squares but I don't know where I had seen them and I didn't know Kim at the time.
When I saw this lasagna soup on #SundaySupper it made me want to grab a spoon and dive right in!!! I made it for my family and all of us loved it. What a great idea!! You get all the wonderful comfort from a lasagna but half the hassle! This soup was whipped up in no time and was absolutely cheese stretching yummy!!
Other Options!
There are other fine savory dishes on Kim's site like Chicken Fajitas that were also part of #SundaySupper or Zesty Hamburger Soup that is done in the slow cooker but what intrigues me is seeing Kim's love of Turtles!!! So back to the sweets we go with an entire category dedicated to Turtles. You will find every dessert imaginable made with the flavors of Turtles!! All in all you will love Kim's site and be back again and again to see what she is up to I am sure!!!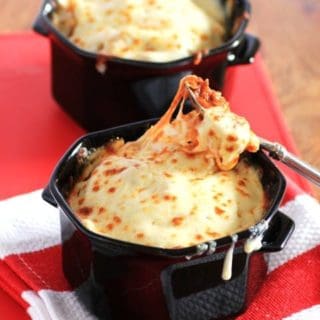 Lasagna Soup by Cravings of a Lunatic
A wonderful soup that will fill you up like a meal!!
Ingredients
1 lb. ground beef
1 onion, chopped
1 green pepper, chopped
3 garlic cloves, minced
1 Tbsp. brown sugar
32 oz. beef broth
28 oz. can of whole peeled tomatoes, pulsed in a blender
24 oz. jar pasta sauce
1 tsp. dried basil
1 tsp. dried oregano
1/2 tsp. salt
2 cups broken lasagna noodles
5 oz. grated parmesan
2 cups pizza mozzarella
Instructions
Brown your ground beef, onion and pepper in a large dutch oven. It should be broken into fine particles and cooked till juices run clear.
In the last minute or two add the garlic.
Now add your brown sugar, tomatoes, broth, sauce, oregano, basil and salt. Bring to a boil. Reduce heat and simmer for about 20 min.
Add the noodles and simmer until they are tender. Stir in the parmesan.
Turn on your broiler
Transfer soup into ovenproof soup bowls. Top with oodles of cheese. Place in oven and broil for 3 to 5 min.
Serve with a big old I love pasta smile!