Cinnamon Buns
Ken is back in the kitchen!! He is arranging a high school reunion and that got him thinking about the Cinnamon Buns that were at his high school so off it went to recreate them. Amber has enjoyed these for a long time now as he put them in the freezer in twos for her lunch box. Yummy treat that she looks forward to!! This recipe made two huge pans full, so they were also shared with the neighbors!!
Aren't these beautiful??!! Nicely done Ken!!

Cinnamon Buns Recipe
Yield: 36-48
Cinnamon Buns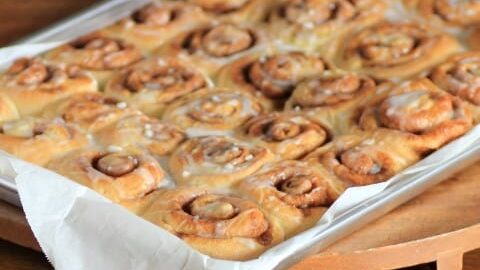 A simple cinnamon bun that are delicious!!
Total Time
3 hours
25 minutes
Ingredients
4 large eggs
1/3 cup sugar
1 cup milk
1/2 cup butter
3/4 tsp. salt
1/2 cup ice cold water
2 Tbsp. instant yeast
5 1/2 cups unbleached flour
Filling
1/4 cup melted butter
1 1/2 cups brown sugar
1 Tbsp. cinnamon
Icing
2 Tbsp. melted butter
2 cups icing sugar
Milk
Instructions
In a small pan heat the milk until just simmering add the salt and butter and stir well to melt. Add the cold water. Set aside, the mixture should still be hot but you should be able to touch it without burning.
In a mixing bowl of a stand up mixer with a paddle attachment beat the eggs and sugar well. With the mixer running slowly add the hot milk mixture.
Add two cups of flour and the yeast and continue to mix. Change the attachment to a hook and continue to add the flour one cup at a time.
Move the dough out onto a lightly floured surface and knead for 4-5 min. until smooth and elastic. Adding in small amounts of flour if needed.
Place back into the mixing bowl and cover with a tea towel or plastic wrap. Let rise until doubled for 1 hour -1 1/2 hours.
Punch dough down gently and divide in half. On a floured surface roll each half out to a 12x18" rectangle. Mix the cinnamon and sugar together. Lightly brush with the butter and sprinkle with 1/2 the sugar mixture. Now roll up jelly roll style so that your log is 18" long. Repeat to make the second log.
Slice each log into 18-24 pieces and place on a parchment lined rimmed cookie sheet. Let rise a second time covering loosely with plastic wrap for 1 hour.
Bake at 350F for 20-25 min.
Let the buns cool but they don't have to be completely cold to ice. Mix the butter and icing sugar together and add milk to desired thickness. Drizzle or spread on the icing.
You can freeze the entire tray wrapped well with plastic wrap or in a bag. When ready to serve remove the plastic wrap and cover with foil, reheat in a 350F oven until warm.
Recipe adapted from Mennonite Girls Can Cook