Herbed Pork Tenderloin with Wild Blueberry Sauce
Today on #SundaySupper we are celebrating Summer Berries with Herbed Pork Tenderloin with Wild Blueberry Sauce. I love every kind of berry there is!!
When I was looking through the list of contributors there were lots of desserts and sweet items, makes sense with luscious sweet berries this time of year. That got me thinking though, to go a savory route.
My girlfriend Trisha shared a pork tenderloin recipe with me years ago that she had got from Canadian Living. We have made this many times and it is great with fresh flavorful berries this time of year.
In a little while wild berries will be showing up too and you can use those as they will have even more flavor. I remember picking blueberries out in B.C. many years ago and loving them so much!!
Instead of the apple, that the recipe called for I added a Bartlett pear and loved the combination of the pear/blueberry.
Served up with some delicious organic carrots, asparagus, and potatoes, this was a delicious meal.
Pork tenderloin is so conducive to a sweet and savory sauce like this. ENJOY!!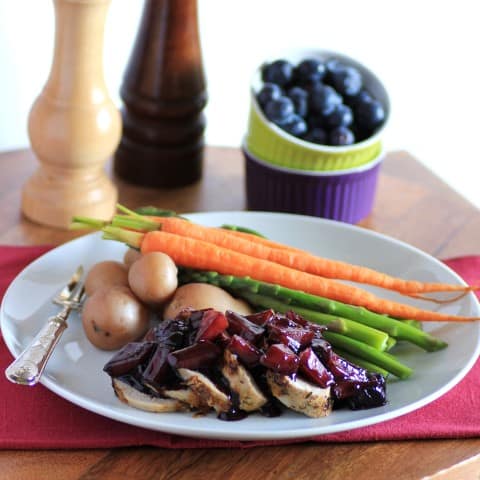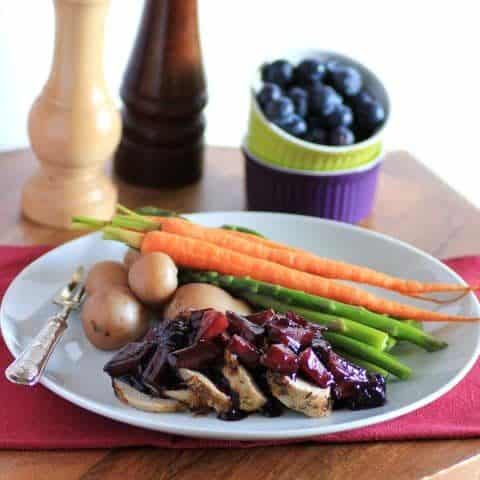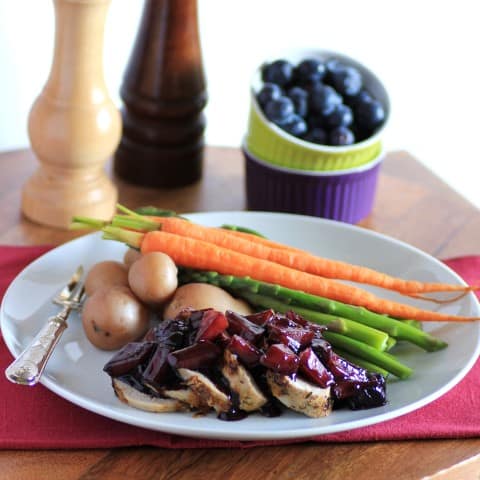 Herbed Pork Tenderloin with Wild Blueberry Sauce for #SundaySupper
Yield: 4 Servings
Prep Time: 10 minutes
Cook Time: 45 minutes
Total Time: 55 minutes
An amazing pork tenderloin and fresh berry recipe.
Ingredients
1/2 tsp. dried thyme
1/2 tsp. dried oregano
Salt and pepper to taste
1 pork tenderloin, 12 oz.
1 Tbsp. canola oil
Wild Blueberry Sauce
3/4 cup dry red wine
1 cup fresh wild blueberries or blueberries
1 Tbsp. granulated sugar
1 tsp. grated lemon rind
1 1/2 tsp. cornstarch
Half a pear or apple, cored and chopped
Instructions
Preheat oven to 350F. Rub the pork tenderloin with the thyme, oregano, salt, and pepper.
In a large cast-iron or ovenproof skillet heat the canola oil until hot over medium-high heat. Brown the pork on all sides, about 5 min.
Roast the pork in the oven for 30 min. or until a thermometer reads 160F. Tent for 10 min. while you make the sauce.
For the wild blueberry sauce, drain any fat from the pan. Add the red wine and stir to scrape up any bits.
Boil over medium-high heat until slightly reduced about 4 min.
Add the blueberries, pears, sugar, and lemon rind and return to a boil for 2-3 min. until pears are beginning to soften and berries are popping.
Dissolve the cornstarch in 2 Tbsp. water and stir into the sauce. Stir until clear and thickened.
Slice the pork tenderloin and serve with the blueberry/pear sauce on top.
Adapted from Canadian Living Magazine.
Nutrition Information:
Yield: 4
Serving Size: 1
Amount Per Serving:
Calories: 267
Total Fat: 7g
Saturated Fat: 1g
Trans Fat: 0g
Unsaturated Fat: 5g
Cholesterol: 62mg
Sodium: 126mg
Carbohydrates: 20g
Fiber: 4g
Sugar: 10g
Protein: 22g
Recipe calculation was provided by Nutritionix and is estimation only. If you need nutritional calculations for medical reasons, please use a source that you trust.
Breakfast & Brunch
Sweet & Savory Berry Recipes
Jams, Jelly, Sauces & More
Desserts
Cocktails, Drinks & Smoothies
Party Planning
We'd love if you joined our #SundaySupper chat on Twitter too: we'll tweet throughout the day and share all of our recipes. Then at 7:00pm EST we'll start our weekly chat. Please jump in anytime and join us! To join in, just follow the #SundaySupper hashtag, and remember to include it in your tweets. You can also check out our #SundaySupper Pinterest board for more delicious recipes and photos.
Look what we're sponsoring! Come join us in sunny Orlando, this July!