Do you get stumped into what munchies to put out for a crowd? Maybe it is game day or a holiday party. You want something more than chips and nuts but what? This Crowd-Pleasing Party Snack Mix recipe will come in very handy. It is easy to make and even freezes well, so get the party started with this easy to pull together treat that everyone will be diving into.
Altering up the crackers in this party mix gives you some variations to the theme, adding in what you like and what you can easily find. The recipe is reminiscent to one my girlfriend Nan made years ago. Using an easy package of ranch salad dressing is pure genius, it therefore has all the flavor you want with zero effort. Adding in some simple additions is all you need. Slowly roasting and stirring to bake the seasonings right in gives you a snack mix that you just can't stop eating!! Plus is it nut free too!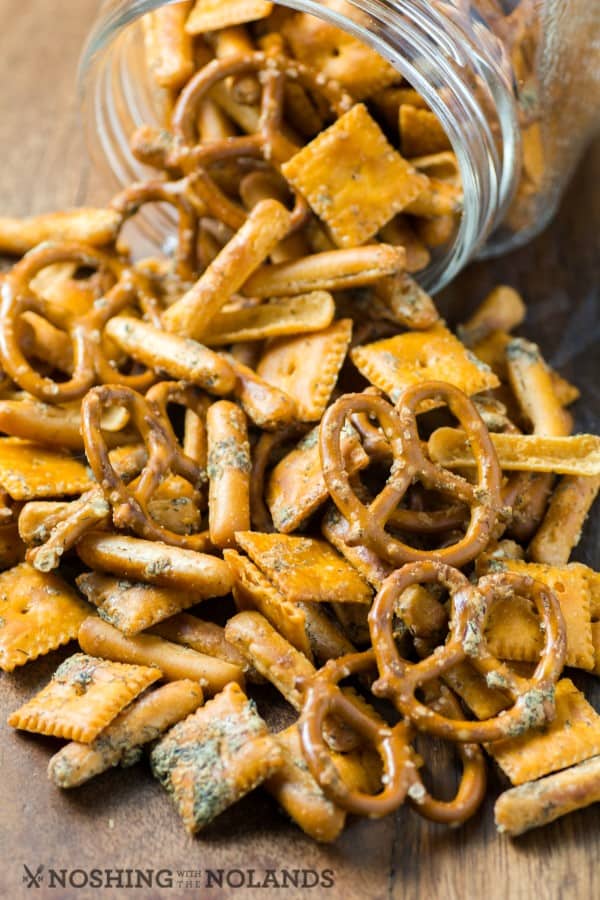 See all that wonderful topping, that is where the flavor is at. You can not just eat one handful of these, you will be back for more and more. I love the combination of the cheese stick crackers with the pretzels. You will find this snack mix quite a "handful"……..of deliciousness!!
This party mix would also be great for a potluck as it is very easy to take and can be just served right out of any container or jar!!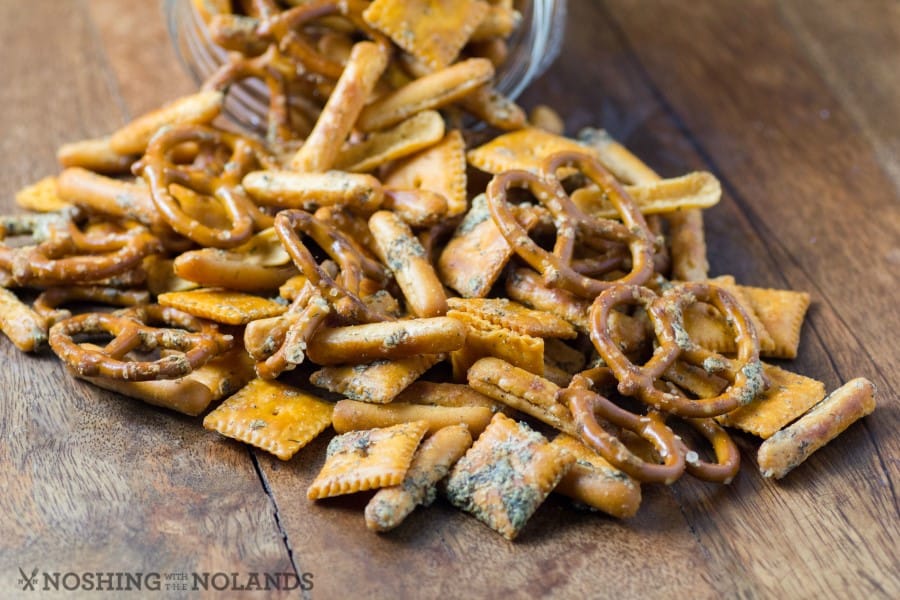 The Recipe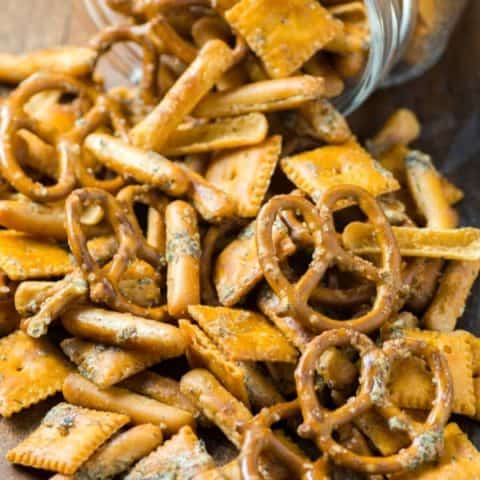 Crowd-Pleasing Party Snack Mix
Yield: 12 cups
Prep Time: 5 minutes
Cook Time: 30 minutes
Total Time: 35 minutes
This Crowd-Pleasing Party Snack Mix you will be making again and again. You can always have some ready in the freezer too!
Ingredients
4 cups bite sized cheese crackers
4 cups cheese stick crackers
4 cups pretzel twists
1/2 cup butter, melted
1 pkg. ranch dressing mix
1 Tbsp. dried dill
1 tsp. garlic powder
Instructions
Preheat oven to 300F. In a large roasting pan add the crackers and pretzels. Melt the butter in the microwave in a glass measuring cup. Stir in the dressing mix, dill and garlic powder. Whisk to combine and then pour onto the cracker mixture, tossing to coat well. Bake for 15 min. and stir and then bake for another 15 min. Let cool and store in an air tight container. Also freezes well.