I have Michele for you today from Flavor Mosaic. I know Michelle from many groups that I am in and I have also had the pleasure of meeting her face to face. We had a delicious lunch together this past summer. She is the only out of town blogger that I have had the fortune to meet. Michelle has brought for you today these gorgeous Good Luck Meatball Sliders to celebrate New Year's Day!! I am completely in love with them, aren't you??
Happy New Year everyone! I can't believe it is already 2015! I hope you had a wonderful year and New Years Eve. I am Michele from Flavor Mosaic. I am so fortunate to have met Tara in Calgary last summer when I was traveling for work. Today I am guest posting today while Tara is enjoying some well deserved time off with her family.
I have a special "Good Luck" recipe for this New Year's day that is also a yummy game day appetizer while everyone watches their favorite football games on TV.
Good Luck Meatball Sliders, a slight variation from my Meatball Biscuit sliders, are made with ground pork because pork is considered a "good luck" food for the New Year. I have read that it symbolizes progress. In addition to symbolizing good luck, these are easy to make, and easier to serve. I serve them on biscuits because they are the perfect size.
Your gang will love these yummy Good Luck Meatball Sliders.
Have a Happy New Year, and be sure to visit Flavor Mosaic for more yummy recipes!
If you like this recipe, be sure to follow me on:
Email | Facebook | Twitter | Pinterest | Google+ | Instagram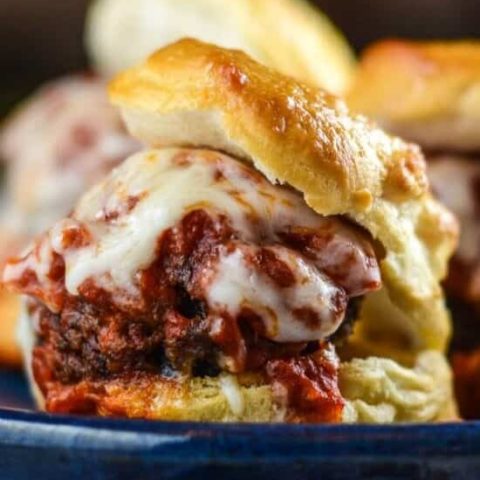 Good Luck Meatball Sliders
Yield: 40m
Prep Time: 15 minutes
Cook Time: 25 minutes
Total Time: 40 minutes
Good Luck Meatball Sliders are little good luck appetizers for the New Year because they include ground pork for good luck and they are perfect for watching your favorite game.
Ingredients
1 package refrigerated biscuits
1 pound ground beef
1 pound bulk pork
1 teaspoon onion powder
1 teaspoon garlic powder
1 tablespoon Italian seasoning
1 teaspoon crushed red pepper flakes (optional or adjust to taste)
3 tablespoons Worcestershire sauce
1 teaspoon black pepper (I like lots of pepper)
2 eggs
1 cup grated Parmesan cheese
2 cup Italian seasoned bread crumbs
1 cup of your favorite marinara sauce
1 cup shredded mozzarella cheese
Instructions
Preheat an oven to 350 degrees F.
Prepare biscuits according to package directions. Set aside.
Place the ground beef and ground pork into a mixing bowl, and season with onion powder, garlic powder, Italian seasoning, red pepper flakes, black pepper and Worcestershire sauce; mix well. Add 2 eggs, parmesan cheese, and seasoned bread crumbs. Mix until evenly blended. Then form into 1-1/2 inch meatballs, and place onto a baking sheet.
Bake in the preheated oven at 400 degrees until no longer pink in the center, 20 to 25 minutes.
Place one meatball on top of the bottom half of one biscuit. Spoon about one or two teaspoons of marinara sauce on top of each meatball. Sprinkle with a little shredded mozzarella cheese. Return the meatballs with the bottom half of the biscuits to the oven for about 5 minutes to melt the cheese. Top with the other half of the biscuit and serve.