Dairy Farmers of Canada dropped off a little gift for me to make Mediterranean Ricotta Fritters. I love when they do this, I mean really love it. It comes in a lovely wrapped gift bag, darn should have take a picture, with all the ingredients premeasured, and ready to go. Dropped off by a lovely person from Dairy Farmers and right to my door. It is the quickest of prep times for me ever and I have a recipe whipped up in no time. Not that this recipe is difficult at all. You will also have it put together in no time.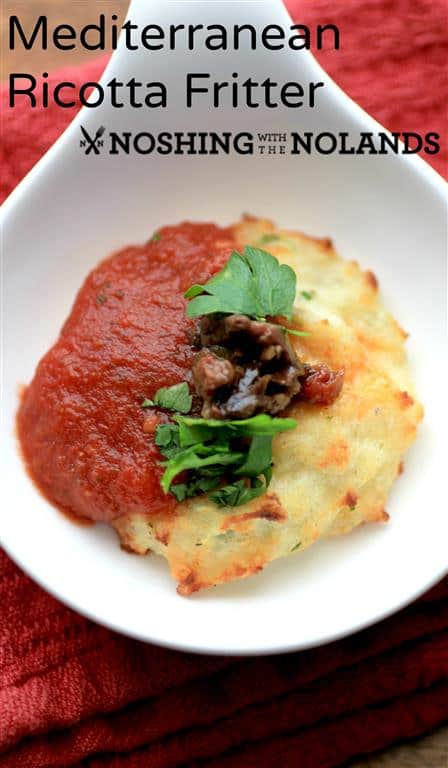 These divine little spoons are a perfect appetizer to impress for New Year's Eve. They are easy to make, elegant and easy to serve if you have these little spoons. If not a few on small plate would work well too. The creamy ricottoa fritter pairs gorgeously with tomato sauce and olive tapenade. I love that they are baked too, so very little mess!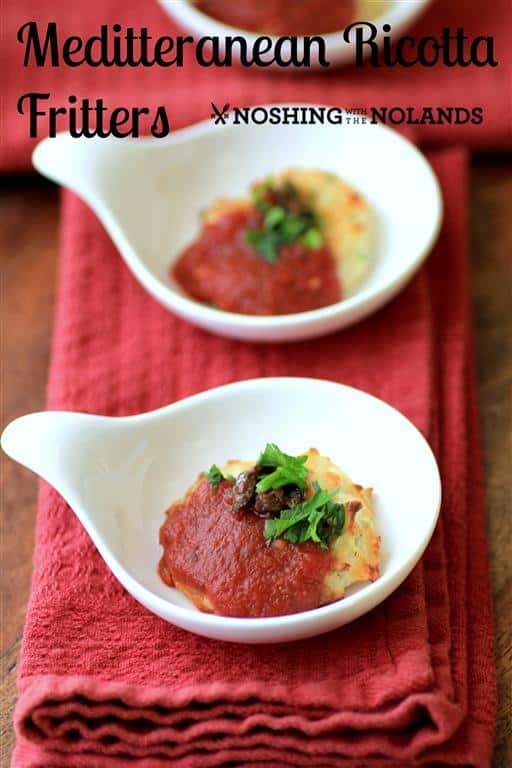 Try out these yummy fritters this holiday season and your guests will surely be impressed. HAPPY NEW YEAR!!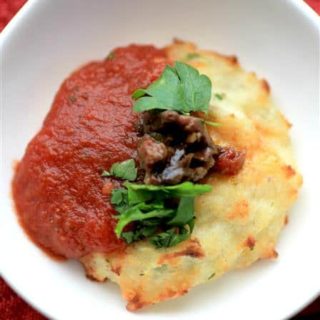 Mediterranean Ricotta Fritters
Yield: 36
Prep Time: 20 minutes
Cook Time: 12 minutes
Total Time: 32 minutes
A cheesy and delicious light fritter served with tomato sauce and olive tampenade.
Ingredients
1 egg
1 cup Canadian ricotta
1/4 cup flour
1/2 tsp. nutmeg
Salt and freshly ground pepper
1 cup Canadian Swiss cheese, grated
1/2 cup tomato sauce, heated
2 tsp. black or green olive tapenade
2 Tbsp. fresh herbs (parsley and /or chives), divided
Instructions
Preheat oven to 425F. In a bowl, whisk egg with ricotta. flour and nutmeg. Season generously with salt and pepper. Incorporate Swiss cheese and half the herbs.
Drop small spoonfuls of dough onto a parchment-lined baking sheet. Bake in the oven on top rack for 10-12 min. (I kept mine in longer) or until fritters are puffed up and golden brown.
Place fritters in wonton soup spoons. Garnish with hot tomato sauce, tapenade and remaining herbs.