Hoisin-Glazed Country-Style Ribs in Foil
Hoisin-Glazed Country-Style Ribs in Foil is from a cookbook that we are reviewing today. 150 Best Recipes for Cooking in Foil by Marilyn Haugen is using the popular foil packaged cooking method. Marilyn has recipes for you whether it is for the oven, BBQ or camping. The original recipe title is lovely and descriptive being called Hoisin-Glazed Country-Style Ribs in Foil with Green Beans and Crispy Leeks but it is a bit long for the blog. It really does tell you all the deliciousness that is going on in this recipe though.
Country-Style ribs are not a common thing here in Canada. I never see them out but our local gourmet grocery store had a chance for us to get free baby back ribs. They were celebrating pork in June!! I sure jumped at that opportunity. I then found this recipe and magic was made!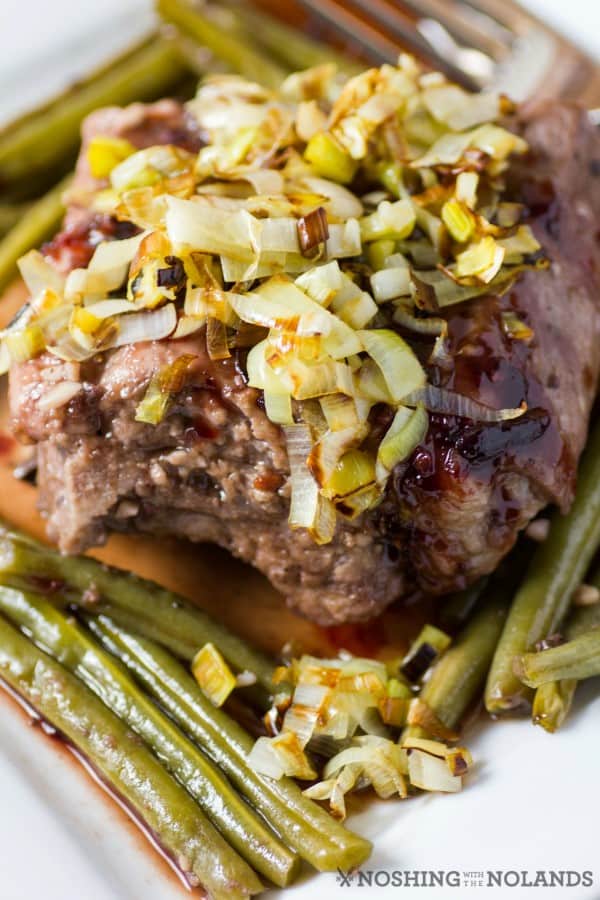 Perfectly cooked tender ribs await you in a foil pouch that have been cooking in a surprising combination of hoisin sauce and blackberry preserves. Accompanied by gorgeous green beans and crispy leeks this dinner is a real winner!! Foil packs are becoming very popular as foil is a universal, portable cooking tool. It can be a bowl, a pan or a pot and is perfect for fast, easy cleanup meals.
For our busy lives Cooking in Foil is absolutely perfect. You can still get all the freshness in a great dish with quick and effortless meals that are pulled together in no time.
Furthermore for camping, using a roll of foil is the perfect, easy way to cook. The last thing you want to be doing is the hassle of loads of dishes to wash.
Cooking in Foil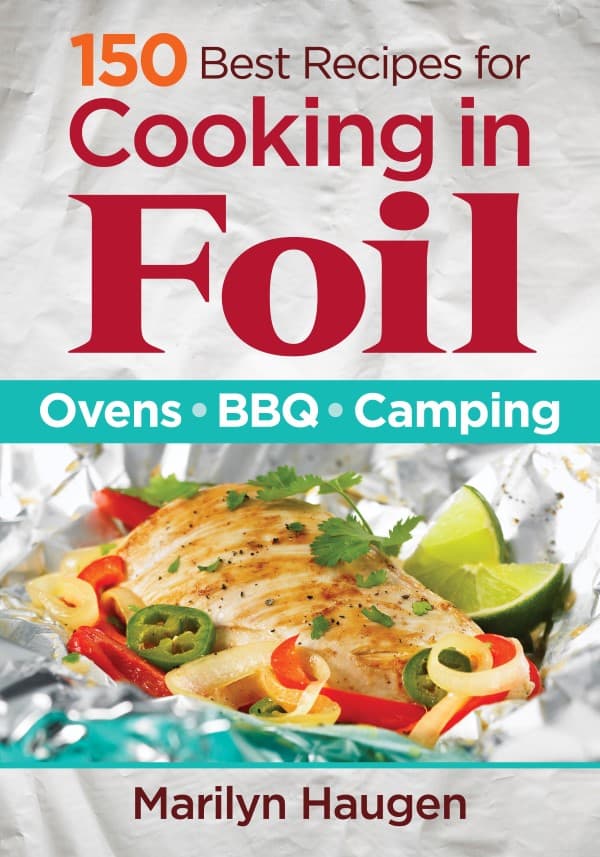 This is just one of the fabulous recipes in this wonderful cookbook that will take you from your backyard grill to your oven and off to the campground. The recipes are so fast and easy you will be trying one after another. Recipes like Ready to Go Breakfast Tacos, Beef Stuffed Pepper Boats, Portuguese Clam Bake with Corn on the Cob, Herb-Crusted Sirloin Tip Roast with Rosemary Beets or Blackberry Peach Crumble. I know we will be using this cookbook again and again.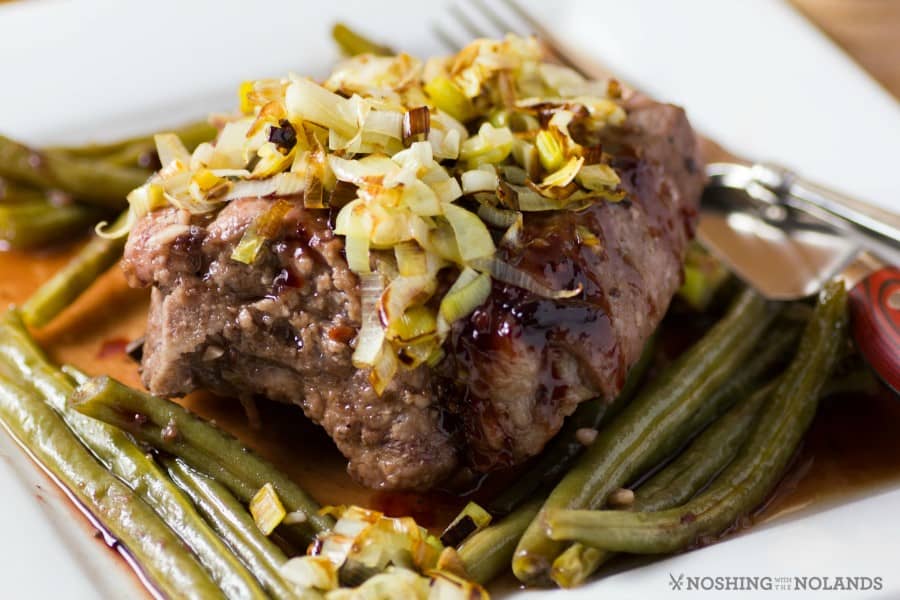 Marilyn Haugen is the author of this mouth watering cookbook. She is also a small business owner, mother and passionate food lover. She enjoyed a professional career as an accountant with an MBA in marketing which lead to her working for American Express as the director of Financial Operations. Her career has enabled her world wide travel where she has enjoyed many different cultures through food.
After a long career, Marilyn decided to become a stay-at-home mom with her daughter, which she resides with in Madison, Wisconsin. Her life long passion has been cooking and bringing people together. In 2005 she started her own media company which lead to FoodThymes.com. She is the author of two other cookbooks, 150 Best Breakfast Sandwich Maker Recipes and 150 Best Spiralizer Recipes.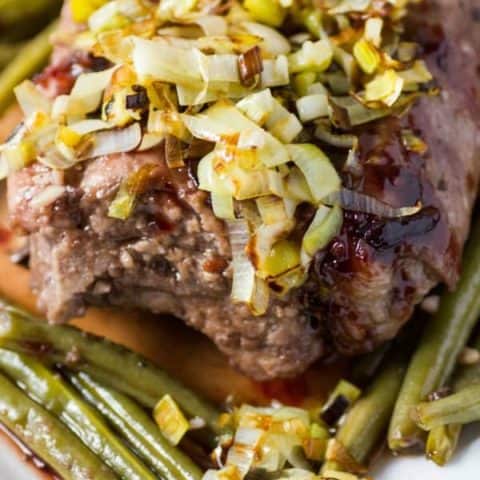 Hoisin-Glazed Country-Style Ribs in Foil
Yield: 6 servings
Prep Time: 15 minutes
Cook Time: 35 minutes
Total Time: 50 minutes
A unique and surprising combination of hoisin sauce and blackberry preserves gives a whole new dimension of flavor to country-style pork ribs.
Ingredients
2 cloves garlic, minced 2
1 tsp minced gingerroot 5 mL
1⁄2 tsp hot pepper flakes 2 mL
1⁄2 tsp kosher salt 2 mL
1⁄4 tsp freshly ground black pepper 1 mL
1⁄2 cup blackberry preserves 125 mL
1⁄4 cup hoisin sauce 60 mL
2 tbsp red wine vinegar 30 mL
11⁄2 lbs boneless country-style pork ribs, cut into 6 equal pieces 750 g
1 lb green beans, trimmed 500 g
1 tbsp virgin olive oil, divided 15 mL
1 small leek (white and light green parts only), thinly sliced into rings
Instructions
• Preheat oven to 350∞F (180∞C)
• 6 sheets heavy-duty foil, sprayed with nonstick cooking spray
In a medium bowl, combine garlic, ginger, hot pepper flakes, salt, pepper, preserves, hoisin sauce and vinegar.
Place a piece of pork on each prepared foil sheet. Coat all sides of pork with sauce.
In a bowl, toss green beans with half the oil. Arrange around pork, dividing evenly. Fold foil into tent-style packets and seal edges tightly. Place packets on a baking sheet.
Bake in preheated oven for 25 to 35 minutes or until pork is fork-tender. Remove packets from oven and let rest, without opening, for 10 minutes.
Meanwhile, in a medium skillet, heat the remaining oil over medium-high heat. Add leek and cook, stirring and separating rings, until slightly crispy. Using a slotted spoon, transfer leek rings to a plate lined with paper towels.
Transfer pork to plates, drizzle with sauce from foil and garnish with crispy leeks. Serve green beans on the side.
Tips
Raspberry or blueberry preserves would also be delicious in place of the blackberry preserves.
If you can only find bone-in country-style ribs, youíll need 2 lbs (1 kg). When placing them on the foil, take care that the bones do not pierce the foil.