Hurricane Cocktail
Do you remember this libation? A Hurricane Cocktail has been around for a long time. A hurricane cocktail consists of a blend of rums, fruit juices and grenadine! This post first appeared over at Real Housemoms where also I'm a contributor. I am now sharing this lovely lively beverage here for you today!!
Doing a special cocktail to start the night off with gets the party going. People also love a nostalgic drink like this one that has a bit of history. Gives you something to start chatting about right away as you hand over a great starter like this to family or friends.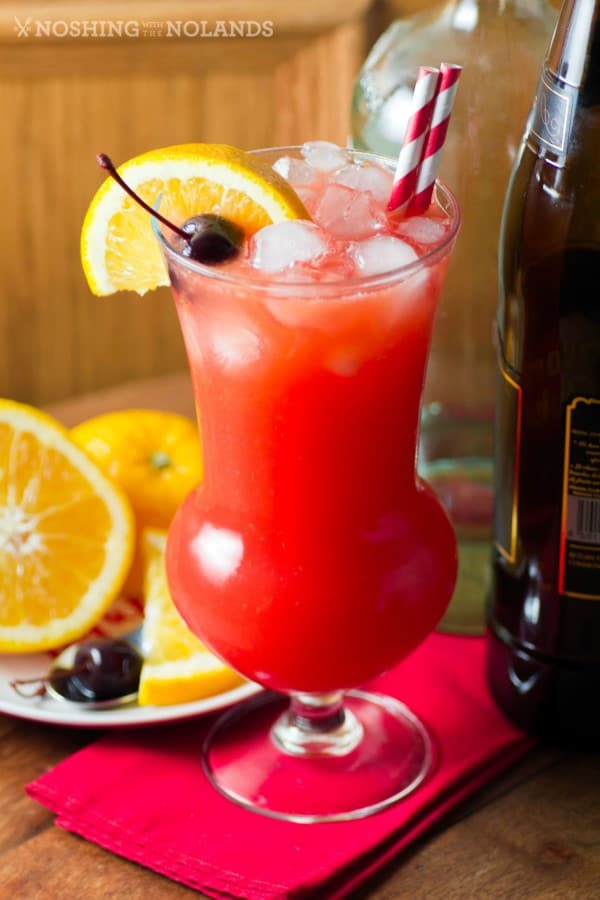 Where did this cocktail originate? Well according to Wikipedia it was first born in New Orleans. Pat O'Brien, a tavern owner came up with this drink, to try and get rid of the excess rum that he was forced to buy. He wanted to have the more popular liquors of whiskey and scotch but had to purchase rum to be able to get those. Serving up his concoction, which he gave away to sailors, pouring it into hurricane lamp-shaped glasses. The drink caught on and is a mainstay in the French Quarter of New Orleans to this day.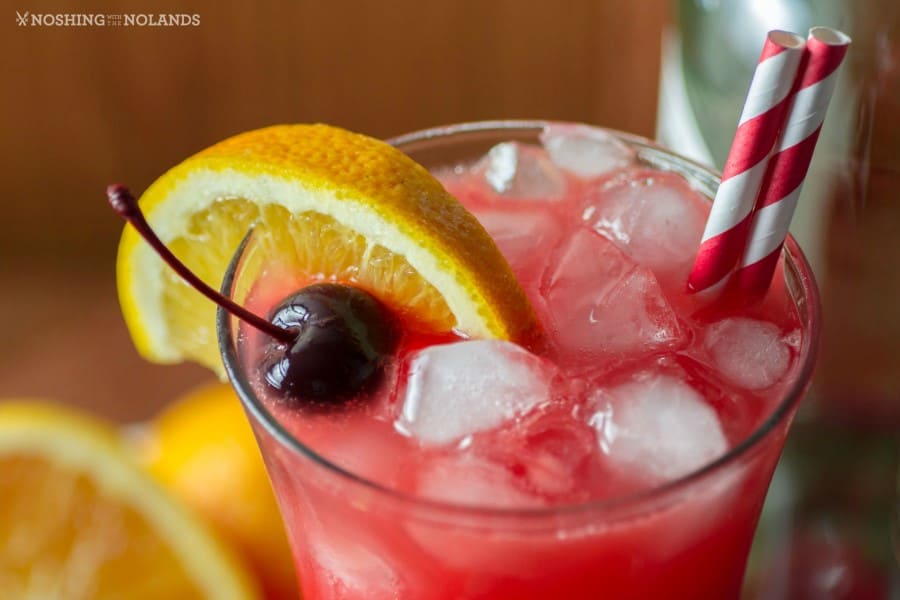 You maybe are wondering about the cherry in this cocktail. It is not a fresh cherry but a maraschino cherry that is just not dyed the usual bright red color. I found them in my local gourmet store and wanted to try them. They taste exactly like a maraschino cherry though.
Enjoy this cocktail for a special occasion or over the holidays. It is always nice to bring a little bit of the tropics into your home when the weather is nasty outside.
The Recipe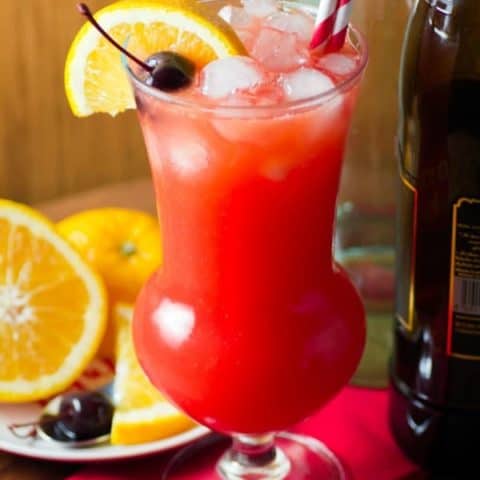 Hurricane Cocktail
Yield: 1-2 servings
Prep Time: 3 minutes
Total Time: 3 minutes
This Hurricane Cocktail will be the hit of any party with its lively fruit juices, rum, and fun color!
Ingredients
1.5 oz. spiced rum
1.5 oz. white rum
6 oz. orange juice
4 oz. passion fruit juice
2 oz. grenadine
1 oz. lemon juice
Orange slices
Maraschino cherries
Instructions
Mix up the rums, orange juice, passion fruit, grenadine and lemon juice in a small pitcher and stir. Fill two small hurricane glasses with ice (or one large hurricane glass) and pour in the cocktail. Stir and garnish with the orange slices and maraschino cherries.