This Frozen Mudslide Cocktail will become summer's hottest cool treat. Enjoy this classic adult milkshake made with Irish cream, coffee liqueur, vodka, ice cream, and cold brew ice cubes.
When the sun is shining, there's nothing like a chilled cocktail to quench your thirst and lift your spirits. Come celebrate happy hour with us! We've got uniquely tasty, Chambord Frozen Lemonade, Coconut Mint Margaritas, and sumptuous Salty Dog Cocktails ready for your sipping pleasure.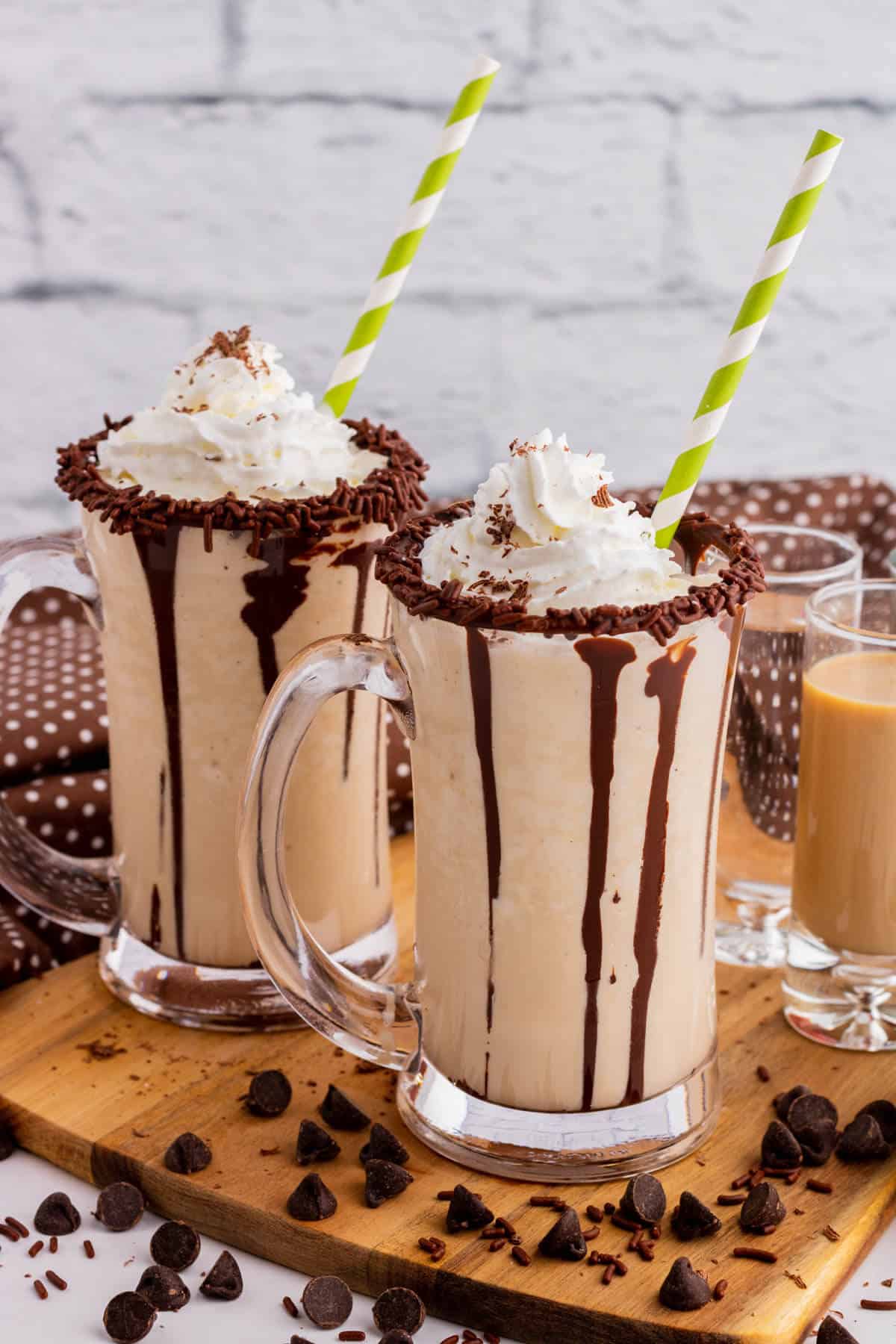 Helpful Items For This Recipe
This post contains affiliate links. As an Amazon Associate, I earn a small portion from qualifying purchases at no extra charge for you.
Ghirardelli Chocolate & Caramel Sauces in Squeeze Bottles
16-oz Café Glass Coffee Mugs, Clear, Set of 6
Classic Frozen Mudslide
Summer just got a whole LOT more delicious with these mouthwatering frozen mudslide cocktails. They are so wonderfully thick and creamy, with a dynamic combination of coffee and booze.
However…here's a word of warning; one sip leads to another because they go down way too easily and before you know it, you'll be feeling these boozy adult milkshakes!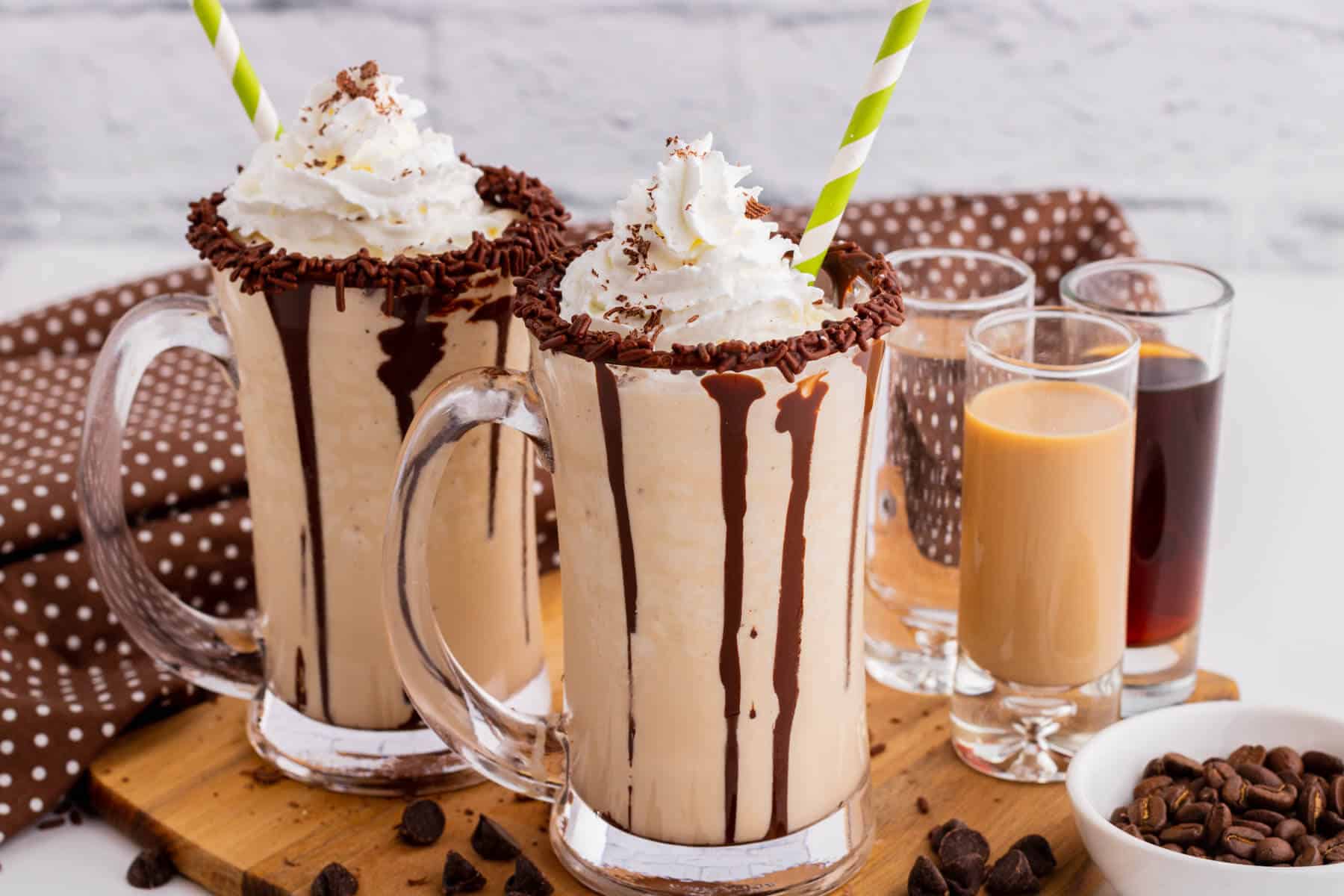 What is a Mudslide?
According to 'Webtender Wiki' a mudslide cocktail is a variation of a White Russian made with the conventional formula of equal parts vodka, Kahlua, and Bailey's Irish Cream.
This classic drink can be served in multiple ways; in a rocks glass over ice, as a shooter with espresso (which is sometimes called a 'shaft'), as a layered shot, as a frozen drink, or as a boozy milkshake as per our version.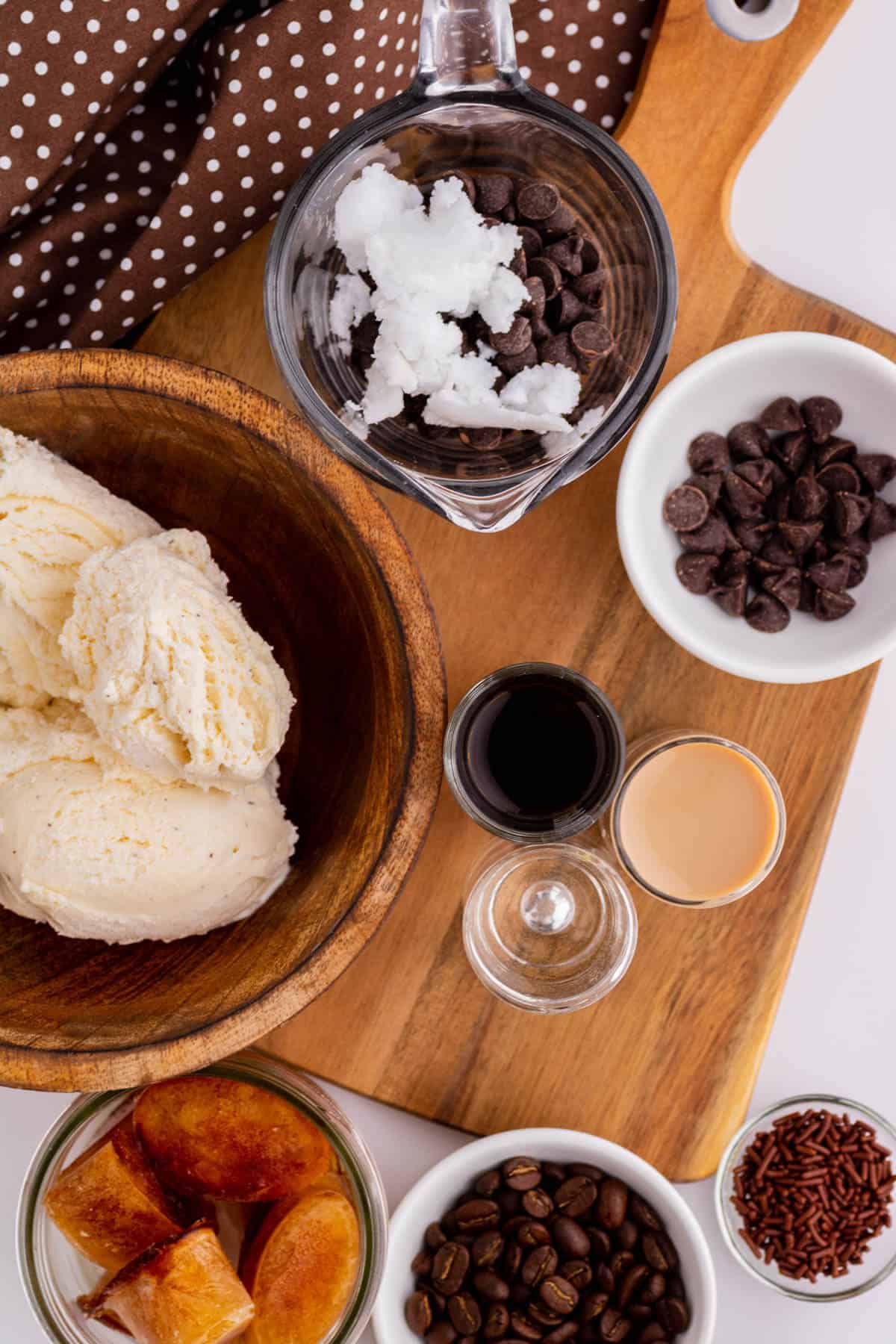 My Frozen Mudslide Version
This version of the decadent frozen cocktail contains the archetypal Mudslide formula of equal parts vodka, coffee liqueur, and Irish Cream.
However, there's just a smidge more coffee flavour thanks to the cold brew flavoured ice cubes. No brain freeze, I mean Frozen Mudslide, would be complete without multiple generous scoops of ice cream.
The way all of this delciousness comes together in a high powered blender (such as a Vitamix) is almost like a work of art.
Speaking of a 'work of art' let's talk garnishes. I've included an easy way to create an eye catching cocktail garnish with this cocktail recipe. Who doesn't love a fun garnish, especially when it involves chocolate?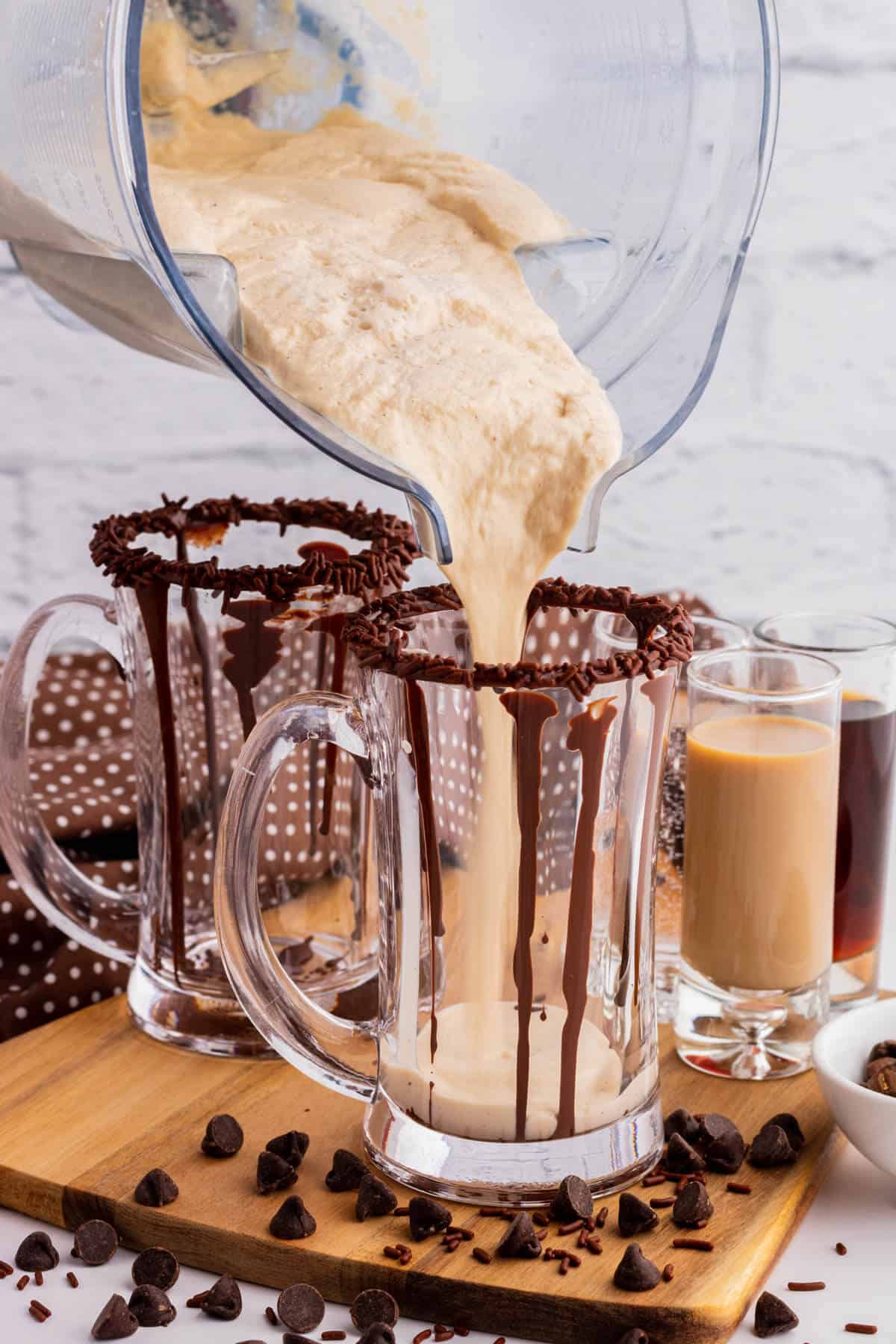 Ingredients for a Frozen Mudslide
Though the formula is quite recognized, there are still a few fun ways you can play with the ingredients and still call it a mudslide.
vodka
Kahlua
Bailey's Irish Cream
Cold Brew Coffee
Ice Cream
Chocolate Chips
Coconut Oil
Chocolate Sprinkles
Whipped Cream
Vodka is just vodka, unless you can source a coffee flavoured variety. There are many out there on the market and I highly recommend using one as it will bring even more coffee flavour to this delicious cocktail.
While Kahlua may be the most recognizable coffee liqueur brand to most, there are other options available. This includes Tia Maria, Kapali Coffee Liqueur, and even a tequila based coffee liqueur from Patrón.
Additionally, I highly recommend checking with your local distilleries to see if they carry any unique coffee based spirits.
Similarly, there are many other Irish Cream options on the market these days…and even variations within the Bailey's brand! You could use one to make a strawberry frozen mudslide, a salted caramel mudslide, a dairy free mudslide (with the Almond milk based Bailey's product), a chocolate cherry frozen mudslide….the list goes on! They even have a version flavoured with espresso.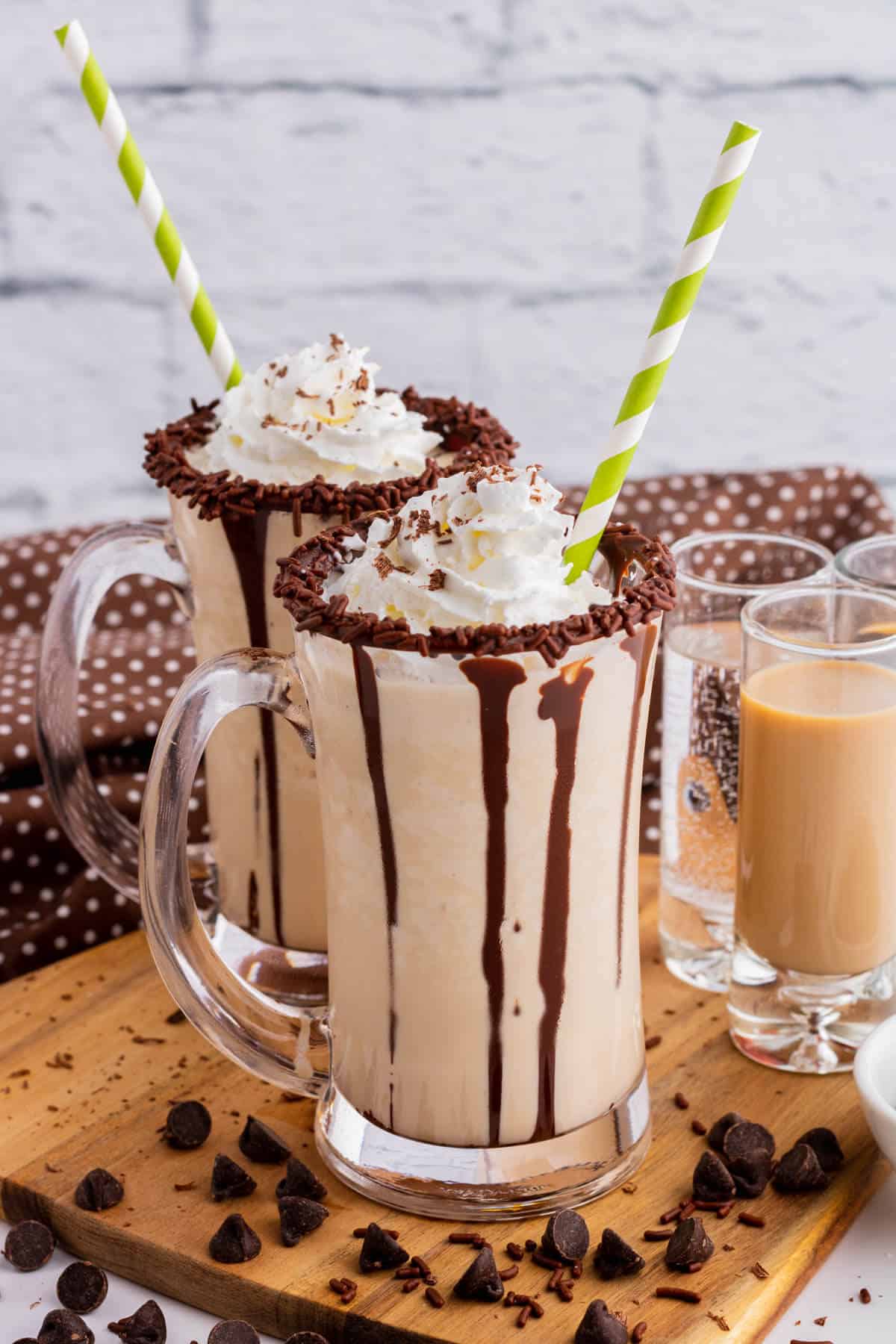 Cold brew coffee is easy to make, however, I used a purchased can of local cold brew to make the ice cubes. Note that you'll need to include time for the ice cubes to freeze up, so it's a good idea to make them the night before.
You can substitute regular ice cubes or crushed ice if you wish, however there will be a less pronounced coffee flavour.
Ice Cream is another ingredient you can play with. Use vanilla, or go all out with chocolate ice cream to create a mocha flavour. There's also vanilla with a ribbons of chocolate, strawberry, Rocky Road, Chocolate Cherry, Chocolate Mint…isn't it fun to have ice cream as a cocktail ingredient?!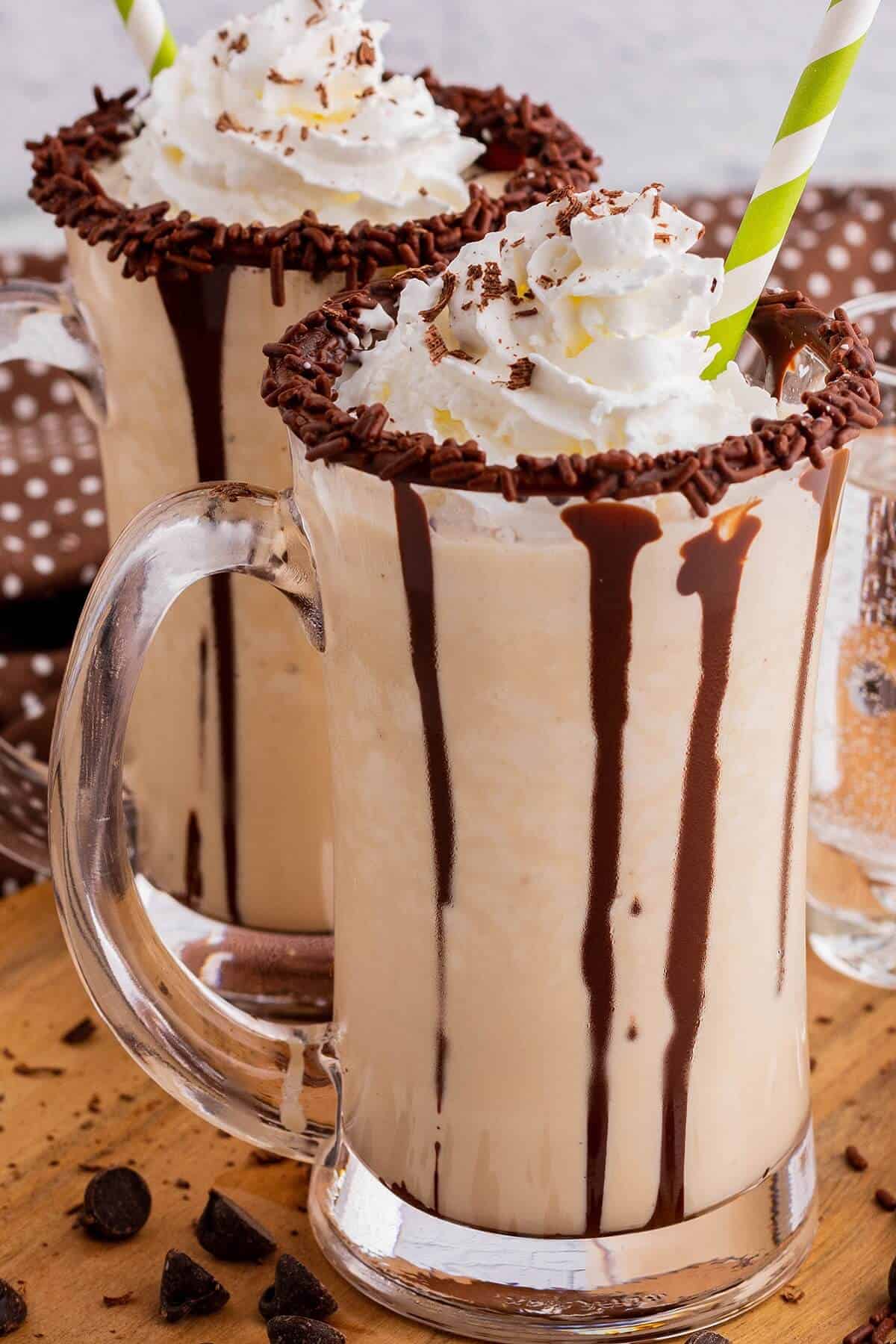 How to Make Chocolate Cocktail Garnish
Before you even think of whipping up this cocktail, let's talk about the garnish. The chocolate sprinkle rimmer and drizzle down the inside of the mug looks impressive but is super simple to make.
To make the chocolate syrup set quickly, you must chill the glasses in the freezer for at least 15 minutes before applying the rimmer. You can use glass mugs as shown, rocks glasses, or even Hurricane glasses.
For the chocolate syrup, simply melt chocolate chips and coconut oil together for 40 seconds in a microwave. Stir until the mixture is completely melted and smooth. Allow it to cool for a few minutes while you set up the dipping station.
You will need two small plates, one for the chocolate sauce and one for the chocolate sprinkles. Dip the rim of the glass into the chocolate sauce, then lift straight up and dip it into the chocolate sprinkles. You may have to tilt the glass to get the rim fully covered.
Finally, drizzle chocolate syrup along the inside of the mugs and allow it to to set while you whip up the mudslides.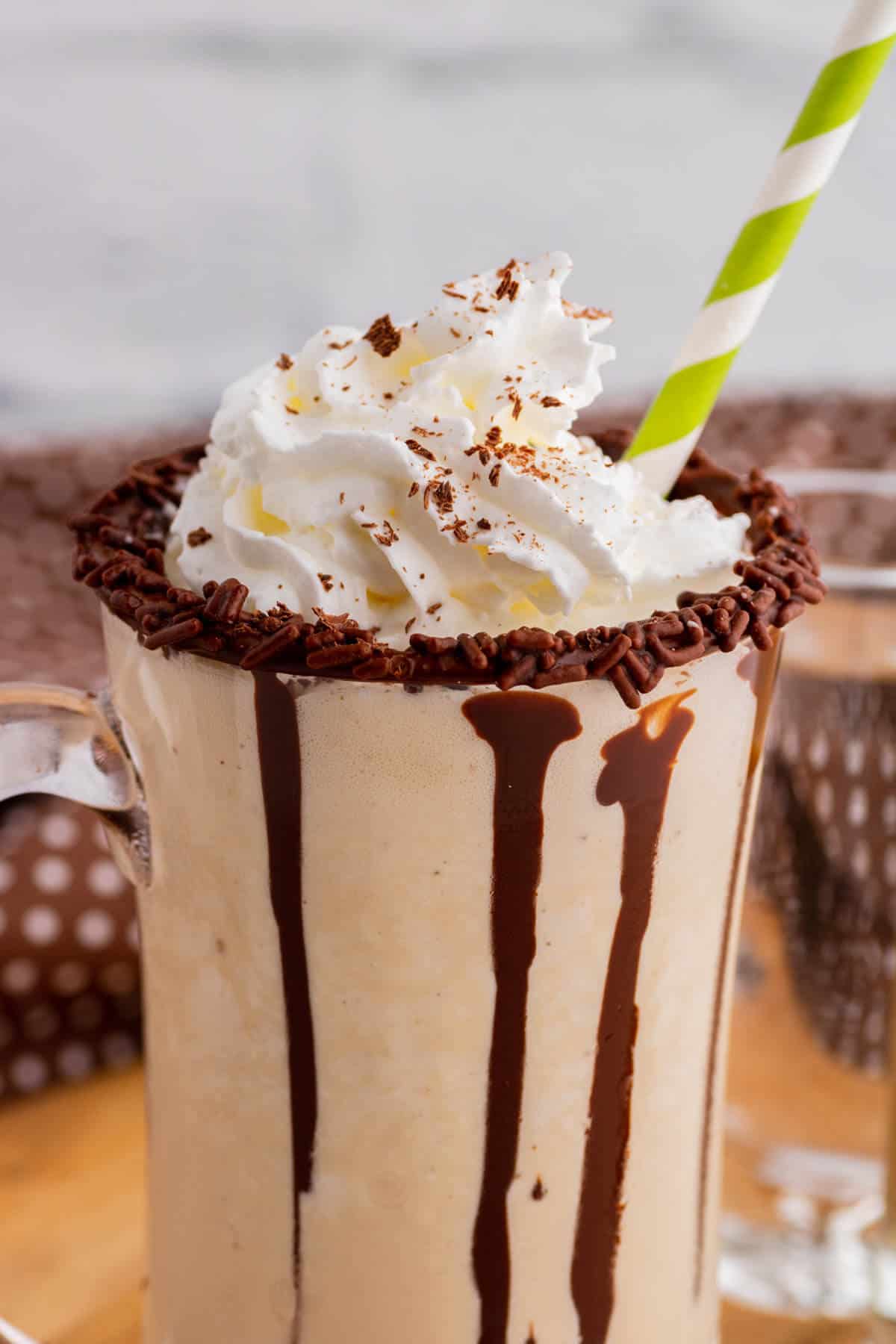 Let's Make a Frozen Mudslide
You will need a high powered blender to make this cocktail smooth and frosty. Place the cold brew ice cubes, vodka, Bailey's Irish Cream, Kahlua in the blender then add ice cream.
Blend until smooth, ensuring the mixture is smooth with no remaining ice chunks. Pour into a prepared glass and garnish with whipped cream. Finally, grate chocolate over the whipped cream using a chocolate bar and vegetable peeler or microplane.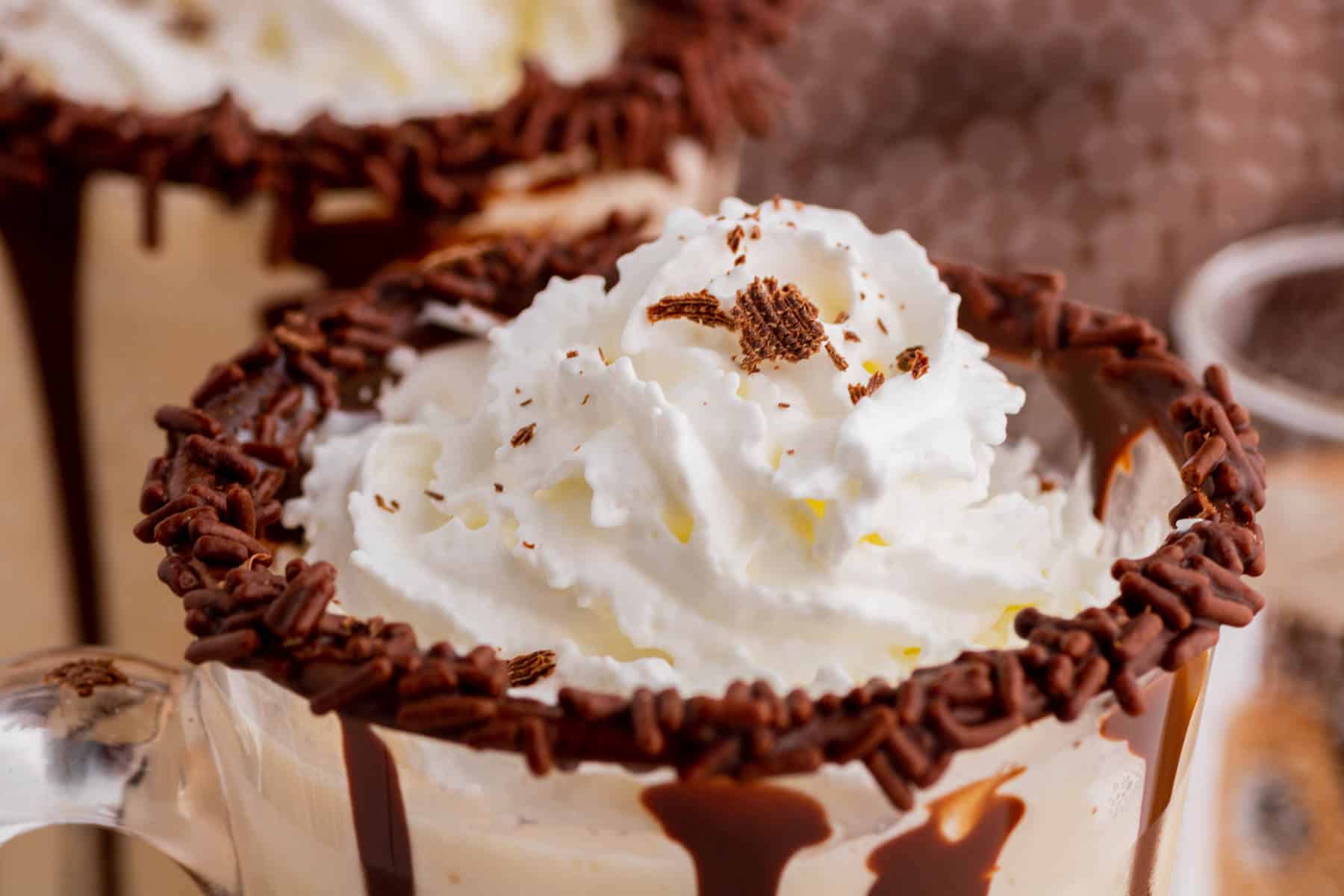 Mudslide Variations
While this basic Frozen Mudslide is sensational on it's own, there are many easy ways to create your own version by adding your favourite flavours.
Add frozen fruit such as strawberries, cherries, or frozen oranges to make it a boozy adult smoothie.
Replace the vodka with your favourite fruit liqueur such as: Kirsh, Crème de Menthe, Grand Marnier, Triple Sec, or Cointreau.
Mix in a bit of salted caramel syrup or dulche de leche.
Make it 'nutty' with a touch of Frangelico, Amaretto, or walnut liqueur.
Add cinnamon and a 1/2 oz of cinnamon liqueur for an iced latte style.
Make it dairy free with dairy free products such as coconut whipped cream, Almond Bailey's Irish Cream, and dairy free ice cream.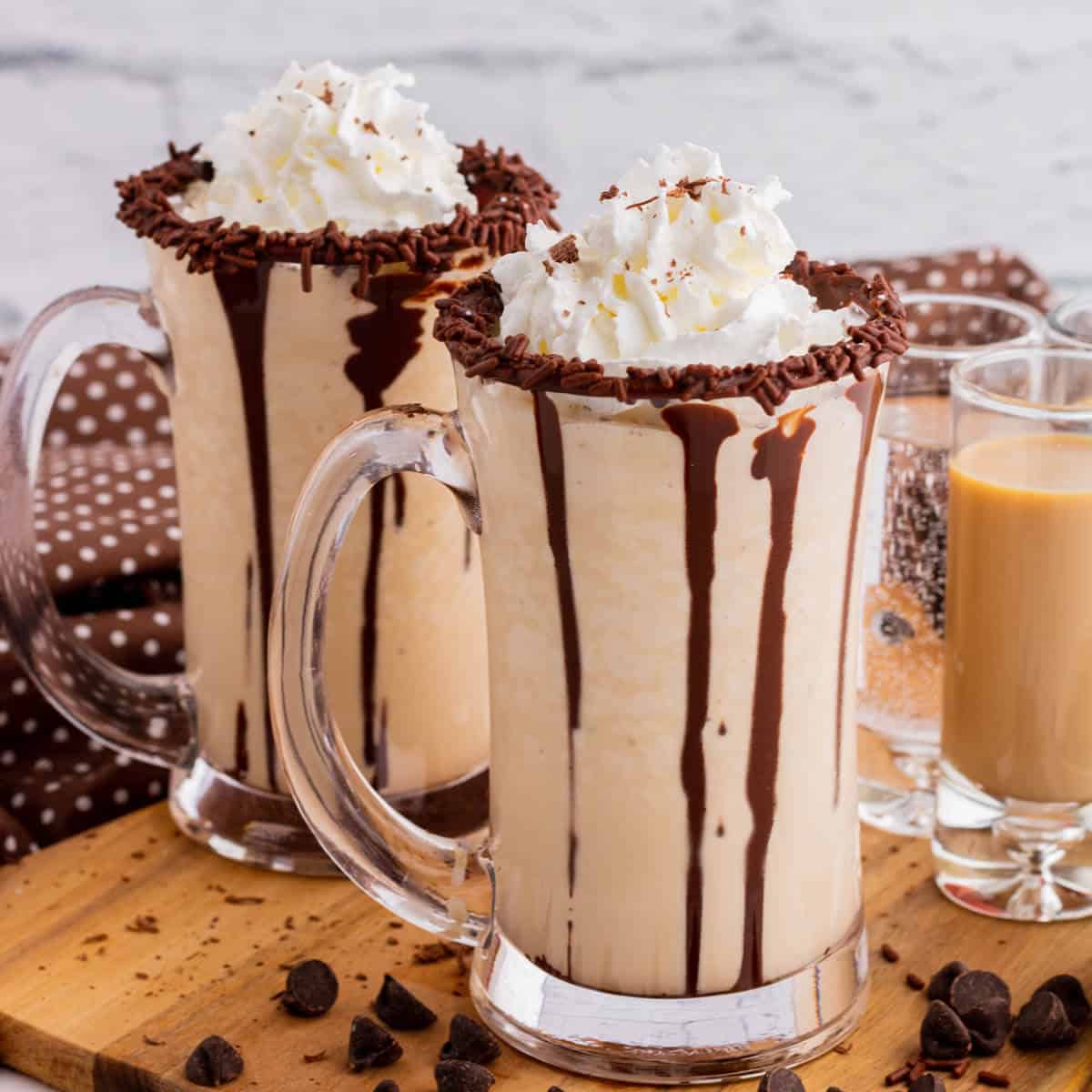 Pin it HERE!!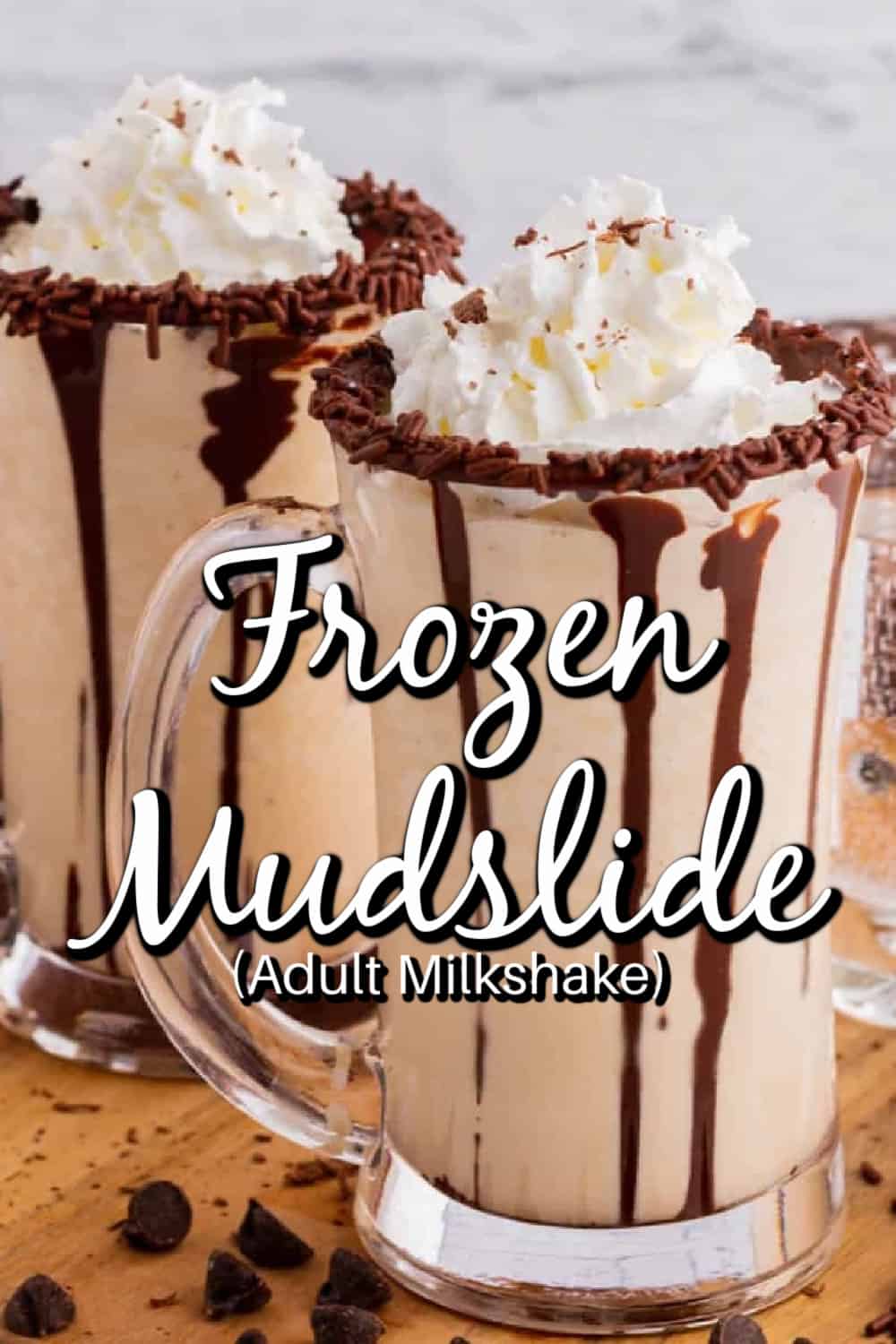 Pin it HERE!!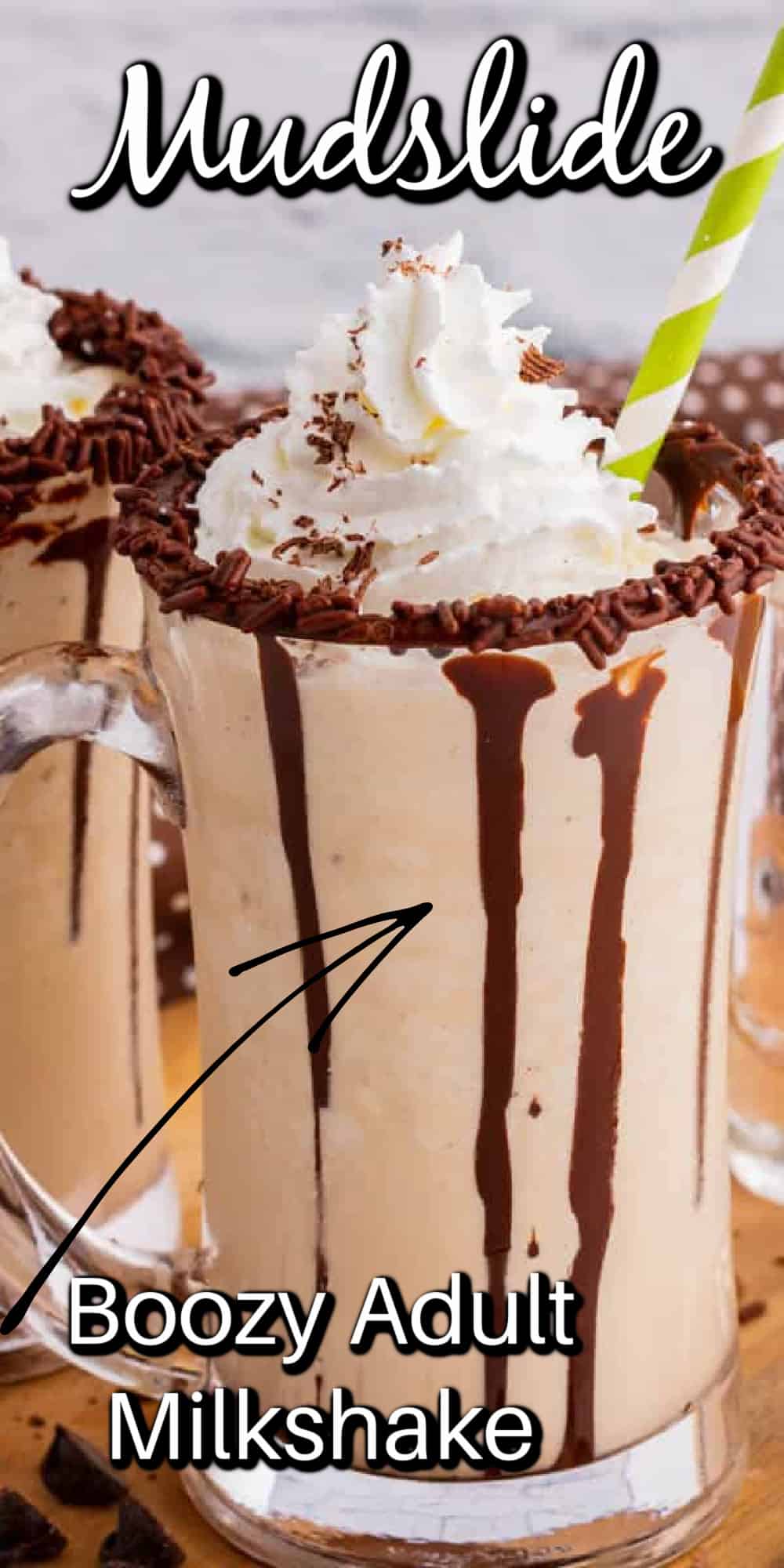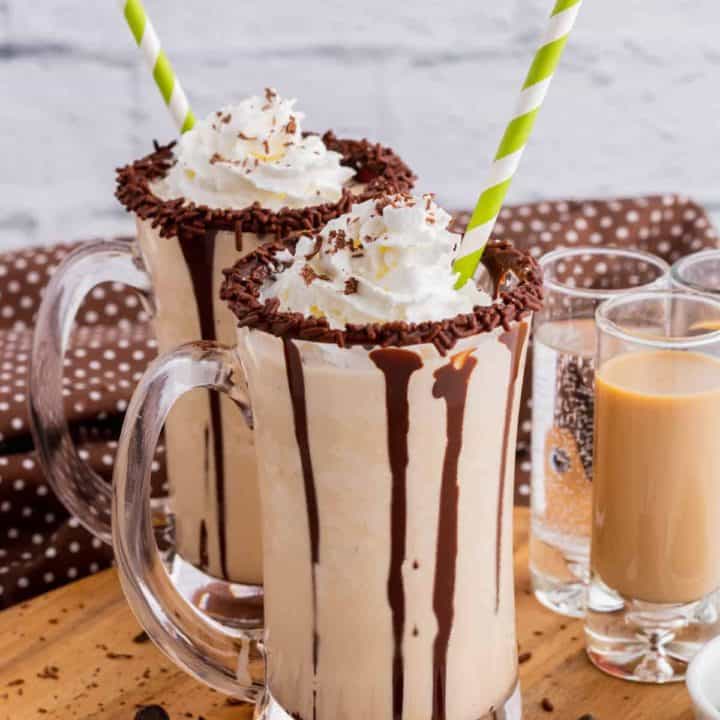 Classic Frozen Mudslide
Yield: 2 cocktails
Prep Time: 10 minutes
Total Time: 10 minutes
Frozen Mudslides are summer's hottest cool treat. Enjoy this classic adult milkshake made with Irish cream, coffee liqueur, vodka, ice cream and cold brew ice cubes.
Ingredients
1/4 cup chocolate chips
1 tbsp coconut oil
2 oz vodka
2 oz coffee liqueur
1 cup cold brew coffee; frozen in cubes
2 oz Irish cream liqueur
6 scoops vanilla ice cream
whipping cream
chocolate bar or chocolate sprinkles for garnish
Instructions
FOR THE GARNISH
Chill glasses in freezer for 15 minutes.
Place chocolate chips and coconut oil in a microwave safe measuring cup and melt for 30 seconds. Stir until smooth, add more microwave time as necessary.
Pour a small amount of chocolate mixture on a small plate. Scatter chocolate sprinkles on another small plate.
Press the rim of one chilled glass in the chocolate mixture, lift and then carefully roll the rim in the chocolate sprinkles before it becomes solid. Repeat with second glass.
Drizzle chocolate mixture down the inside of the glasses and allow to solidify.
FOR THE COCKTAIL
Place cold brew ice cubes, ice cream, and alcohol in a high powered blender. Process until smooth.
Pour into prepared glasses, top with whipped cream and chocolate shavings.

Recommended Products
As an Amazon Associate and member of other affiliate programs, I earn from qualifying purchases.
Nutrition Information:
Yield: 2
Serving Size: 1
Amount Per Serving:
Calories: 920
Total Fat: 35g
Saturated Fat: 23g
Trans Fat: 0g
Unsaturated Fat: 10g
Cholesterol: 87mg
Sodium: 169mg
Carbohydrates: 88g
Fiber: 3g
Sugar: 82g
Protein: 8g