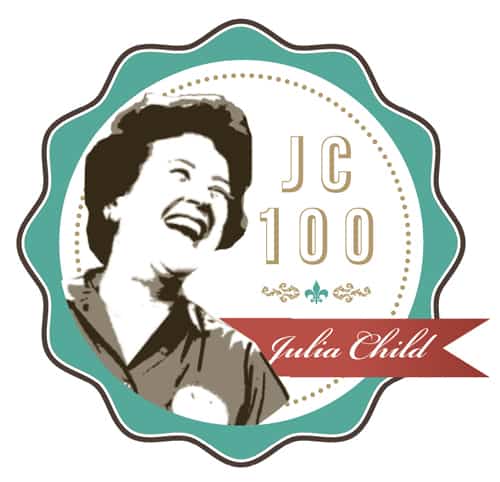 Julia Child's Fillets of Sole Meuniere
Well here we are at week 7 already, I can't believe it. I have never made Julia Child's Fillets of Sole Meuniere before, probably because I really didn't like fish that much as a kid but as Amber said, "this doesn't taste like fish it tastes like YUM." It sure did. Ken touted it as the best fish he had ever had. So simple, it is all in Julia's techniques!!
This was the first meal Julia enjoyed in France and it sparked a 40 year love affair with food. Cooking it at a high heat until it is "squashy" to the touch and not flaky.
She says if your fish is flaky it is overdone. I absolutely adore fish now as an adult and can't get enough sushi but a well-cooked fish is a work of art in my mind. Delicate to taste but yet full of flavour.
I watched Julia doing a Sole Bonne Femme on her cooking show. She said not to serve fish with anything else except rice or potatoes so as not to take away from the taste of the fish.
She was right as always and it was perfect together. Just eat like the French and have you salad (on the same plate) at the end of your meal.
The fish was crisp on the outside and done perfectly on the inside. I lucked out when I went to our local gourmet store, Sunterra as they just had a box of sole delivered and it was a lovely Dover sole which Julia had recommended.
Can't get much fresher than that in the foothills of Alberta. You have to try this it was absolutely fantastic.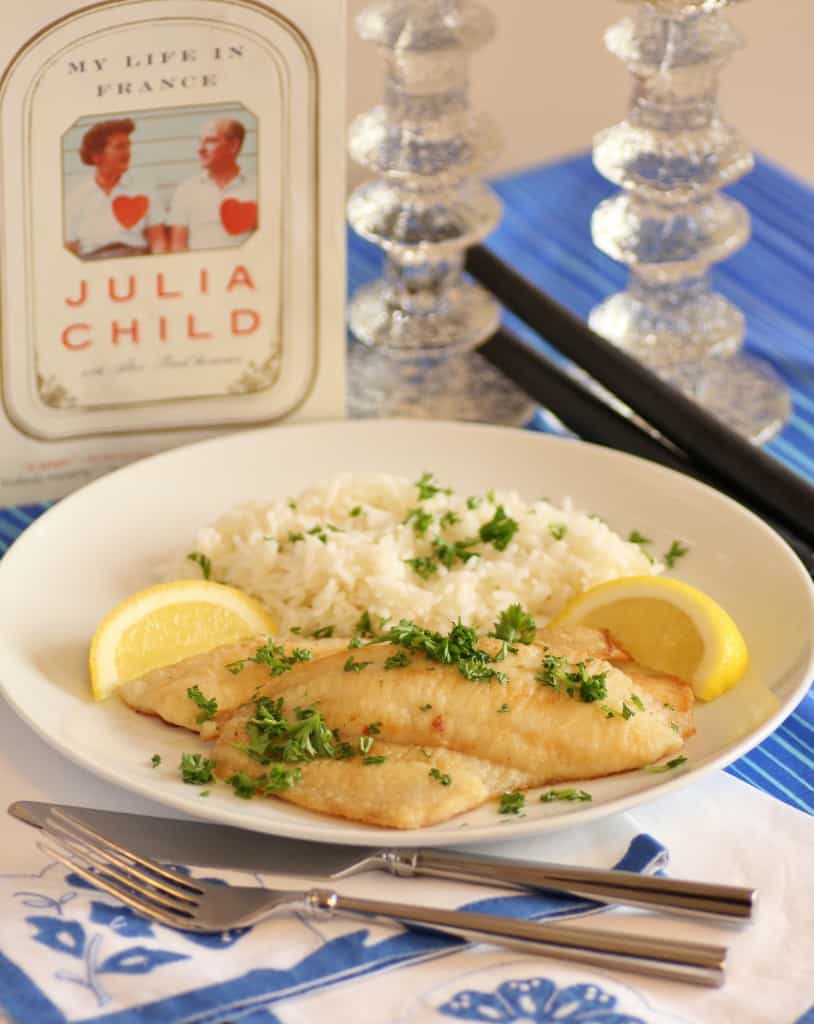 Julia Child's Fillets of Sole Meuniere
Yield: 4 Servings
Prep Time: 10 minutes
Cook Time: 15 minutes
Total Time: 25 minutes
This was the first meal Julia enjoyed in France and it sparked a 40-year love affair with food.
Ingredients
6 skinless and boneless sole or other thin fish fillets, 4-6 oz. each and 3/8 inch thick
Salt and freshly ground white pepper
1/2 cup or so of flour on a plate
6 Tbsp. clarified unsalted butter
3 Tbsp. minced fresh parsley
1 lemon cut into wedges
Instructions
Preheat oven to 200F. Make the clarified butter by melting about 7 1/2 Tbsp. In a small saucepan and pouring off the clear yellow liquid or as we did skim the top white milky liquid.
Then continue to boil until most of the milky liquid has evaporated but you need to watch that the butter doesn't burn.
Dry each fillet and place on waxed paper. Score the fillets and trim if needed. Scoring stops the fish from curling. Dust the fillets on each side with salt and pepper.
Move the fillets close to your saute pan along with the plate of flour. Place about 2 1/2 Tbsp. of the clarified butter into your frypan and heat on high.
When the butter is very hot but not browning rapidly lay the fish in the flour and then shake off excess. Saute the fillet in the butter leaving plenty of room between each piece. Do this in two batches. Let the fish cook a minute or two on the one side and carefully with your spatula turn over.
Cook another two minutes. The fish is done when it is springy rather than squashy to the touch. Immediately remove from pan to a warm plate and place in the oven. Repeat with the other fillets adding another Tbsp. of butter to the pan. Keep the last 1 1/2 Tbsp. butter warming.
To serve, sprinkle each fillet with parsley and drizzle on the warm butter. Serve with lemon wedges and rice or potatoes.
Nutrition Information:
Yield: 4
Serving Size: 1
Amount Per Serving:
Calories: 346
Total Fat: 19g
Saturated Fat: 11g
Trans Fat: 0g
Unsaturated Fat: 6g
Cholesterol: 101mg
Sodium: 311mg
Carbohydrates: 26g
Fiber: 2g
Sugar: 1g
Protein: 18g
Recipe calculation was provided by Nutritionix and is estimation only. If you need nutritional calculations for medical reasons, please use a source that you trust.
Excerpted from The Way to Cook by Julia Child. Copyright © 1989 by Julia Child. Reprinted with permission from the publisher Alfred A. Knopf, a division of Random House, Inc.