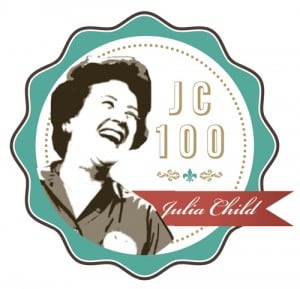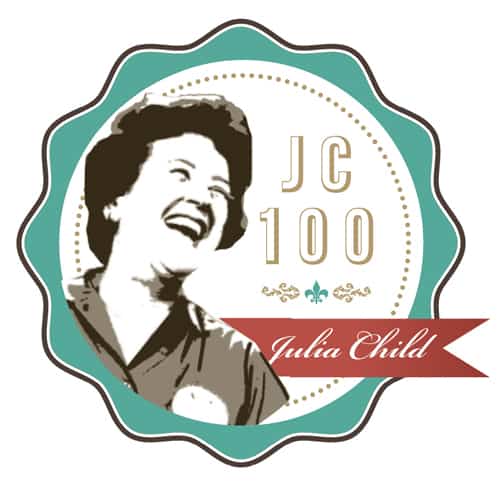 Julia Child's Mousseline Au Chocolat (Chocolate Mousse)
Here is my second assignment, Julia Child's Mousseline Au Chocolat (Chocolate Mousse) from JC100 celebrating Julia's 100th birthday. This was an easy assignment for me as I have made her chocolate mousse before. I wouldn't say the chocolate mousse is an easy recipe though.
Your arm gets a workout with all the beating that is involved but it is so worth it in the end. This is an unbelievably rich and decadent dessert and has been one of my favorites for many many years.
I just ordered little hinged jars even before I got this assignment to fill with chocolate mousse but they haven't arrived yet. When we were in Paris a couple of years ago Amber and her friend Claire ordered chocolate mousse for dessert and it was so nicely presented in a little hinged jar.
I have been looking for them forever and finally found some that of course with shipping broke the bank but soon I will have them. I have only one as you see in the photo below.
If the mousse is served this way they call it pots de creme au chocolat. Any way you serve it, it is fantastic!!!! I am so very thankful that Julia has shared all her wonderful recipes with us.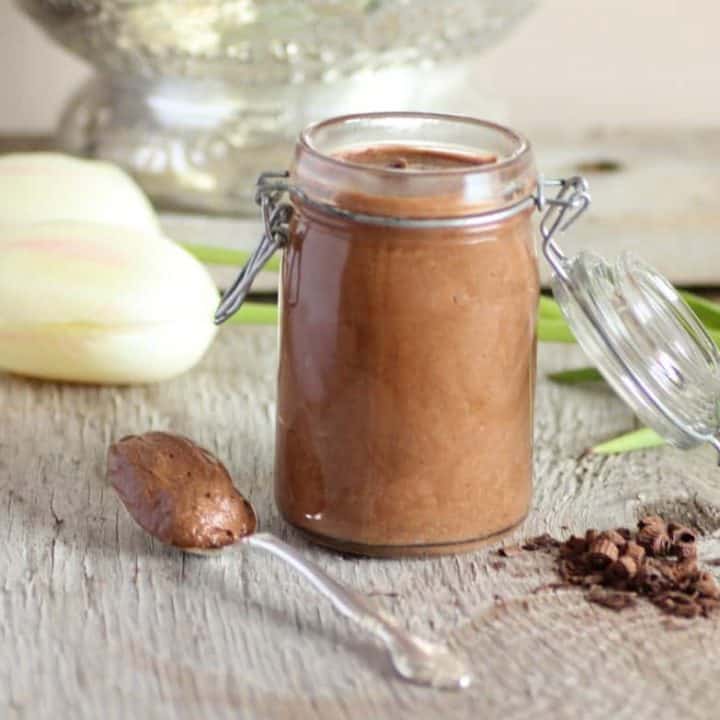 Julia Child's Mousseline Au Chocolat (Chocolate Mousse)
Yield: 6 servings
Prep Time: 10 minutes
Cook Time: 30 minutes
Additional Time: 2 hours
Total Time: 2 hours 40 minutes
This Chocolate Mousse is an unbelievably rich and decadent dessert and has been one of my favourites for many many years.
Ingredients
4 egg yolks (keep the whites, you will use them later)
3/4 cup instant sugar (I used the extra fine berry sugar)
1/4 cup orange liqueur (I used Triple Sec but I have also made it with Grand Marnier)
6 oz. of semi-sweet baking chocolate
4 Tbsp. strong coffee
6 oz. softened unsalted butter cut into cubes
1/4 cup finely diced glazed orange peel (optional, I have never used this)
4 egg whites
Pinch of salt
1 Tbsp. granulated sugar
2 cups vanilla-flavored creme Anglaise or lightly whipped cream sweetened with powder sugar ( I have always used the whipped cream)
Instructions
With a whisk beat the egg yolks and sugar together in a 3-quart porcelain or stainless steel bowl until the mixture is thick, pale yellow, and falls back upon itself forming a slowly dissolving ribbon.
Beat in the orange liqueur.
Set the bowl over a not-quite-simmering pot of water making sure the bowl is not touching the water and continue to beat for 3-4 min until the mixture is foamy and too hot for your finger.
Then beat over a bowl of cold water for 3-4 min. until the mixture is cool and again forms the ribbon. It will have the consistency of mayonnaise.
Melt the chocolate with the coffee over hot water.
Remove from heat and beat in the butter with a wooden spoon a bit at a time, to make a smooth cream.
Whisk the chocolate into the egg yolks and sugar mixture, then beat in the optional orange peel.
Beat the egg whites and salt until soft peaks are formed, sprinkle on the sugar, and beat until stiff peaks are formed.
Stir one-fourth of the egg whites into the chocolate mixture. Fold in the rest.
Turn into serving dishes, dessert cups, petits pots and refrigerate for at least 2 hours or overnight.
Whip the cream and add the sugar and pass the sauce or whipped cream separately. What a magnificent creation!!!
Nutrition Information:
Yield: 6
Serving Size: 1
Amount Per Serving:
Calories: 773
Total Fat: 41g
Saturated Fat: 25g
Trans Fat: 0g
Unsaturated Fat: 14g
Cholesterol: 185mg
Sodium: 81mg
Carbohydrates: 48g
Fiber: 5g
Sugar: 39g
Protein: 9g
Recipe calculation was provided by Nutritionix and is estimation only. If you need nutritional calculations for medical reasons, please use a source that you trust.
Excerpted from Mastering the Art of French Cooking by Julia Child. Copyright © 1961 by Alfred A. Knopf. Reprinted with permission from the publisher Alfred A. Knopf, a division of Random House, Inc.
This has been added to Michelle's Tasty Creations and Crafty Ideas Creative Thursday Link Party