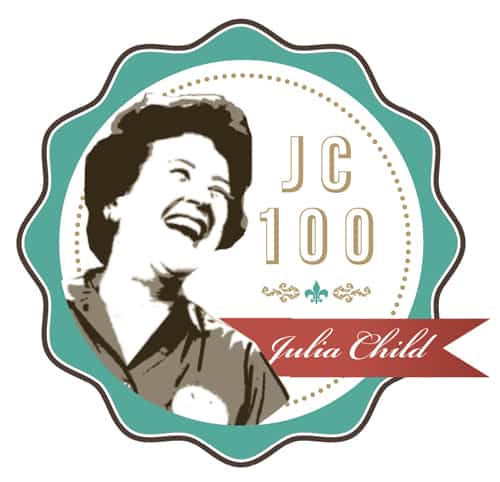 Julia Child's Roast Chicken
It is week 8 into our celebration of JC100 and we are cooking Julia Child's Roast Chicken, to perfection. I honestly think this was the best chicken I have ever made.
Moist and juicy and full of flavor. You probably thought you made a pretty good chicken already but if you follow Julia's techniques you will make an even better roast chicken. I watched Julia last night on my DVD to see if there were anything else I was missing.
She talks a lot about the much-enjoyed bird. From first washing it well, to checking it over for unwanted feathers, to trimming the nubs off the wings and removing the wishbone for easier carving, and finally trussing it securely. On her show, she has an open countertop rotisserie and an oven one.
Two things you don't see that much of today. She also added strips of bacon to the chicken when she was trussing it up.
Doing the rotisserie method you would cook the bird twice as long but she ended up with a gorgeously browned chicken.
Upon studying the DVD, my assignment, and a few recipes this is what I came up with and it was fantastic!!! I love that I am continually learning on this journey.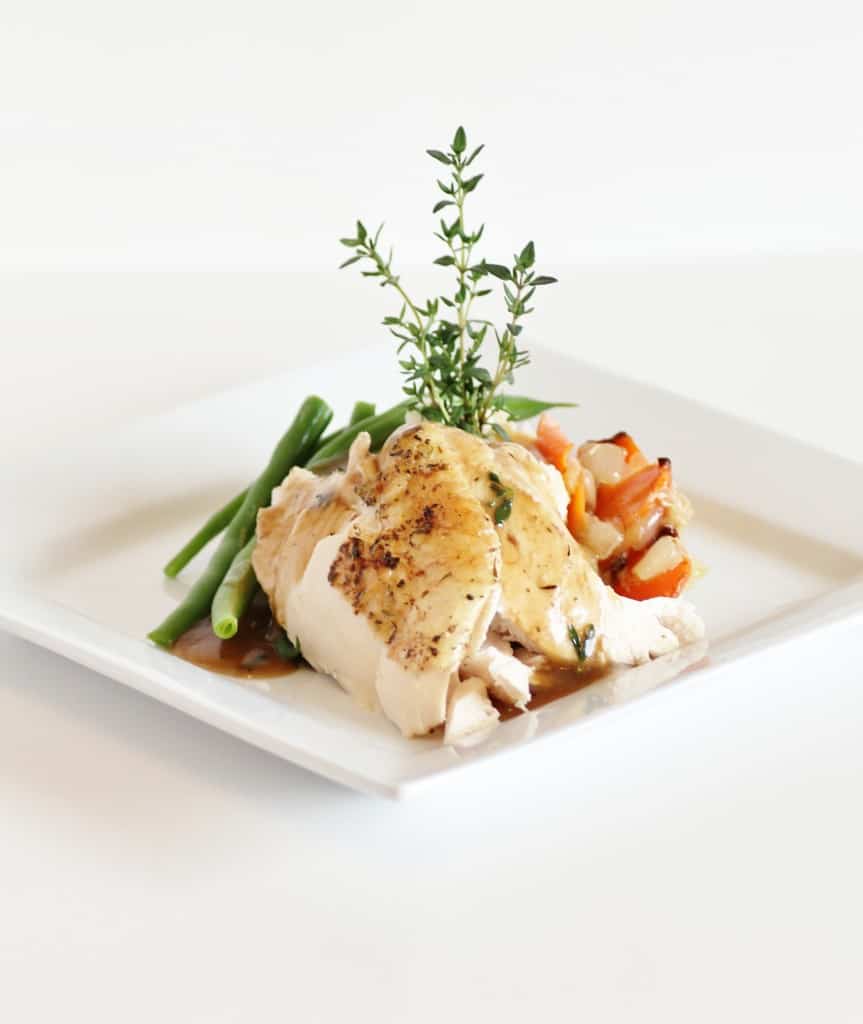 Julia Child's Roast Chicken
Yield: 6 Servings
Prep Time: 15 minutes
Cook Time: 1 hour 20 minutes
Total Time: 1 hour 35 minutes
You probably thought you made a pretty good chicken already but if you follow Julia's techniques you will make an even better roast chicken
Ingredients
Roast Chicken
4 lb. chicken
1/2 onion, sliced
A handful of celery leaves
2 Tbsp. butter
Salt and pepper
Herbs de Provence
2 Tbsp. olive oil
1 onion, chopped
2 carrots, chopped
Sauce
1 Tbsp. pan drippings
1 cup chicken stock & 1 cup beef stock
2 tsp. fresh thyme leaves
2 Tbsp. cornstarch
4 Tbsp. port
Salt and pepper
Instructions
Preheat oven to 425F. Remove giblets from inside of the chicken if necessary. Wash the chicken well inside and out and dry well.
Salt and pepper the cavity and place in the 1/2 sliced onion and the celery leaves. Fold the wings under the chicken. Julia says to fold them "akimbo", which is I am sure what she meant.
Tie drumstick ends together. Rub the outside of the chicken with the butter and sprinkle on the salt and Herbs de Provence. Oil a cast iron pan or small roasting pan with a V-shaped rack with olive oil. Place chicken in the preheated oven and baste every 10 min. for 30 min.
Scatter the chopped onions and carrots around the chicken and reduce the oven to 350F. Continue to baste every 10 min. now including the vegetables.
The chicken will take an hour and 10 to 20 min. to reach an internal temperature of 170F. Remove chicken from the pan and let it rest on a cutting board while you make the sauce.
Remove vegetables from the pan and all the drippings but 1 Tbsp. Heat the pan on the stove and add the chicken and beef stock. Bring up to a rapid boil and reduce slightly. Add the fresh thyme leaves. Stir the cornstarch and port wine together and add to the sauce stirring constantly. Adjust seasoning with salt and pepper. If too thick adjust with more stock.
Slice chicken and serve over mashed potatoes with cooked green beans (or veggie of choice) and the roasted carrots and onions. Pour the sauce over and serve immediately. Gorgeous!!
Nutrition Information:
Yield: 6
Serving Size: 1
Amount Per Serving:
Calories: 792
Total Fat: 48g
Saturated Fat: 14g
Trans Fat: 0g
Unsaturated Fat: 30g
Cholesterol: 296mg
Sodium: 558mg
Carbohydrates: 9g
Fiber: 1g
Sugar: 3g
Protein: 75g
Recipe calculation was provided by Nutritionix and is estimation only. If you need nutritional calculations for medical reasons, please use a source that you trust.
Excerpted from Julia's Kitchen Wisdom by Julia Child. Copyright © 2000 by Julia Child. Reprinted with permission from the publisher Alfred A. Knopf, a division of Random House, Inc.