This recipe originally aired over at Yummly but for Mouth Watering Mondays – Steak and Stout with Potatoes is shared here today!! Perfect for St. Patrick's Day. A big, hearty, and delicious bowl that is thicker than a stew. It can be served on its own with a crusty bun or with a large salad and is scrumptious for a wintery day like we are having today.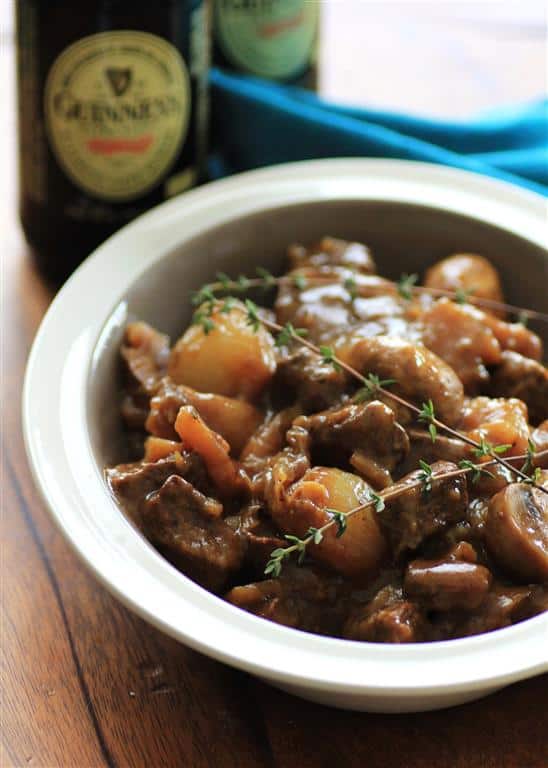 Rich, hearty and goes perfectly with another cold stout to wash it all down. You will be loving St. Patrick's Day even more with this amazing meal!!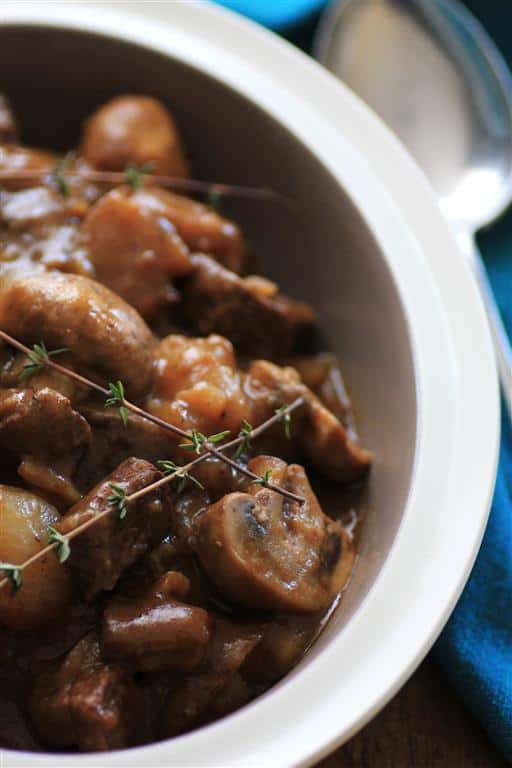 The Recipe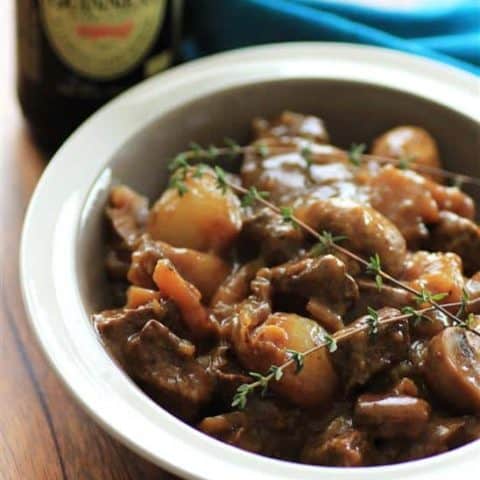 Steak and Stout with Potatoes
Ingredients
1 1/2 lbs stewing or braising steak or stewing beef
1 Tbsp vegetable oil
2 Tbsp butter
8 oz. peeled baby or pickling onions, could also be called boiler onions, they are small but larger than a pearl onion
3/4 cup stout
1 1/4 cup beef stock
3 twigs fresh thyme and 4 stalks of parsley tied together for a bouquet garnish
1 1/2 lb. thickly sliced unpeeled potatoes
7 oz. white mushrooms, halved if large
2 Tbsp. flour
1/2 tsp. yellow mustard
Salt and freshly ground pepper
Thyme sprigs for garnish
Instructions
Cube the beef and remove any excess fat. Season well with salt and pepper. Brown in a large pot with the oil and 1 Tbsp. butter. Remove and set aside.
Brown onions in the same pan for 4-5 min. Return the steak and add stout, beef stock, bouquet garni and top with the sliced potatoes. Cover the pot with a tight fitting lid and let simmer for 1 hour.
Add the mushrooms without stirring and cook for another 30 min.
Remove the meat and potato mixture onto a large serving platter.
Mix the remaining 1 Tbsp. of butter with the flour and whisk into the liquid to make a gravy. Whisk in the mustard and let cook until thickened for about 3 min. Taste and adjust seasoning.
Pour over meat and potatoes and serve garnished with thyme sprigs.
Recipe adapted from Best of Ireland cookbook from the series Great Recipe of the World.