One of my absolute favorite things is Mussels and Pomme Frites. Decadent and incredibly delicious. You want to pick up the bowl and lick the last little drop from the bottom of the bowl.
Don't tell anyone but I have done this!!! Let's just keep that our little secret!!
I love mussels any which way but in a creamy wine sauce, they are definitely divine. Crisp fries and a garlicky aioli top off this wonderful dish, making it the ultimate indulgent!!
This is just like a restaurant-style mussel appetizer or entree but you can easily make this at home! With a little coordination, you can pull off this amazing dish that will get rave reviews from.
Grab a bowl, a hunk of bread, or a bun and dive right in. Dunking, slurping, savoring!! Enjoy!! Also, try our new Amazing Red Curry Thai Mussels too.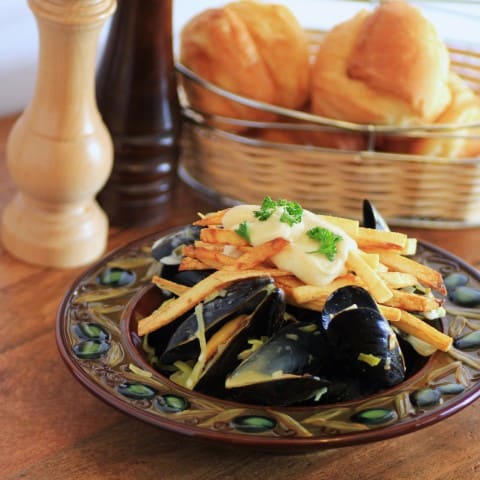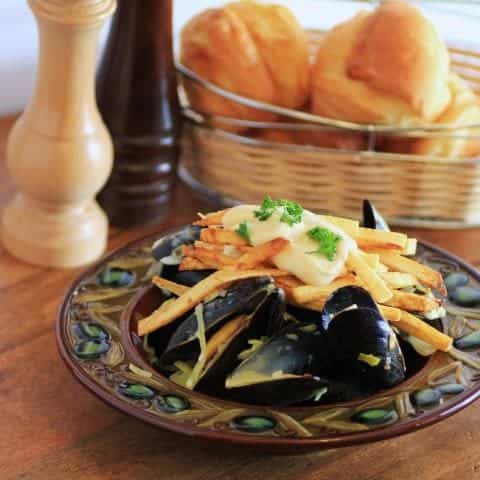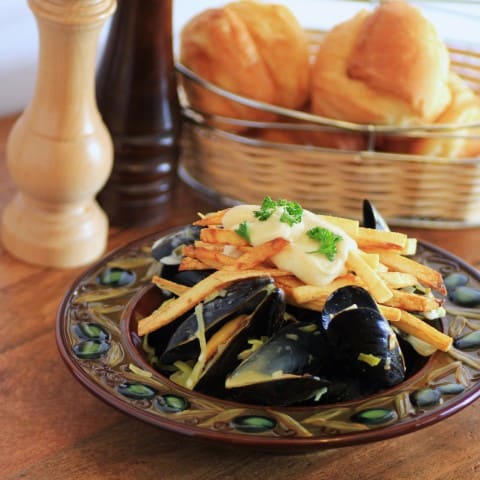 Mussels and Pomme Frites
Yield: 3 Servings
Prep Time: 20 minutes
Cook Time: 20 minutes
Total Time: 40 minutes
A fantastic feast of mussels and fries with aioli!!
Ingredients
2 lbs. mussels, rinsed and beards removed
1 1/2 Tbsp. butter
1 medium leek, rinsed well and sliced, light green and whites only
Salt and white pepper to taste
1 1/2 cups champagne or white wine
1/2 cup heavy cream
1 large potato, cut into small fries
Canola oil for frying
Parsley for garnish
Aioli
2 Garlic cloves, minced
1 large egg yolk
2 tsp. fresh lemon juice
1/2 tsp. Dijon mustard
1/3 cup olive oil
Salt to taste
Instructions
Take the minced garlic and add a small amount of salt and mash the garlic in a small bowl. Add the egg yolk and with a hand mixer beat for 1/2 min. until the yolk has turned a pale yellow color.
Slowly add the oil while continuously beating. Continue beating until all the oil is incorporated and the mixture is the consistency of mayonnaise. Add in the mustard and lemon juice. Refrigerate until ready to use.
Have oil ready in a medium wok while the mussels are cooking.
Melt the butter in a large pot over medium heat then add the leeks, salt, and pepper, cook until the leeks are soft and transparent.
Add the mussels and white wine to the large pot, cover, and cook for 5-6 min. until they are opened. Remove the cooked mussels and keep warm discarding any mussels that have not opened. Reserve the liquid in the pot
Add the fries, in batches, to the hot oil and fry until golden brown, salt immediately when done, and keep warm.
Add 1/2 cup heavy cream to wine mixture, simmer to reduce for about 5-6 min.
Serve the mussels with the cream sauce and the pommes frites on top with a dollop of aioli. Garnish with a sprig of parsley.
Nutrition Information:
Yield: 3
Serving Size: 1
Amount Per Serving:
Calories: 1310
Total Fat: 69g
Saturated Fat: 21g
Trans Fat: 1g
Unsaturated Fat: 41g
Cholesterol: 353mg
Sodium: 1682mg
Carbohydrates: 63g
Fiber: 4g
Sugar: 5g
Protein: 80g
Recipe calculation was provided by Nutritionix and is estimation only. If you need nutritional calculations for medical reasons, please use a source that you trust.