Peanut Butter Chocolate Chip Blondies
Amber is back in the kitchen again making these scrumptious Peanut Butter Chocolate Chip Blondies. They are a very easy and fast blondie recipe. We have not made many blondies in this household to tell the truth but using this recipe they are just as moist and wonderful as a brownie.
Chocolate and peanut butter is a notorious combination for winning over everyone!! Do you remember the commercial, "Hey, you got chocolate in my peanut butter"…………! But the love for this combination came way before that 80's commercial. It has been around for a long time.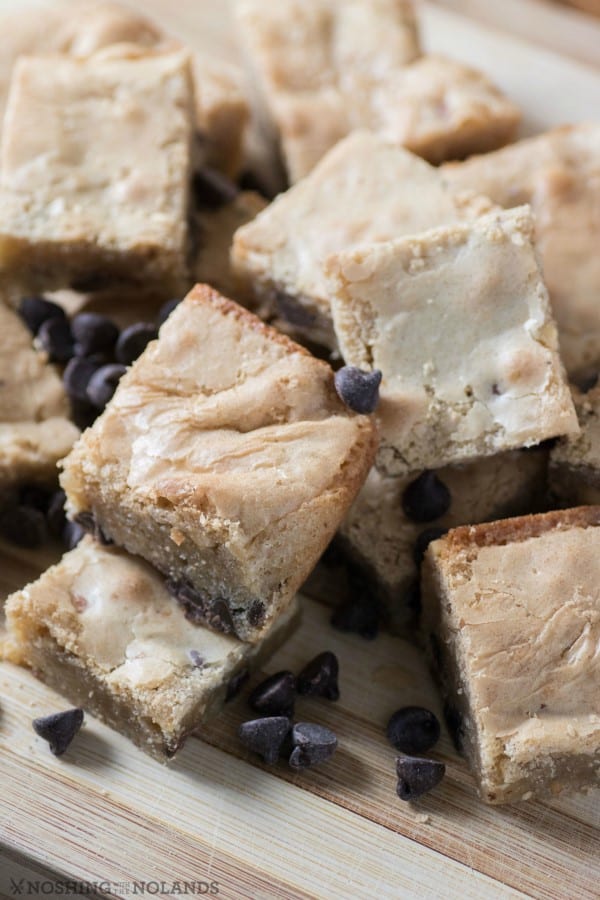 These make just a perfect amount in an 8×8″ pan. The edges are slightly more chewy while the centers remain soft and moist like a brownie. The top has that brownie like effect too, shiny and crispy. You will start to gobble them down right out of the pan!!
This is a great lunch box snack or an after school treat for your kids. They will love these little squares to nosh on! I always have liked having something home baked for a treat for our daughter but now Amber is the one in the kitchen creating these for us.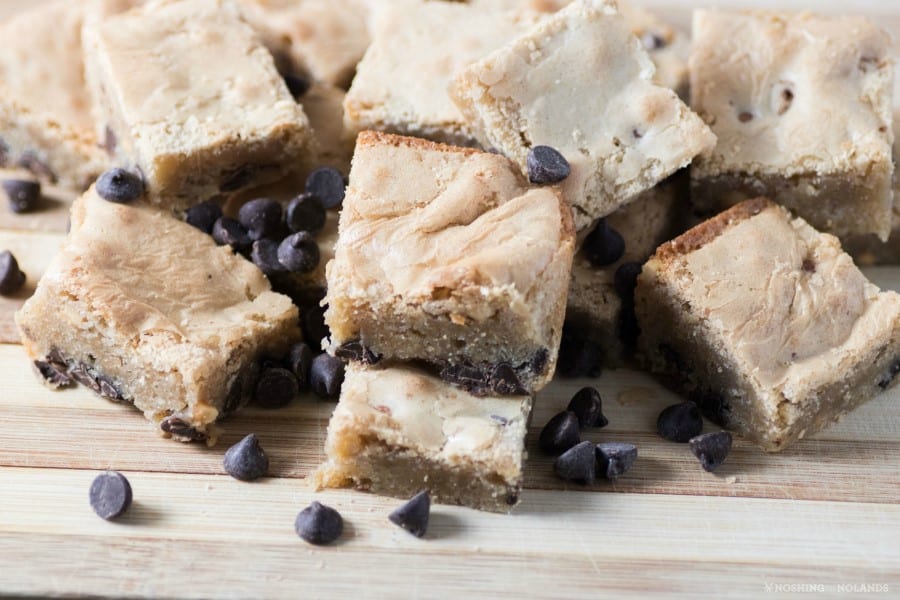 The Recipe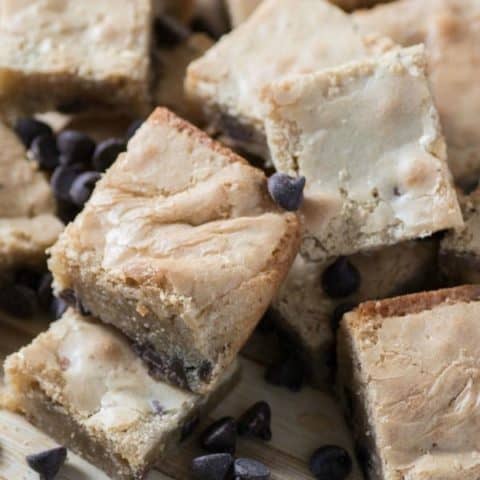 Peanut Butter Chocolate Chip Blondies
Yield: 16 bars
Prep Time: 10 minutes
Cook Time: 25 minutes
Total Time: 35 minutes
Moist and delicious Peanut Butter Chocolate Chip Blondies await you with this very easy recipe that is whipped up in no time!
Ingredients
1/4 cup butter
1 cup sugar
1/4 cup crunchy peanut butter
2 eggs
1/2 cup all purpose flour
1/4 tsp. salt
1/2 tsp. vanilla
1/2 cup chocolate chips
Instructions
Preheat oven to 350F. Grease and line an 8x8" pan with parchment paper so you can easily remove the bars after they are baked.
Melt butter and stir in sugar and peanut butter in a large bowl. Beat in eggs one at a time. Add the flour, salt and vanilla.
Carefully stir in the chocolate chips. Pour into the prepared pan.
Bake for 25 minutes or until bars are set and browning on the edges. Let cool completely and then remove with the parchment and cut into squares.