Here we are today with the Creative Cookie Exchange!! I took the summer off but I'm back with this great Peanut Butter Chocolate Chunk Cookie. I had never tried natural ground peanuts, I've always walked past that section in the grocery store where they grind fresh nut butters and thought why not give it a try with this cookie. I also was looking for some special chocolate chunks, instead of regular chocolate chips so I ventured to Bernard Callebaut, a local specialty chocolatier.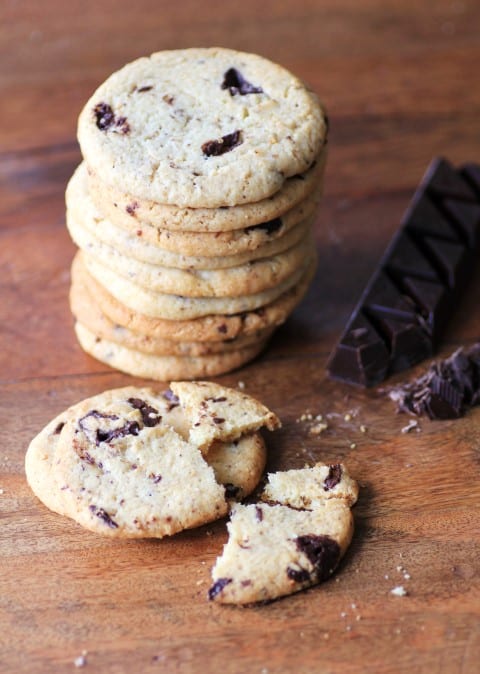 These cookies are not too sweet, delightfully crisp, with fine quality ingredients.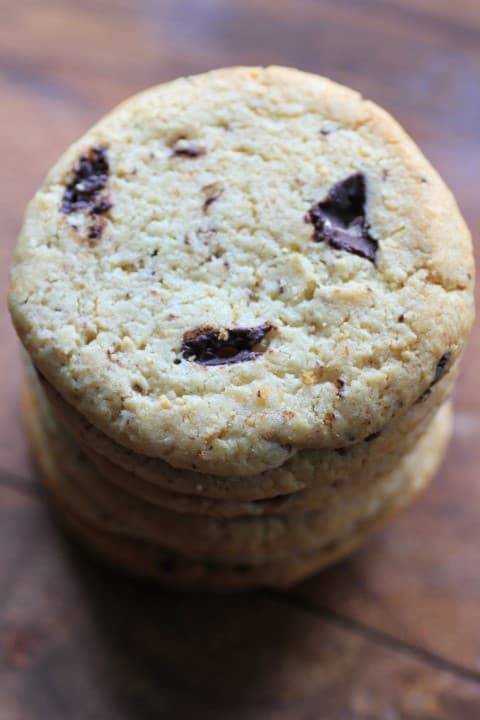 Look at the chunks of chocolate and that lovely natural peanut texture.
Peanut Butter Chocolate Chunk Cookies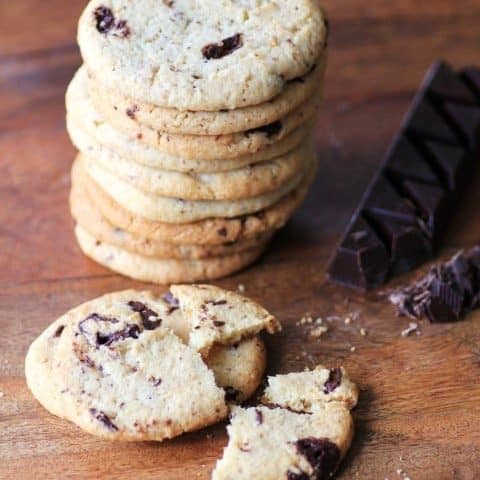 Peanut Butter Chocolate Chunk Cookies for Creative Cookie Exchange
Yield: 32
Prep Time: 15 minutes
Cook Time: 12 minutes
Total Time: 27 minutes
A delightfully crisp cookie with natural peanut butter and good quality chocolate chunks.
Ingredients
1 1/2 cups flour
3/4 cups sugar
1/2 tsp baking soda
1/4 tsp salt
1/2 cup butter
1/2 cup pure natural peanut butter
1/4 cup plus 1 Tbsp milk
2 oz. good quality dark chocolate, chopped
Instructions
Whisk together all the dry ingredients except for the chocolate. Cut the butter in, then add the peanut butter and work the mixture until it has a course meal texture. Stir in the milk and continue to work the dough, then fold in the chocolate chunks.
Shape into a long log shape 2" in diameter on plastic wrap. Seal and refrigerate to chill for 1 hour. The mixture will be dry but will hold together.
Remove from the refrigerator and slice about 1/4" thick placing on an ungreased cookie sheet.
Bake at 350F for 12 min. Cool on the cookie sheet for 5 min. then remove to a cooling rack.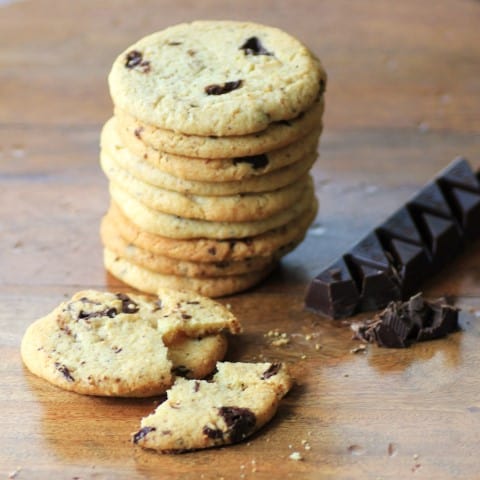 The theme this month is Comfort Food Cookies! What cookie says comfort food to you? If you are a blogger and want to join in the fun, contact Laura at thespicedlife AT gmail DOT com and she will get you added to our Facebook group, where we discuss our cookies and share links.
You can also just use us as a great resource for cookie recipes–be sure to check out our Pinterest Board and our monthly posts (you can find all of them here at The Spiced Life). You will be able to find them the first Tuesday after the 15th of each month! Also, if you are looking for inspiration to get in the kitchen and start baking, check out what all of the hosting bloggers have made:
ul>