Penne Alla Vodka Casserole is the best recipe filled with sausage, garlic, onion, tomatoes, basil, cheeses, and yes, vodka!! It is a fantastic pasta that we have loved for years.
Day 4 of 5 Days of Pasta and today I give you an Emeril Lagasse recipe from his new cookbook, Emeril's Potluck. I was fortunate to have won this cookbook through a giveaway that #SundaySupper was hosting.
This cookbook has very few pictures but page after page of amazing recipes. I wanted to try something from it and so today I give you Penne alla Vodka Casserole.
This recipe had me thinking of my dad. He would have loved this recipe. He was a huge fan of Italian food and loved pasta, most of all a cream/tomato sauce.
This one is for you dad, Happy Father's Day!! This pasta casserole is so full of flavor, with two kinds of sausage and lots of cheese!!
Emeril's recipes are always a sure-fire hit. We enjoyed this very much and I hope you do. ENJOY!!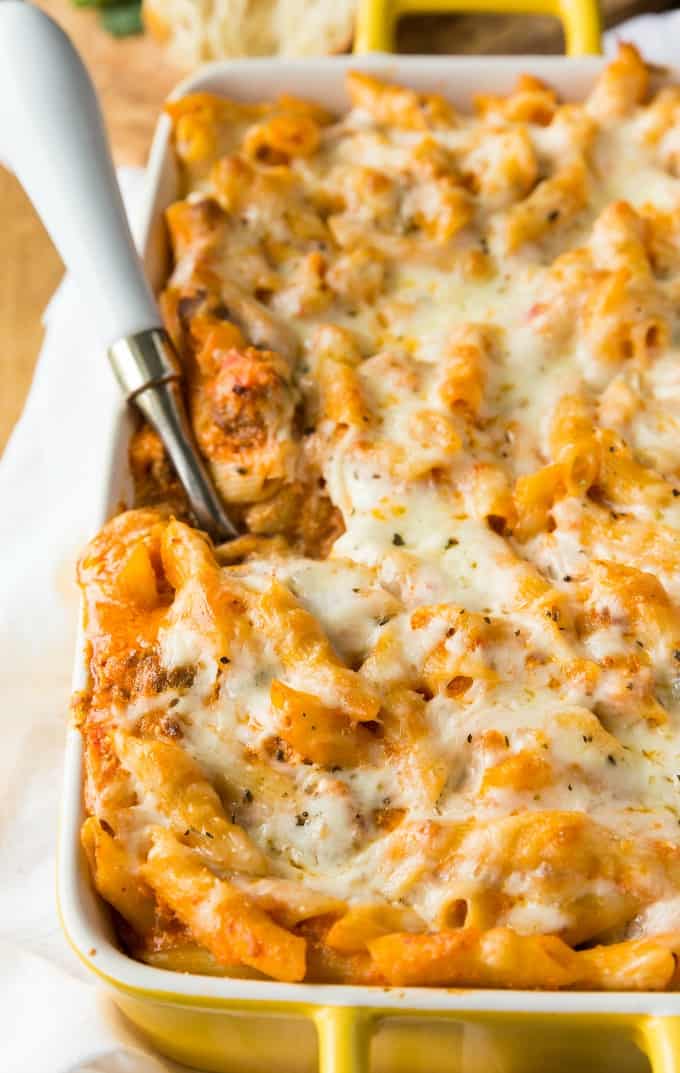 I loved watching Emeril when he had his TV show on. Always loved the "BAM" and this recipe has some of his spice in it. Make up a batch and have it on hand to use in so many dishes.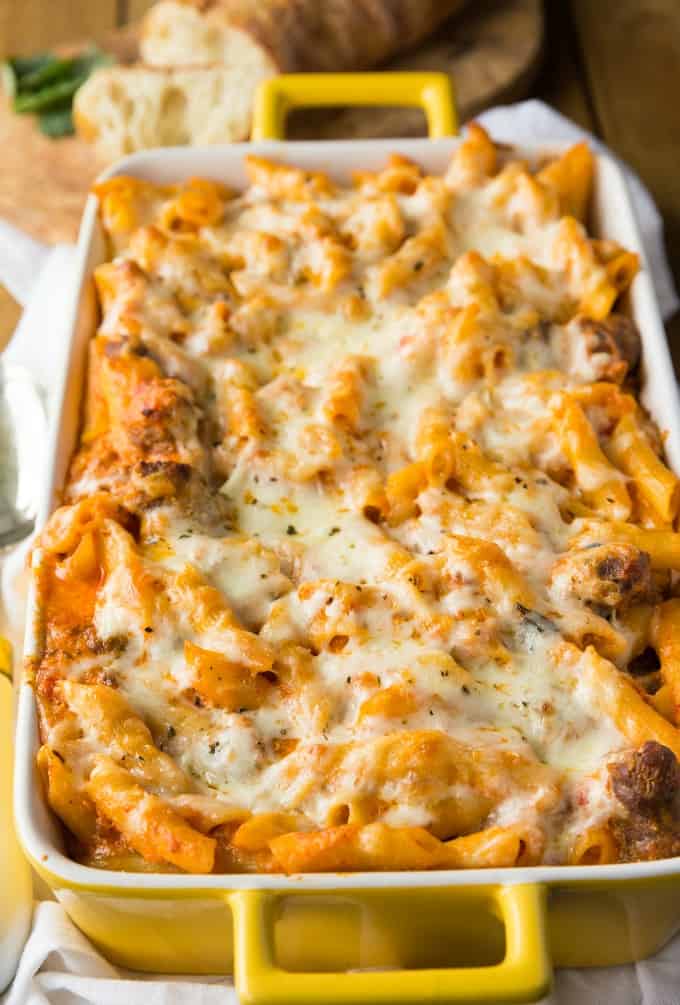 Doesn't this look amazing to dig into? I know you will want to try this recipe very soon. It is the perfect fall and winter comfort food!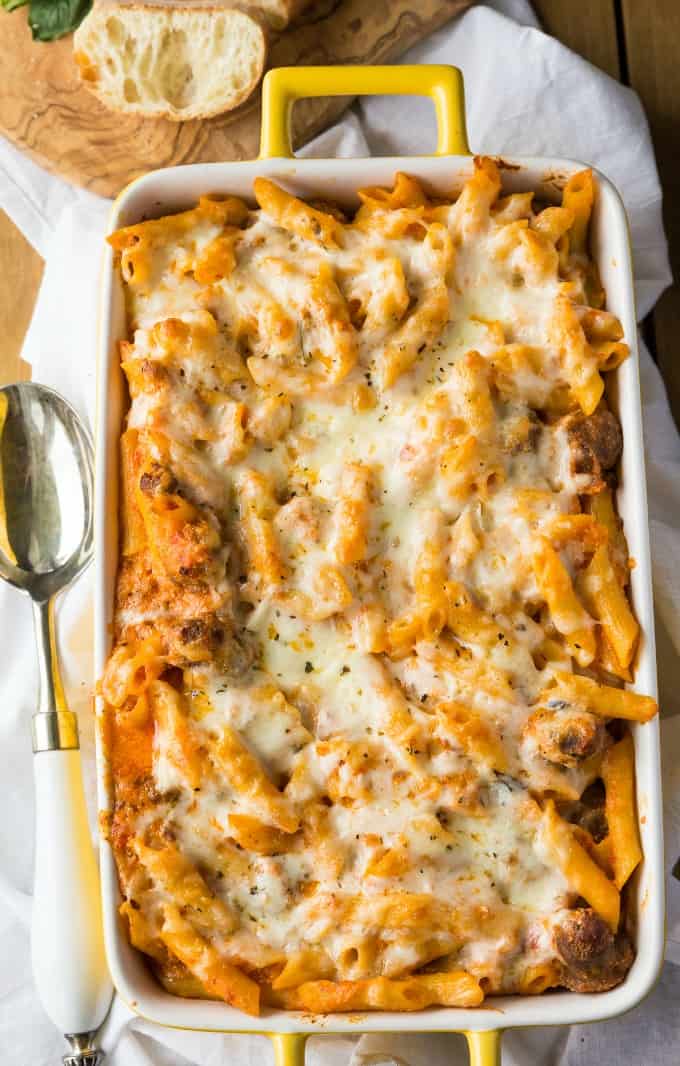 Nothing like a big load of carbs to make you feel homey and comforted. This is a great company-worthy meal, the name alone sounds like a party!!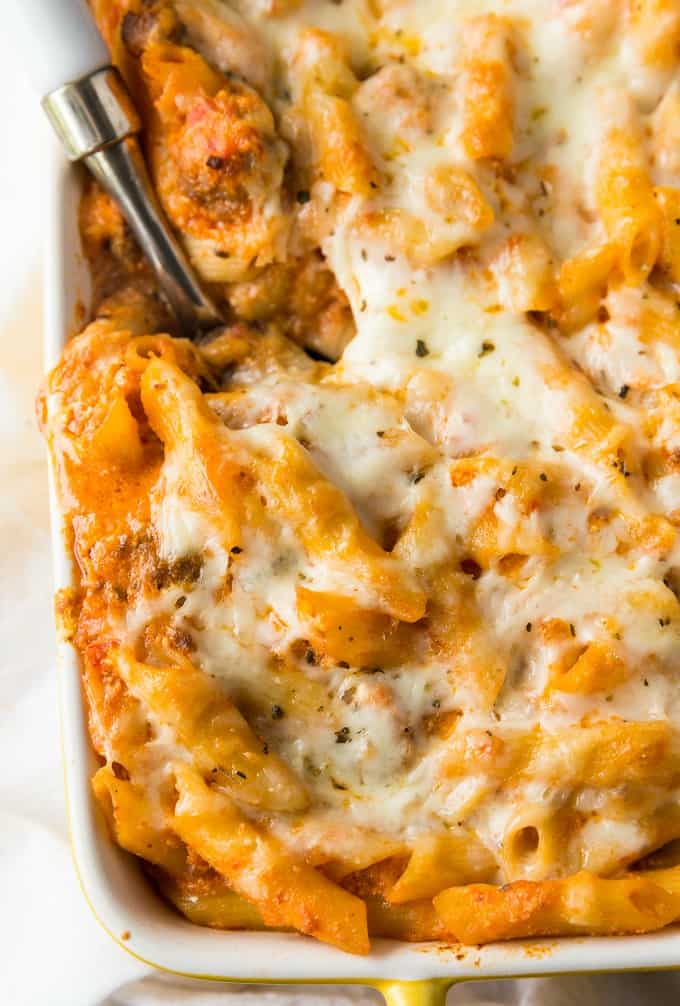 Fit for a big gathering or potluck, you will be making this dish again and again. Add in our Italian Salad with Creamy Italian Dressing and you have a complete meal. ENJOY!!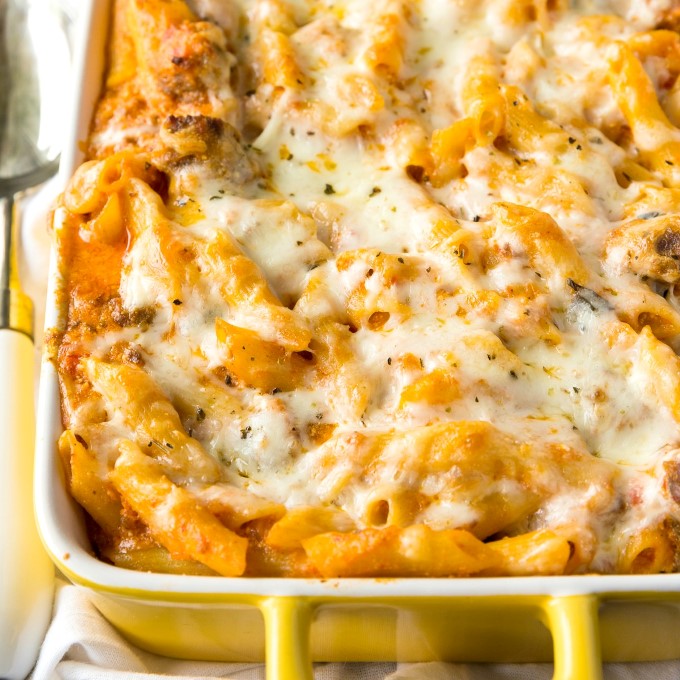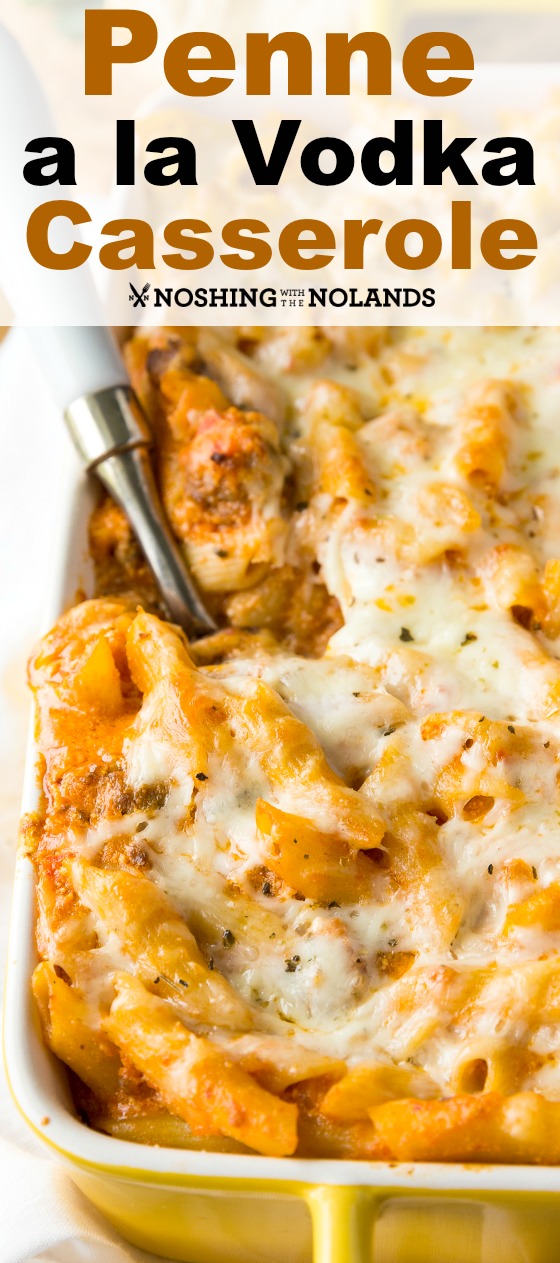 Penne alla Vodka Casserole Recipe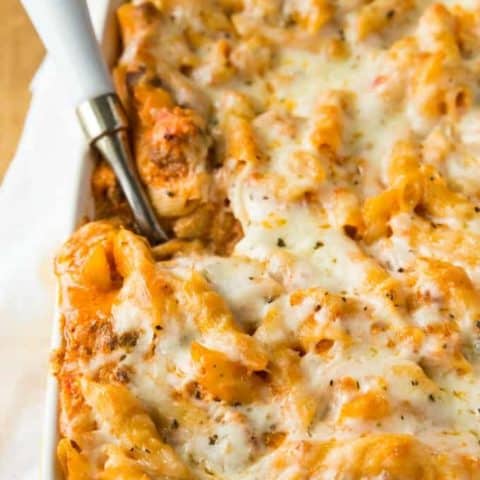 Penne alla Vodka Casserole
Yield: 8 Servings
Prep Time: 25 minutes
Cook Time: 2 hours
Total Time: 2 hours 25 minutes
Penne Alla Vodka Casserole is a fantastic pasta dish so full of flavor!!
Ingredients
4 Tbsp. extra virgin olive oil
1 lb. sweet Italian sausage, cut into 1" slices
1 lb. hot Italian sausage, cut into 1" slices
4 cups thinly sliced onions
1 3/4 tsp. salt
3/4 tsp. freshly ground black pepper
1/4 cup thinly sliced fresh basil leaves
1 Tbsp. minced garlic
1/2 cup vodka
2-16 oz. can whole tomatoes, crushed with their juices
1/2 cup heavy cream
1 lb. penne pasta
15 oz. ricotta cheese
1 cup grated Parmigiano-Reggiano
1 1/2 cups grated mozzarella cheese
Crusty bread for serving
Instructions
Preheat oven to 350F. In a large skillet heat 2 Tbsp. olive oil over high heat, add the sausages, and cook until browned.
Add the onions, 3/4 tsp salt, and the black pepper. Saute until onions are transparent. Stir in the basil and garlic and cook for another 2 min.
Add the vodka and tomatoes. Reduce heat to low and simmer for 40 min. Add the Essence and the cream, stir to mix and simmer for 5 min. Remove from heat. Set aside.
Bring a large pot of water to boil with the remaining tsp. of salt. Add the pasta and boil until al dente according to manufacturer's instructions. Drain.
Combine half of the ricotta and half the Parmesan with the remaining 2 Tbsp. olive oil in a large mixing bowl. Add the pasta and toss to coat.
Next, add the sausage mixture and the remaining ricotta and Parmesan, mix well.
Spray a 9x13" baking dish with cooking spray and add mixture.
Top with mozzarella cheese. Bake for 45 min. until golden brown and heated through. Serve with crusty bread.
Adapted from Emeril's Potluck cookbook
Nutrition Information:
Yield: 8
Serving Size: 1
Amount Per Serving:
Calories: 799
Total Fat: 46g
Saturated Fat: 19g
Trans Fat: 0g
Unsaturated Fat: 26g
Cholesterol: 110mg
Sodium: 1713mg
Carbohydrates: 49g
Fiber: 4g
Sugar: 14g
Protein: 41g
Recipe calculation was provided by Nutritionix and is estimation only. If you need nutritional calculations for medical reasons, please use a source that you trust.