Baked Cheesy Spaghetti
Baked Cheesy Spaghetti – We start off 5 Days of Pasta with this delicious and super easy baked spaghetti. When I asked you all what you would like to see 5 Days of, I had an over whelming response with pasta and then the second was cheese. So I give you 5 Days of cheesy pastas.
This would be a great way to use leftover pasta too. I have incorporated an Epicure dip mix into the middle layer and you can easily purchase this if you are in Canada from my website here. If you are not from here you can substitute another onion dip mix, it gives some nice flavor to that layer and it is easy. Enjoy!!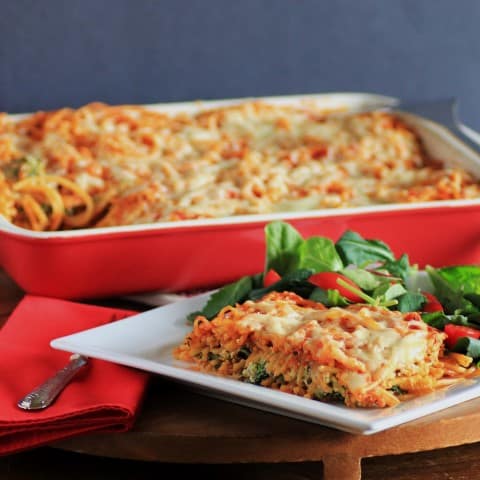 Baked Cheesy Spaghetti
An easy and delicious way to change up spaghetti
Ingredients
1 lb. spaghetti
650 ml. or 22 oz. jar pasta sauce
½ cup Parmesan, grated
300 gms.or 10.5 oz. frozen spinach, thawed and squeezed dry
2 cups or 500 ml. light ricotta
2 tsp. Epicure Three Onion Dip Mix or substitute another brand
Topping
½ cup mozzarella, grated
¼ cup Parmesan, grated
Instructions
Preheat oven to 350F. Spray a 9x13" baking dish with cooking spray. Cook pasta according to manufacturer's instructions or use leftover pasta. Mix with the jarred spaghetti sauce and the ½ cup Parmesan. Set aside.
Mix together the spinach, ricotta, and onion dip mix.
Place half the pasta in the dish. Top with the spinach ricotta cheese layer and then the rest of the spaghetti. Top with mozzarella and Parmesan topping and bake 350F. for 30-45min. until lightly browned on top and heated through.