Peruvian Seafood Soup
We are big lovers of soup in this household and once fall arrives I either am pulling out the slow cooker or making a fresh, fast soup like this Peruvian Seafood Soup. We have a seafood soup a lot all year round but there sure is something comforting about a bowl of soup when the leaves start to turn.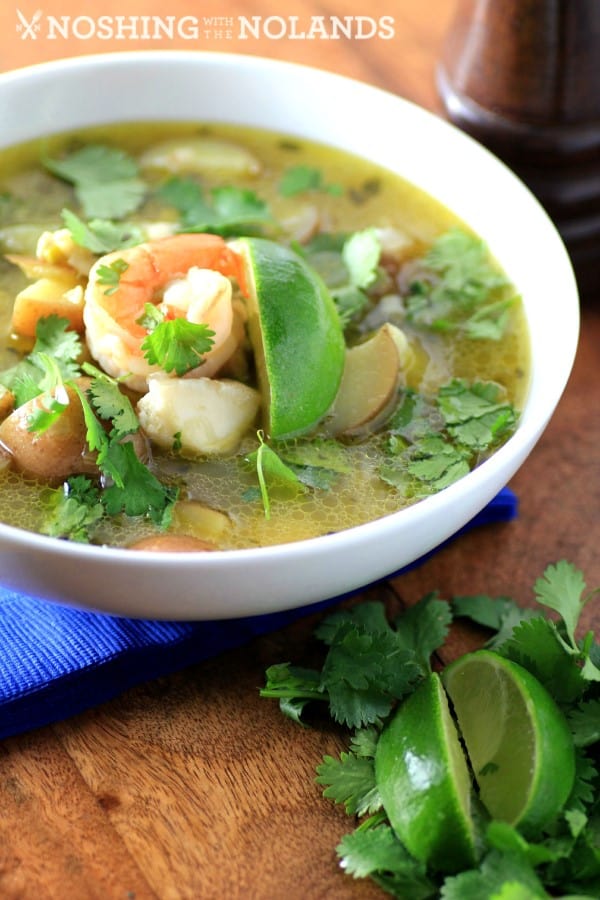 Seafood Lover's Soup
I will tell you a little story of where this recipe came from. My neighbors two doors down were very elderly and moved into a care facility. Their home, which I had never been into before, had an estate sale with all their worldly belongings and treasured collections. It pulled at my heartstrings seeing all their wonderful things being sold off, a lifetime of memories.
She was a huge cook I could see just from my first glimpse around their home. Three sets of gorgeous china were out for sale, and countless cooking and baking vessels adorned the tables. When I ventured down the stairs I discovered room after room of cookbooks. I could have been there for hours on end flipping through the pages and salivating at the pictures and recipes. I sent my daughter home with armfuls of these wonderful cookbooks. Back I went at least three times for more and sent Ken to get some too.
Okay, I admit it, I can never have too many, a bit of an addiction. That is why I love doing cookbook reviews here on the site. Even all the cookbooks I have, they will never even come close to the collection that my dear neighbor had.
So this recipe is from one of her cookbooks, 100 Best Good Housekeeping One-Dish Meals. She got it on sale for $9.99 and it was published in 2003. I did my variations to the recipe but it is very similar and absolutely delicious. Come, I will show you how to make it now!
Fast and Easy Soup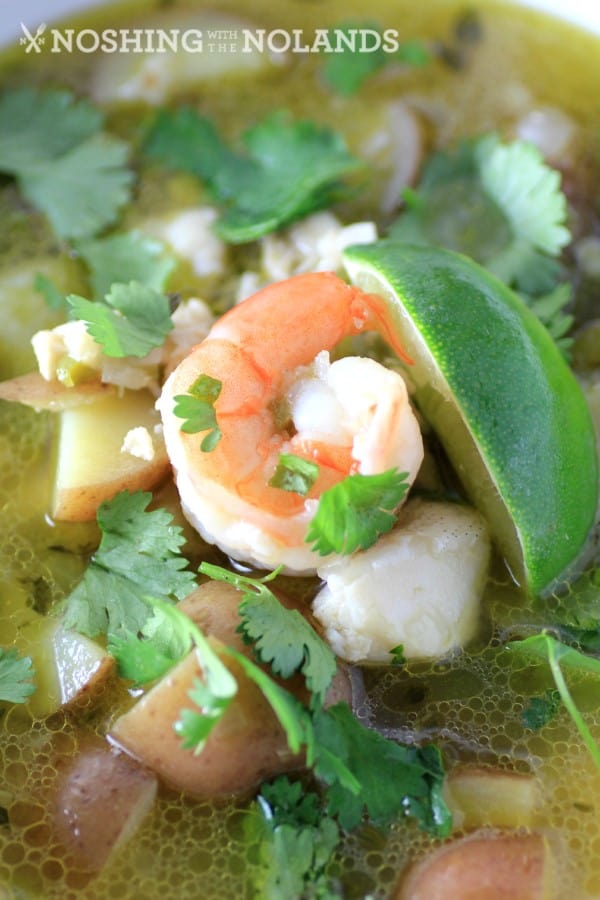 This is an easy soup, that is full of delicious seafood. We choose to put in shrimp, seabass, and halibut but you could add your favorites, any white fish would do just great in this and maybe some shellfish too!
See the beautiful shrimp, fish, and potatoes in this gorgeous broth, there is a touch of heat from jalapenos, more if you leave in the seeds. It is actually simple ingredients but the outcome is nothing simple at all, it is magnificent!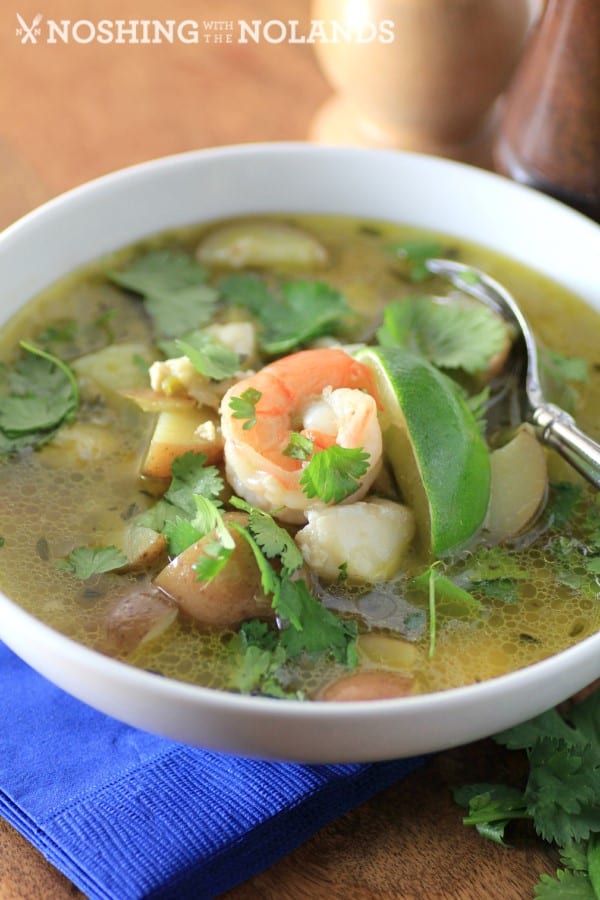 This could be served for a weeknight meal as it is easy but could be held to a special occasion too.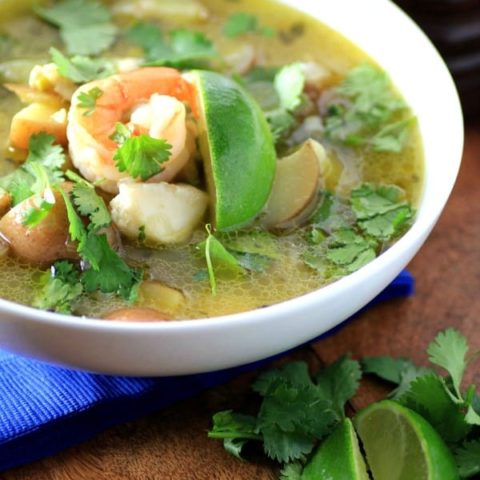 Peruvian Seafood Soup
Yield: 4-6 servings
Prep Time: 15 minutes
Cook Time: 25 minutes
Total Time: 40 minutes
This is a fabulous treat for seafood lovers, it has a little heat from jalapenos but ends with fresh lime and cilantro flavors!
Ingredients
1 Tbsp. canola oil
1 medium onion, diced
2 cloves garlic, minced
2 jalapeno peppers, seeds and veins removed and minced
1 lb. little red potatoes, large diced
900 ml. (30 oz.) fish stock
Salt to taste
2 sprigs fresh thyme or 1/2 tsp. dried thyme
1 lime
1 lb. white fish, like halibut, seabass or cod, cut into 1" pieces
1 lb. medium shrimp
1/4 cup cilantro, chopped
Instructions
In a large saucepan, heat the canola oil over medium heat and add the onion and cook until translucent about 5-7 min. Stir in garlic and jalapenos and cook for about 1 min. Add the potatoes, fish stock, salt, and thyme sprigs. Bring up to boil and then reduce to a simmer and cook for 10 min.
Cut lime in half and the other half into 4 wedges, set aside. Add the lime half and fish to the soup. Cover and cook for 5 min. Add the shrimp and continue to cook for 3-5 min. more or just until shrimp are opaque and cooked through.
Remove the lime half and squeeze the juice into the soup. Sprinkle each serving with cilantro and serve with a lime wedge.
Recipe adapted from 100 Best Good Housekeeping One-Dish Meals.