Mushroom Spinach Quesadilla. Today is Day 2 of 5 Days of sandwiches and a review of the QOOQ tablet.
What is a sandwich? I think it is anything that is between two slices of bread. Things that we might not think of as being a sandwich like a quesadilla or a hamburger but I believe they are.
Did the Earl of Sandwich really invent the sandwich? Hmmm, the jury is still out on that one. Anyway, today I bring you a different quesadilla.
A Mushroom and spinach one. If you follow my blog you know I am big on vegetarian dishes. Not all the time but once or twice a week is a good mix for us.
Tablet
Ken was away and Amber and I needed a quick dinner being on the run with extracurricular activities. Amber is always doing something.
Anyway, I also have been asked to review the QOOQ tablet which has been sitting on my kitchen counter with photos flipping from one gorgeous looking recipe to the next, making me drool constantly.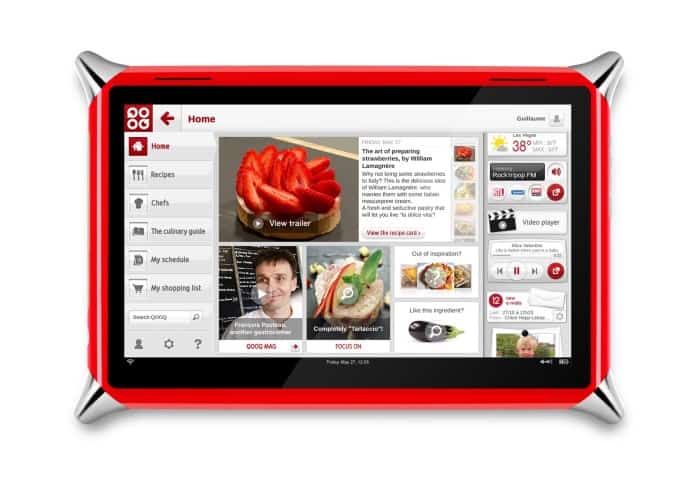 When I first got the tablet I had a very hard time trying to get it to connect to the internet but that was my lack of knowledge issue and finally, with the help of my computer guy I got it up and running.
The QOOQ tablet is made for the kitchen, with an easily cleanable shell, it can withstand splashes and dirty hands. QOOQ is new to Canada coming out of France. I will have to do a review of many recipes as I continue to explore all that this tablet has to offer.
To start with it has 1000 recipes and videos. That is a lot of cookbooks jammed into one neat little tablet. The price I find is high at $399 but that may come down too. You have the opportunity to purchase more recipes too but I haven't looked into that much yet.
I tried my first recipe with Easy Chocolate Macaroons and they turned out great but the recipe was incomplete which was disappointing. When it came to adding the sugar there wasn't a measurement so I had to guess and luckily they turned out.
Quesadilla!
So onto the recipe of today. You can go into the main section of the QOOQ tablet and put in keywords. I knew I had seen a quesadilla on one of the pictures as they rotate through.
So I put in a quesadilla and there was this delicious easy looking recipe plus more. You then go to the recipe and it is broken down into IN BRIEF, PREPARATION, INGREDIENTS, and UTENSILS.
Each area giving you lots of information like calories, ease of making, origin, etc. in the IN BRIEF section to a detailed list in the PREPARATION section.
The INGREDIENTS LIST is amazing because you can click on each ingredient and there is more information on how to choose stores and tips. Amazing!!
Then lastly the list of UTENSILS you will need to complete the recipe. For a beginner or even an advanced cook, all the sections are helpful and useful.
I will go into other areas of the QOOQ tablet as I continue to explore the many options that it has to offer.
So this quesadilla was easy to prepare and I loved the veggie combination!!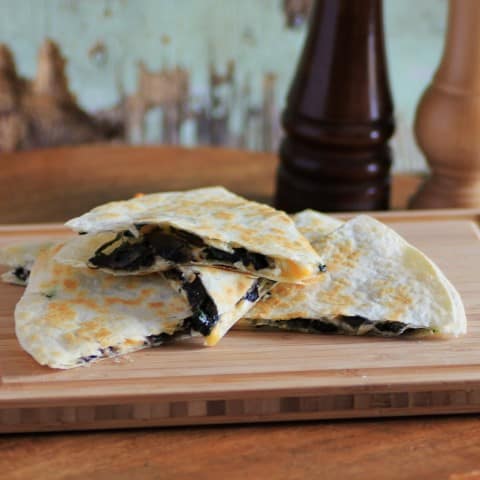 Quesadillas with Portabella Mushrooms and Spinach
Yield: 4 Servings
Prep Time: 20 minutes
Cook Time: 20 minutes
Total Time: 40 minutes
A deliciously different quesadilla
Ingredients
16 oz. portobello mushrooms
6 oz. spinach
4 Garlic
2 Tbsp. olive oil
4 Tortilla, wheat or corn
12 oz. cheddar
2 Tbsp. olive oil
Instructions
Preparing the filling. Finely slice the mushrooms with a chef's knife. Chop the spinach. Peel and mince the garlic in a garlic press.
Heat oil in a saute pan over medium heat and add the mushrooms to the pan and add the minced garlic.
Mix until combined with a wooden spoon and remove from the pan.
Preparing the tortillas. Preheat the oven to 325.
Place the tortillas in a single layer on a baking tray. Grate the cheese and evenly divide between the tortillas.
Bake in the oven for 5 minutes or until the cheese has melted. Remove the tortillas from the oven and add 1/2 the filling to 1/2 of each tortilla.
Fold the remaining 1/2 onto the filling. Heat the oil in a large pan over medium heat and add the filled tortillas to the pan.
Cook 3-4 minutes on each side or until lightly browned and crispy.
Presentation. Cut each quesadilla into 4 sections and serve immediately.
Nutrition Information:
Yield: 4
Serving Size: 1
Amount Per Serving:
Calories: 662
Total Fat: 47g
Saturated Fat: 20g
Trans Fat: 1g
Unsaturated Fat: 23g
Cholesterol: 84mg
Sodium: 809mg
Carbohydrates: 34g
Fiber: 8g
Sugar: 5g
Protein: 30g
Recipe calculation was provided by Nutritionix and is estimation only. If you need nutritional calculations for medical reasons, please use a source that you trust
I cooked my quesadillas on our flat grill laying one tortilla down that I had sprayed with oil followed by the cheese and then the filling and topped with a second tortilla spraying the top with cooking spray.
Grilled until lightly browned and flipped, grilling the other side until browned also. I then used a pizza cutter to slice up the quesadilla and served it with salsa and sour cream. A great variation for the upcoming Cinco de Mayo celebration!!