Rhubarb Lemonade
HAPPY CANADA DAY!! I wanted to celebrate today with a very refreshing drink, Rhubarb Lemonade. Something you can whip up easily and enjoy right away. I love making iced tea this way, pouring it right over ice and serving it immediately. I almost always have a jug in the fridge going. So I thought I would try this same method with lemonade.
We planted a rhubarb plant a few years ago and finally this year we have enough to do something with it. I let it get nice and deep red before we picked it. I had this refreshing drink in mind to show you for Canada Day. I like a lemonade that is refreshing and not too sweet, with the rhubarb you do have to add sugar but not too much.
I hope you enjoy your Canada Day with this lovely lemonade. ENJOY!!!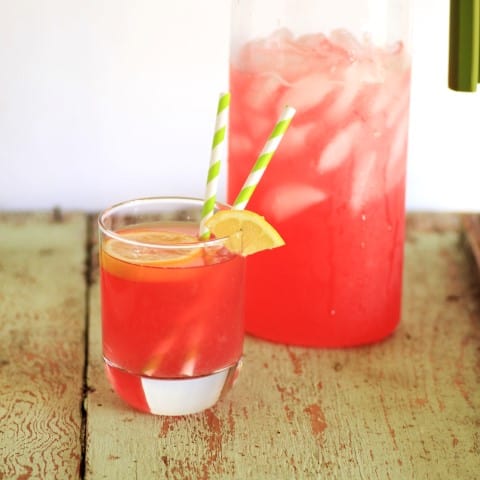 Yield: 4-6
Rhubarb Lemonade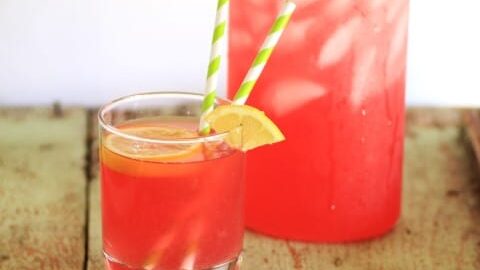 A very refreshing summer lemonade!!
Ingredients
1 cup chopped rhubarb
Zest from 1 lemon
1/2 cup sugar
1 cup water
1/2 cup lemon juice
5 cups ice
2-4 cups water
Instructions
Add rhubarb, lemon zest, sugar and 1 cup water to a small pot and simmer until the rhubarb falls apart, 8-10 min. Pour the mixture through a sieve saving the liquid and discarding the rhubarb. Add the 1/2 cup lemon juice and stir.
Fill a pitcher with the ice and pour the hot liquid over. Stir to cool the lemonade. Add as much water as you would like to desired strength. Serve immediately.
Recipe can be doubled.