Soul Warming, I think of thick hearty bowls of love!!! When I saw this #SundaySupper event I knew I wanted to be a part of it. I love one bowl meals like this. Everything cooked in one pot with so little clean up, like this Seafood Chowder. I picked a seafood chowder not having a recipe nor even knowing exactly what a wanted to make. This recipe grew on me. I new I wanted clams in it but ones in the shell or from the can. I opted for easier than more expensive and messier.
Okay I had the clams but what else, or it would just be clam chowder. Then I came up with the idea of salmon and thought it would pair lovely with corn and dill. Lastly I put in the shrimp and upped it adding more veggies like carrots, celery and little red potatoes. The end result is fabulous. This will warm you soul from your head to your toes. I kept it a bit lighter just using half and half and only 1 cup. A lovely meal in a bowl that I hope you really enjoy.
I am entering this delicious soup into Shine Supper Club. Come and check out the other entries.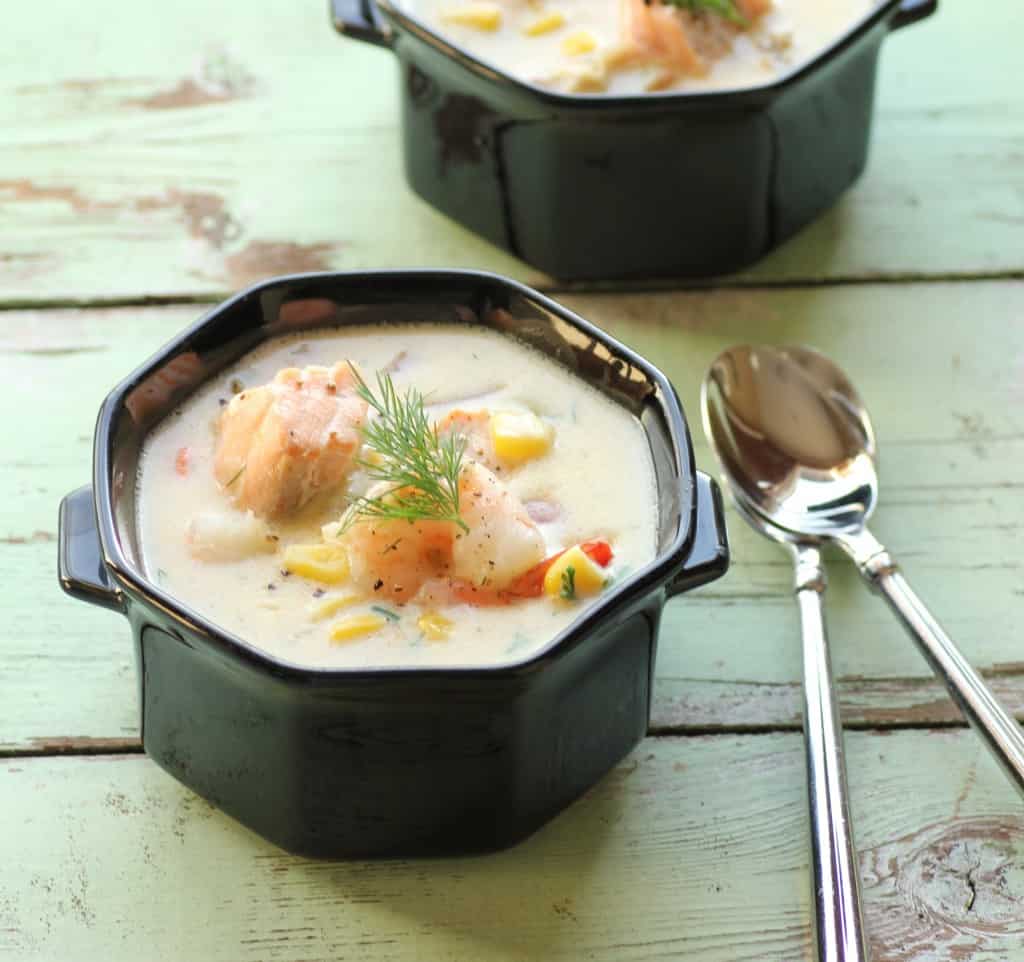 Seafood Chowder for Soul Warming at #Sunday Supper
A delicious meal in a bowl that will warm your soul.
Ingredients
2 Tbsp. olive oil
2 Tbsp. butter
1 onion, diced
1 cup baby carrots, sliced
2 celery stocks, diced
¼ cup flour
900 ml chicken stock or fish stock
Salt and pepper to taste
1 cup frozen corn
12 small red potatoes, large diced
1½ lb. salmon in 1" cubes
340 gm shrimp, 30-41 count, defrosted
142 gm. can baby clams, drained
1 cup half and half
1 Tbsp. dill, plus more for garnish
Instructions
Heat the oil and melt the butter in a large pot. Add the carrots, onion and celery and cook until the onion is translucent and the veggies are soft. Add the flour and cook for 1 min. Slowly add the chicken stock stirring well. Let the mixture come up to a boil and thicken. Season with salt and pepper. Add the corn and the potatoes and boil for 15 min. until just tender.
Add the shrimp and salmon and cook for 4 to 5 min. until just cooked through. Add the cream, clams and dill and heat through but do not boil. Adjust seasoning if necessary. Serve garnished with dill.
We have over 50 contributors this week, bringing you their best
warm you up 
dishes.  We have everything from stews, soups, main entrees and even some hot drinks and desserts.
Just look at the list below that is coming to the #SundaySupper table this week!
Main Entrees: 
Chili/Stews:
Soups:
Desserts/Beverages:
Join on us on Twitter throughout the day during #SundaySupper.  In the evening we will meet at 7pm EST for our weekly #SundaySupper live chat. All you have to do is follow the #SundaySupper hashtag or you can follow us through TweetChat. We'd also love to feature your Sunday Supper Soul Warming Recipes on our #SundaySupper Pinterest board and share them with all of our followers, too.