Wild About Mushroom Soup
I had a craving for mushroom soup, so Wild About Mushroom Soup came about. I didn't want a thick gloppy soup but a nice lighter one. I have also made this one gluten-free so it has a nice light feel to it. No heavy cream to weigh it down either.
I love mushroom soup and have my whole life. I love the pairing of mushroom and tarragon and have always added a little to even the canned soup. I think it is a great combination. Not overwhelming but just enough that you can taste it. I hope you enjoy this lightened up version of a cream of mushroom soup. Enjoy!!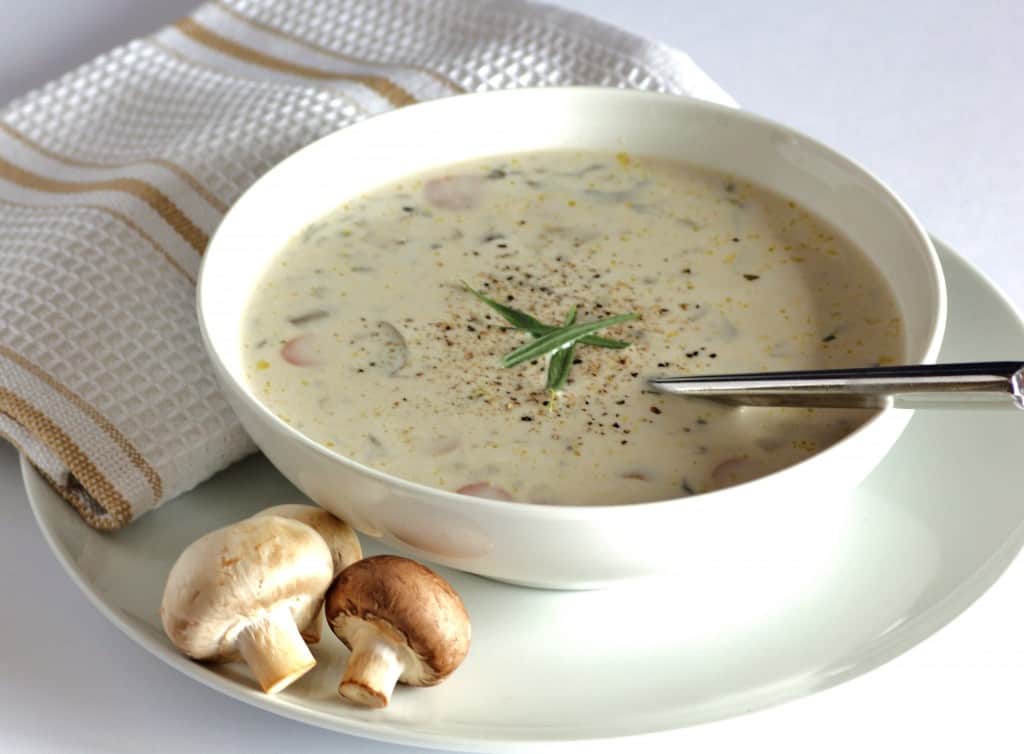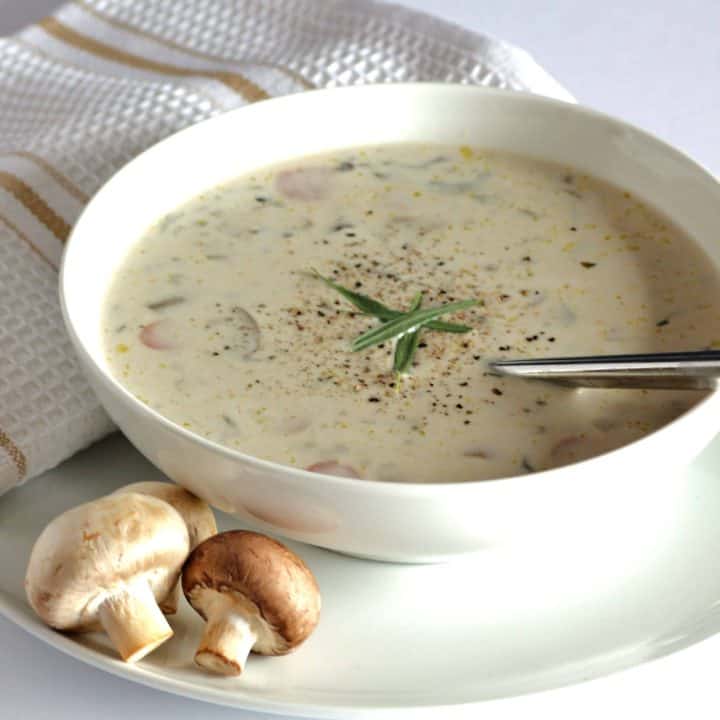 Wild About Mushroom Soup
Yield: 6 Servings
Prep Time: 20 minutes
Cook Time: 40 minutes
Inactive Time: 20 minutes
Total Time: 1 hour 20 minutes
A nice light soup that is gluten free.
Ingredients
1 onion, diced
1 cup baby carrots, sliced
2 celery sticks, diced
2 Tbsp. butter, divided
2 Tbsp. olive oil, divided
7 oz. Crimini mushroom, sliced
7 oz. white mushroom, sliced
14 gm. package dried wild mushroom mix
1 Tbsp. tarragon, chopped
900 ml. chicken stock or vegetable stock
2-3 Tbsp. cornstarch
1 cup 1/2 and 1/2 cream or 3% milk
Salt and pepper to taste
Instructions
Soak the dried mushrooms in 1 cup warm water for 20 min. Meanwhile over medium heat saute the onion, carrots, and celery in a large pot in 1 Tbsp. butter and 1Tbsp. olive oil until tender. Salt and pepper to taste. Remove from pan and set aside.
Heat the remaining butter and olive oil in the saute pan and turn up the heat to medium-high. Saute the mushrooms and tarragon until just tender. Salt and pepper to taste.
Drain the dried mushroom through a sieve to catch any grit and reserve the liquid. Chop the mushroom up finely And add them to the pot.
Add the onion mixture back into the pot. Add the chicken stock and the reserved mushroom liquid. Bring to boil and simmer for 30 min. Adjust seasoning. With some of the hot liquid stir it into the cornstarch to make a loose paste. Whisk it into the soup. Add the cream or milk and heat through and serve.
Nutrition Information:
Yield: 6
Serving Size: 1
Amount Per Serving:
Calories: 266
Total Fat: 15g
Saturated Fat: 7g
Trans Fat: 0g
Unsaturated Fat: 8g
Cholesterol: 32mg
Sodium: 484mg
Carbohydrates: 24g
Fiber: 2g
Sugar: 8g
Protein: 9g
Recipe calculation was provided by Nutritionix and is estimation only. If you need nutritional calculations for medical reasons, please use a source that you trust.