Shrimp Club Panini
It is cookbook review time again and I have a winner of a cookbook for you today!!! I adore sandwiches but even better are paninis and this Shrimp Club Panini is the bomb! A quick and delicious dinner awaits you with seemingly endless recipes from this cookbook.
Nothing could be faster, easier, and tastier than a well built scrumptious panini. We loved flipping through the pages of 200 Best Panini Recipes to find one to try for you!!!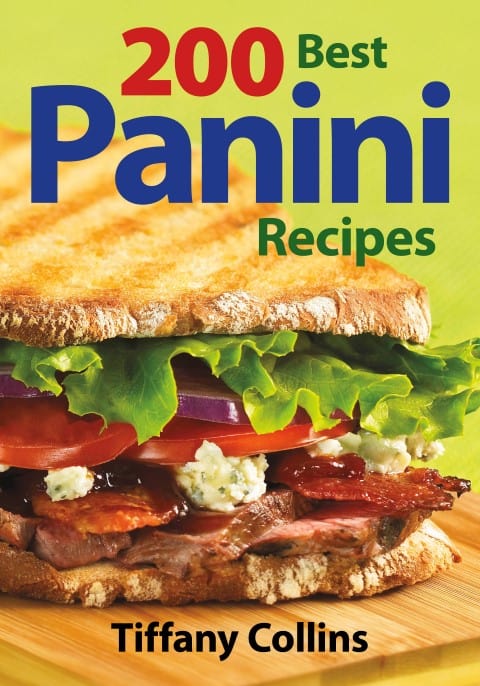 This recipe called for an Italian crusty roll, something I had never tried in my panini maker. With a little adjustment for height, the sandwich turned out amazing.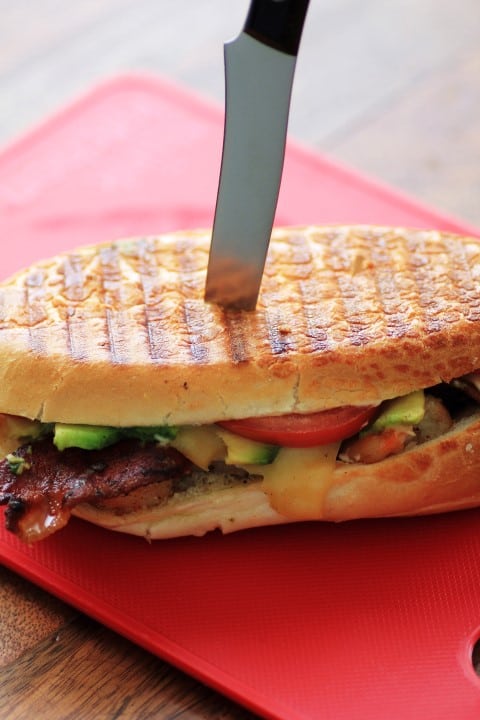 This recipe book has 16 all-new photos to make you drool over paninis. They are an Italian fast food in Italy but seem so much more gourmet with all their wonderful ingredients!!
The author has put her own spin on some of the more traditional recipes like the Classic Reuben Panini or the Monte Cristo Panini.
Plus there are so many more that are so creative like the Roasted Chicken, Brie, and Pear Panini or the Smashed White Bean, Avocado, and Bacon Panini. We will be making so many more from this cookbook for sure!!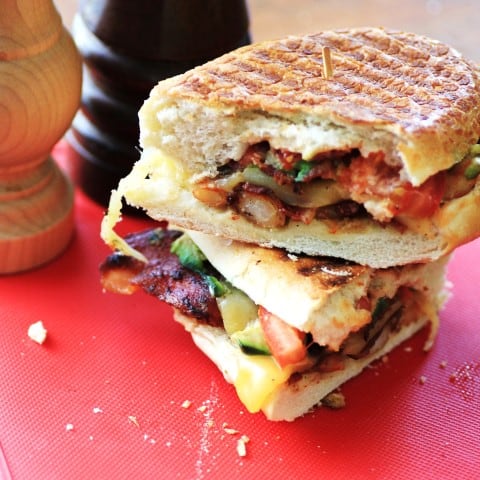 Look at all the wonderful ingredients that are crammed into this drool-worthy sandwich, delicious!! I hope you get this cookbook and try so many more recipes like this fantastic one. ENJOY!!!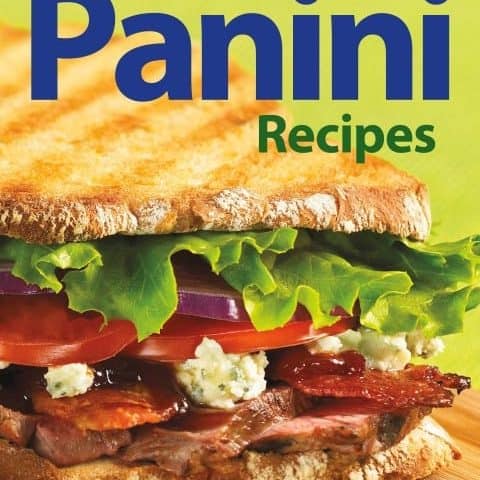 Shrimp Club Panini
Yield: 2 Sandwiches
Prep Time: 10 minutes
Cook Time: 25 minutes
Total Time: 35 minutes
A panini that is crammed full of wonderful flavors of a club sandwich and then has the gorgeous addition of shrimp.
Ingredients
1 tomato, thinly sliced 1
1⁄4 tsp salt 1 mL
1⁄4 tsp freshly ground black pepper 1 mL
2 Italian rolls split 2
1 tbsp olive oil 15 mL
1⁄4 cup mayonnaise 50 mL
8 oz medium shrimp, cooked and halved 250 g
lengthwise
2 oz Swiss cheese, thinly sliced 60 g
4 slices bacon, cooked crisp 4
1 large avocado, sliced 1
Instructions
To me, this is the perfect recipe, with the ideal mix of ingredients. Make sure you have extra napkins ready before you bite into this sandwich — you will need them!
Serves 2
Tips
If you have leftover grilled shrimp from a cookout, they would be wonderful in this recipe.
Remove the flesh of an avocado by cutting it in half lengthwise. Twist it open, leaving the pit on one side. Gently strike the pit with a large, sharp knife (I use my French knife) and twist again to remove the pit. Using a large soup spoon, scoop the flesh from the skin and slice it. Avocado flesh browns easily once it is sliced;
to keep browning to a minimum, sprinkle it with lime or lemon juice.
Sprinkle tomato slices evenly with salt and pepper; set aside.
Place rolls, cut side down, on a work surface and brush crusts with oil. Turn rolls over and spread with mayonnaise. On bottom halves, evenly layer with shrimp, cheese, bacon, avocado, and seasoned tomato. Cover with top halves and press gently to pack.
Place sandwiches in grill, close the top plate, and cook until golden brown, 3 to 4 minutes. Serve immediately.
Notes
Excerpted from 200 Best Panini Recipes by Tiffany Collins © 2013 www.robertrose.ca Reprinted with publisher permission.
Nutrition Information:
Yield: 2
Serving Size: 1
Amount Per Serving:
Calories: 917
Total Fat: 65g
Saturated Fat: 16g
Trans Fat: 0g
Unsaturated Fat: 46g
Cholesterol: 324mg
Sodium: 2220mg
Carbohydrates: 34g
Fiber: 9g
Sugar: 3g
Protein: 50g
Recipe calculation was provided by Nutritionix and is estimation only. If you need nutritional calculations for medical reasons, please use a source that you trust.
The author Tiffany Collins Blackmon is a nationally recognized culinary professional. She has had numerous appearances on shows like Good Morning America, HGTV, Home Shopping Network, and E! Entertainment Television.