Aly is here today with Spring has Sprung With Strawberry Crumb Cake by Cooking in Stilettos, what a great name for a blog!!! Aly and I know each other from a network that we can chat on all about food blogging. Such a great place to hook up with people with the same interests!! Aly has a great site with fun, creative and inventive recipes.
You will want to follow along on her journey with Facebook, Twitter and Instagram. She has really jumped us into spring with this wonderful Strawberry Crumb Cake and I am sure you are dying to find out how to make it, I give you Aly!!
Hi everyone!
I'm so stoked to be visiting Noshing with the Nolands. Tara has graciously opened her virtual kitchen to me and invited me to play with some spring flavors and what's better to say "Hello Springtime" than some juicy ripe strawberries that have started to appear in the markets.
This winter has been "meh" here in Philly – one minute it's cold, the next it's warm and, quite frankly, enough is enough. With Mother Nature clearly on strike, it's up to us to bring a little bit of spring into our homes. This Strawberry Crumb Cake is the perfect sweet treat, flavored with not only the ripe strawberries, but a touch of vanilla and almond.
Definite Favorite!
This crumb cake recipe will be one of your favorites and you can whip it up quickly. If strawberries are not your favorite, why not substitute blueberries, blackberries or even some juicy ripe plums or nectarines. Be your own executive chef and make this recipe your own.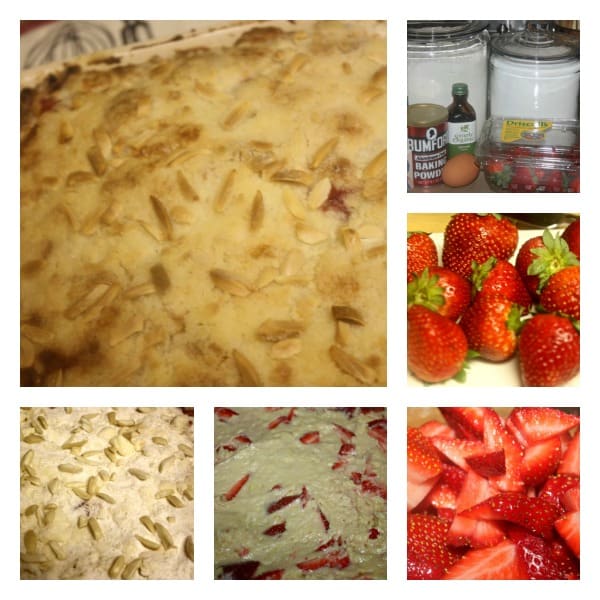 Many thanks to Tara and Noshing with the Nolands for letting me play in the kitchen. Feel free to come and visit my kitchen anytime – the door is always open and I'll have a cocktail waiting for ya!
On to the recipe:
Strawberry Crumb Cake
Adapted from Taste of Home
Ingredients:
For the crumb cake:
2 cups of all purpose flour
2 teaspoons of baking powder
1/4 teaspoon of kosher salt
2/3 cup of sugar
1 egg
1/2 cup of milk
1/2 cup of melted butter
1/4 teaspoon of almond extract
1/2 teaspoon of vanilla extract
1 1/2 cups of strawberries, sliced into quarters
1/2 cup of slivered almonds
For the crumb topping:
1/2 cup of sugar
1/2 cup of all purpose flour
1/4 cup of cold butter, diced
Slivered almonds for garnish
Directions:
Grease a 8×8 baking dish with either baking spray or butter and set aside.
Preheat the oven to 375° F.
In a large bowl, sift together the flour, baking powder and salt. Mix in the sugar and set aside.
In a small bowl or measuring cup, mix together the egg, milk, melted butter, almond extract and vanilla extract.
To the dry ingredients, mix in the wet ingredients until the batter is fully mixed. It will be a thick batter so don't be alarmed.
Fold in the strawberries and the almonds and pour the batter into the prepared baking dish and spread evenly.
Prepare the crumble topping by mixing together the flour, sugar and diced butter until it looks like big crumbs.
Sprinkle the crumble topping over the batter.
Garnish with a few slivered almonds and bake for 40-45 minutes, until the top is golden brown and a toothpick inserted in the center comes out clean.
Cool on a wire rack and enjoy!