Tomato Shrimp Bruschetta
This Tomato Shrimp Bruschetta was perfect when we were having our friends over Colleen, Eddie, and Megan over. I wanted something quick and easy for an appetizer and something that involved shrimp.
I went to all the traditional shrimp appetizers but kept coming back to matching garlic and shrimp together. Then I thought of the idea to do a bruschetta. Quick, easy, yummy, and with the wonderfully fresh tomatoes that we have in our grocery store now. So that is what we had and it was gobbled down!! I hope you enjoy it too!!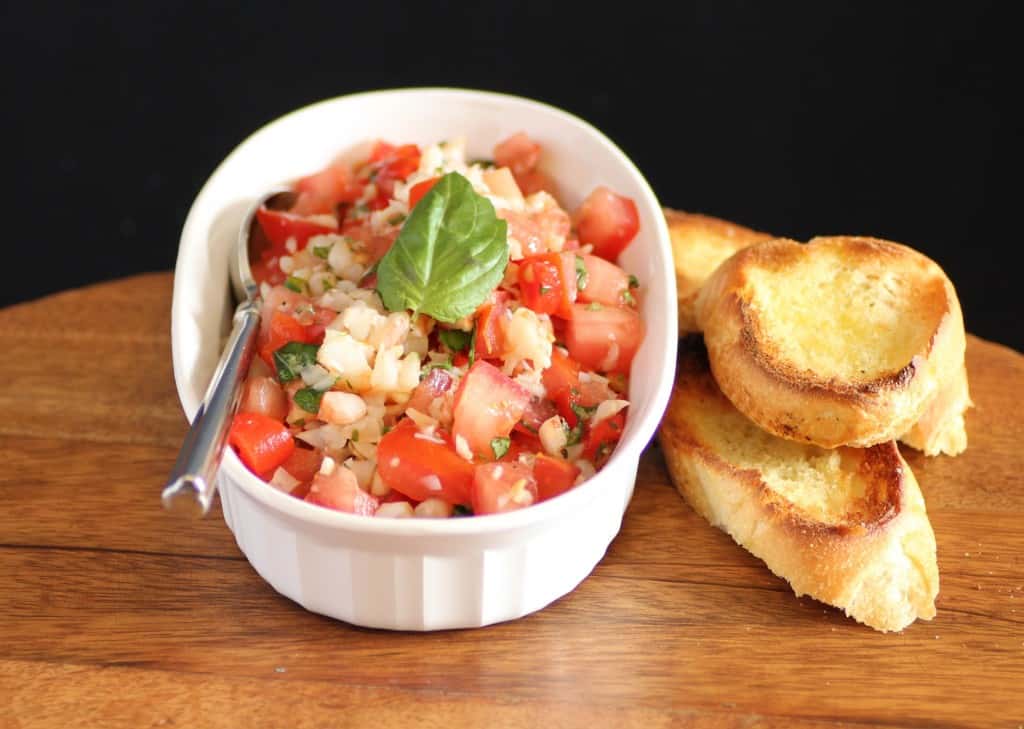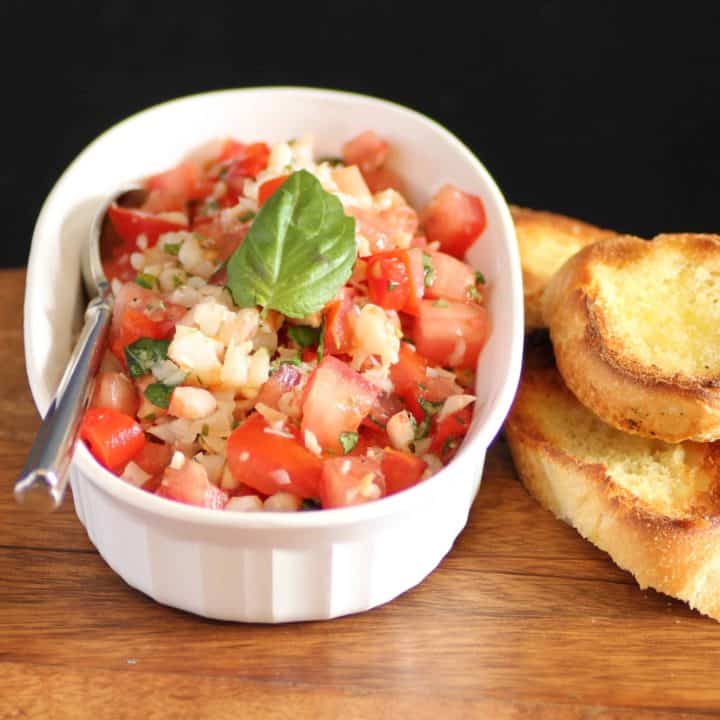 Tomato Shrimp Bruschetta
Yield: 8
Prep Time: 15 minutes
Cook Time: 15 minutes
Inactive Time: 15 minutes
Total Time: 45 minutes
A great quick and easy appetizer
Ingredients
2 tomatoes, diced
2 Tbsp. sweet onion, diced
2 cloves garlic, minced
1 lb. shrimp, uncooked in the shell
1 box crab boil, optional
1 Tbsp. salt
1 lemon, quartered
1 jarred roasted red pepper, finely diced
1/4 cup fresh basil, chopped
1 Tbsp. fresh oregano, chopped
2 Tbsp. olive oil
1 tsp. balsamic vinegar
Salt and pepper to taste
Baguette, sliced and brushed with oil and toasted
Instructions
Boil shrimp for 3 min. in the crab boil, salt and lemon. Let cool. Shell and dice. Add all the other ingredients except the baguette. Stir to combine and refrigerate until ready to serve. Serve with the toasted baguette.
Nutrition Information:
Yield: 8
Serving Size: 1
Amount Per Serving:
Calories: 277
Total Fat: 8g
Saturated Fat: 1g
Trans Fat: 0g
Unsaturated Fat: 6g
Cholesterol: 134mg
Sodium: 1751mg
Carbohydrates: 30g
Fiber: 2g
Sugar: 4g
Protein: 21g