Toro Green Onion Hand Sushi Rolls
Have you made sushi before? Anything like the recipe for Toro Green Onion Hand Sushi Rolls? Does it look really easy to you? Or a very creative difficult art form? Somethings like a piece of fish atop a roll of rice seems very easy. But wait, how do you make that delicious sticky rice? How do you get that just right slice of amazing fresh fish? It is from my experience something to be in awe about. Something to research, study and delve into a world pretty much still unknown to me although I eat sushi on a regular basis.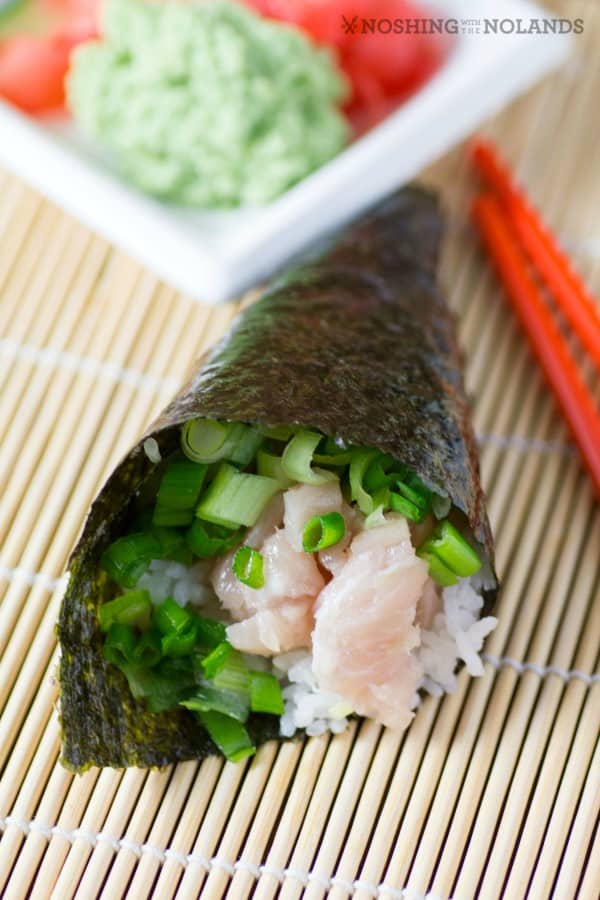 I am intrigued to learn more, enticed by the very nature of how delicious it is and how can something that looks so simple be a challenge for me to make? I started flipping through The Complete Guide to Sushi & Sashimi by Jeffrey Elliot and Robby Cook to find a recipe that I felt I could handle. My first attempt was a Cucumber-Wrapped Roll but it left me sad and dissapointed in my lack of knife skills. I became though, more determined to find a recipe that would work for me. I think the trick to perfect sushi making is practice. Sushi chefs train for years, it IS an artform after all. The cookbook is fabulous with step by step instructions on how to make all the recipes.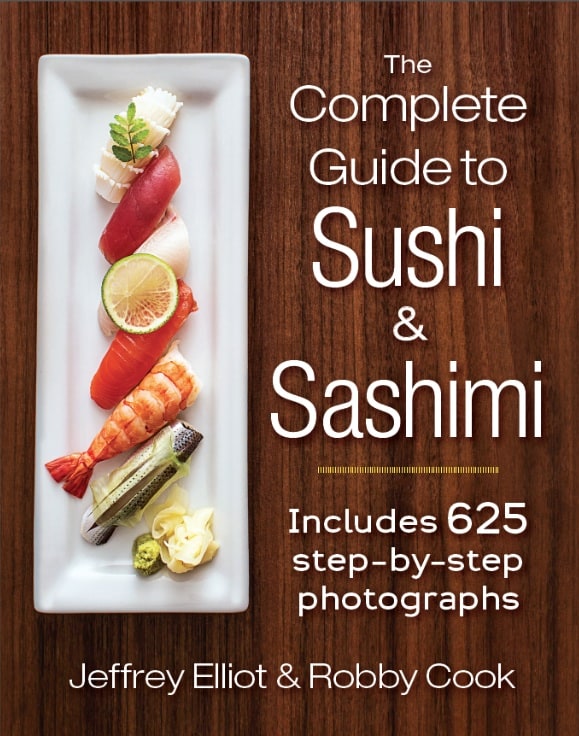 This incredible book will help you get started with all the information you need. From showing you all the ingredients, equipment and fish butchery, you will be well on your way to an excellent sushi experience. You will learn how to make the perfect rice (I really enjoyed making that), plating techniques and loads more.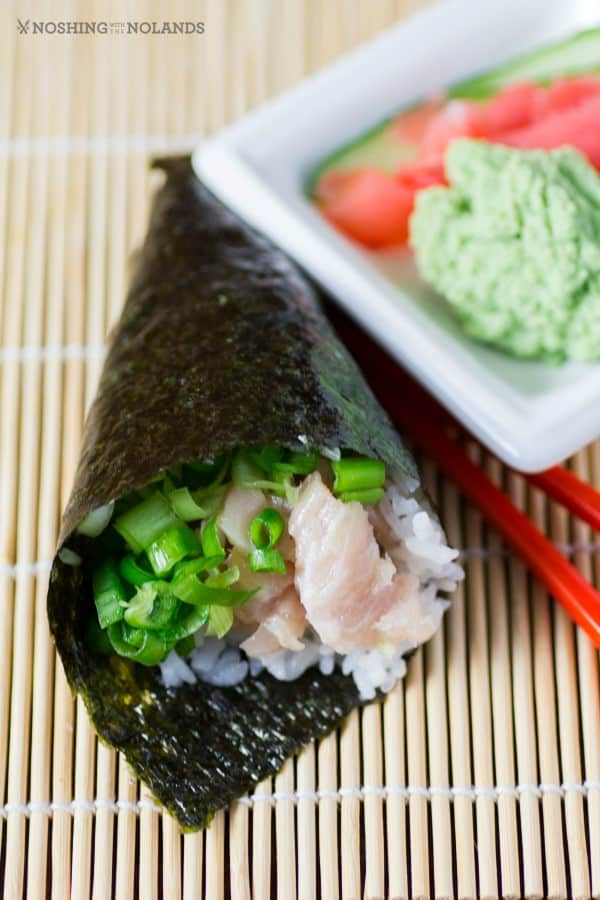 I love hand rolls and not that many restaurants make them. This looked so simple and with the right instructions it was, I felt very accomplished and I have to say my family was very happy too. This would make an easy and fun "do it yourself" party idea. I can see everyone gathering around and making these and having a wonderful time.
There are a couple of key points to know about sushi making. You can't just go and buy any fish and use it. In the US is it law that it must be frozen first. You must use Japanese rice not just any short grain rice. Sashimi is not sushi, sashimi is just the fish. Sushi includes the rice. In Japan rolls aren't popular like they are here. In Japan it is all about Nigiri, which is seafood on top of rice. Do you stumble and fumble using chopsticks? It is okay to use your fingers to pick up a roll or one that is too large for chop sticks. Nori the blackish green wrap you see above is made of seaweed and is a great source of minerals from the ocean.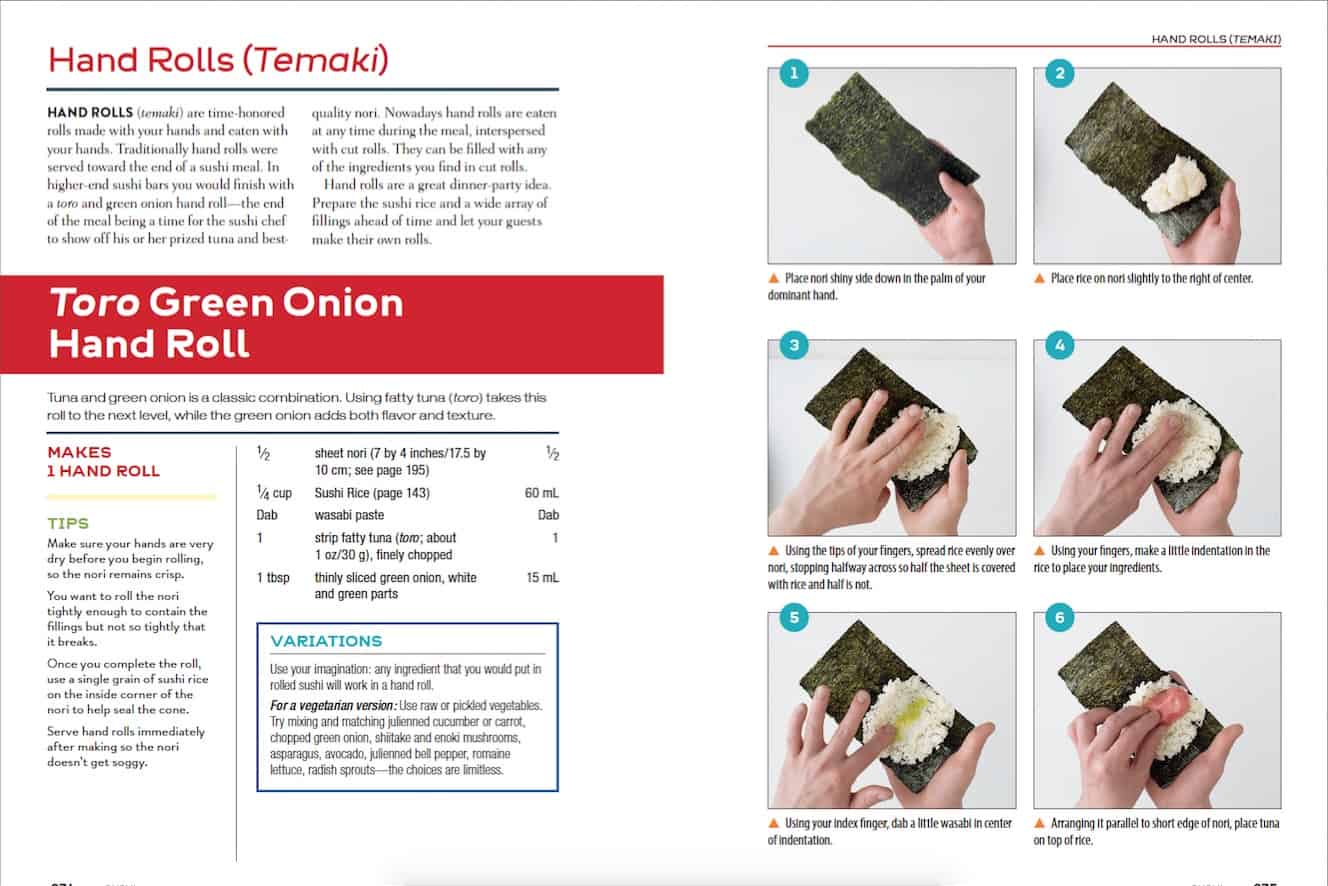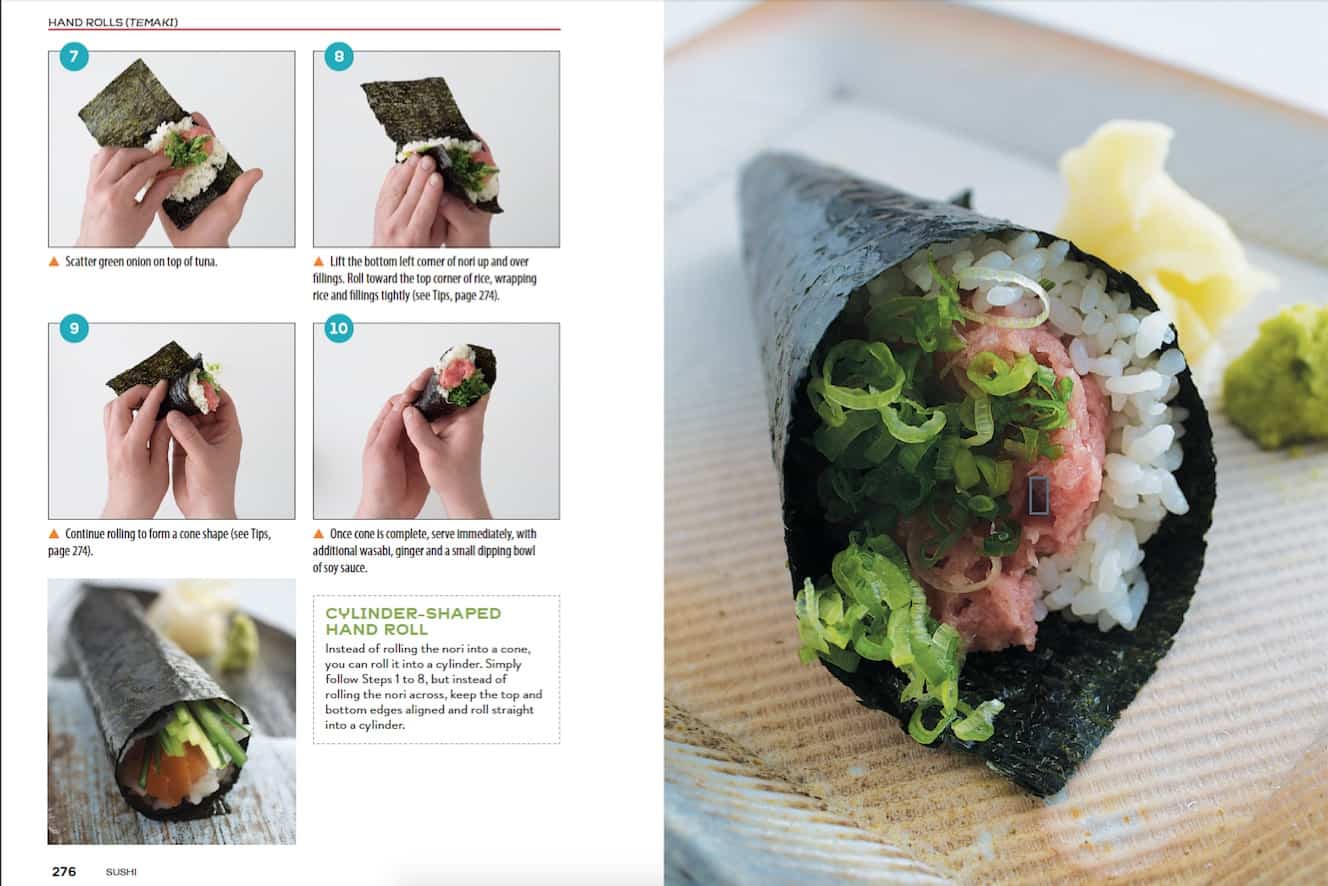 To keep you spell bound this magnificent cookbook has 625 step by step photographs like the ones you see here. Also the book lies flat with a spiral binding so that you can easily follow along.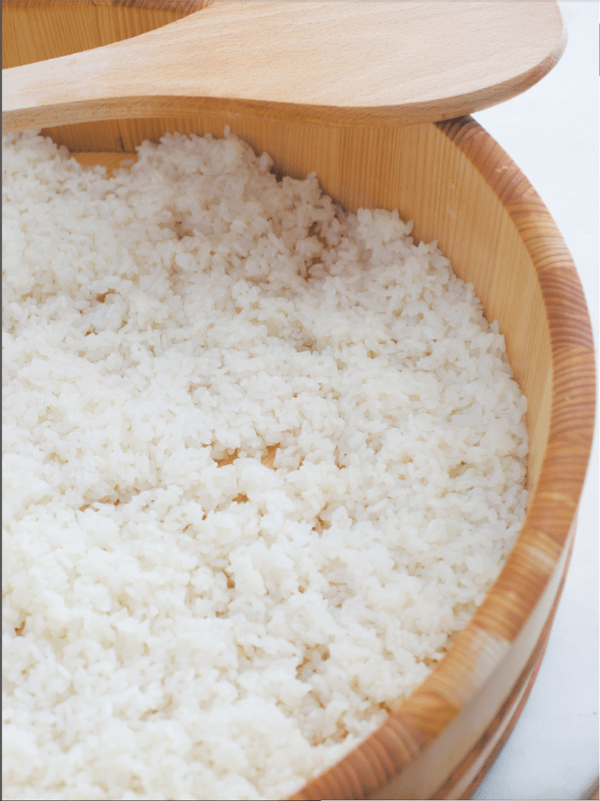 Jeffrey Elliot has a degree from the Culinary Institute of America. He has been a chef at some of the most prestigious restaurants including Le Cirque and Le Bernadin in New York. He has also worked as an Executive Chef for a group or Japanese restaurants in Miami. Jeffrey has donned many hats besides his chef hat with achieving a MBA, becoming a stockbroker and the Executive Chef and Brand Ambassador of Zwilling JA Henckels USA. Jeffrey resides in Philadelphia, Pennsylvannia with his wife, two sons and Havanese.
Robby Cook has been making sushi professionally for 11 years as an Executive Chef in one of New York's most respected restaurants. In his spare time Robby enjoys such hobbies as collecting knives, shoes, frogskins, craft beers and vinyl records. He was nominated for Rising Star Chef in 2013. He lives in New York City.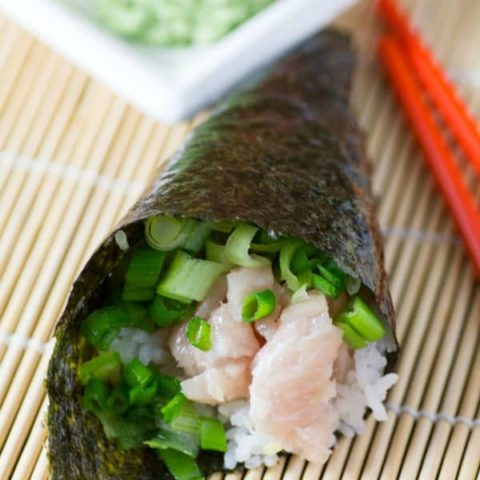 Toro Green Onion Hand Sushi Rolls
Tuna and green onion is a classic combination. Using fatty tuna (toro) takes this roll to the next level, while the green onion adds both flavor and texture.
Ingredients
Hand Roll
1⁄2 sheet nori (7 by 4 inches/17.5 by 10 cm) 1⁄2
1⁄4 cup Sushi Rice (page below recipe) 60 mL
Dab wasabi paste Dab
1 strip fatty tuna (toro; about 1 oz/30 g), finely chopped 1
1 tbsp thinly sliced green onion, whiteand green parts 15 mL
Sushi Rice
2 cups water 500 mL
2 cups sushi rice 500 mL
1 piece (4 inches/10 cm) konbu optional 1
1⁄2 batch Sushi Vinegar (see recipe below) 1⁄2
Sushi Vinegar
7 tbsp red or white rice vinegar (see Tips) 105 mL
5 tbsp granulated sugar 75 mL
2 tbsp salt 30 mL
1 piece (4 inches/10 cm) konbu 1
Instructions
TIPS
Make sure your hands are very dry before you begin rolling, so the nori remains crisp.
You want to roll the nori tightly enough to contain the fillings but not so tightly that it breaks.
Once you complete the roll, use a single grain of sushi rice on the inside corner of the nori to help seal the cone.
Serve hand rolls immediately after making so the nori doesn't get soggy.
Sushi Rice Shari
MAKES 4 CUPS (1 L)
EQUIPMENT
• Fine-mesh sieve
• Large bowl
• Heavy saucepan with tight-fitting lid
• Hangiri, optional
• Rice paddle (shamoji) or spatula
• Fan, optional
Making rice for sushi is the most important thing you will learn in this book. Without good sushi rice, you can't make sushi. Apprentice chefs in Japan may take one to two years to perfect rice before they move on to fish. Using a rice cooker will take some of the guesswork out of cooking rice, but following this recipe will help you to cook it on the stovetop.
TIPS
While your rice is cooking, soak your hangiri and rice paddle in cold water to prevent sticking. Drain and wipe dry before adding the rice. If you don't have a hangiri, use a wide, shallow non-reactive bowl or a clean wooden salad bowl.
Sushi Vinegar Awasezu
MAKES ABOUT 1 CUP (250 ML)
EQUIPMENT
• Small saucepan
In saucepan over medium heat, heat vinegar.
Add sugar and salt and bring to a simmer, stirring frequently until completely dissolved.
Remove from heat, add konbu and set aside for at least 1 hour to cool. If not using immediately, transfer to a resealable glass container and refrigerate for up to 1 year.
Sushi vinegar needs to be made at least an hour before using so that it has time to cool before stirring into the rice.
If you don't have a Japanese rice paddle (shamoji), use a wooden or silicone spatula, lightly moistened with water.
Your finished rice should be subtly flavored, free of any clumps and firm but tender, never mushy.
TIPS
This makes enough for 2 batches of Sushi Rice.
You may use red or white rice vinegar or equal parts of each. We like to use half of each for stronger acidity.
These quantities are a guideline. The sugar and salt can be adjusted up or down depending on your taste.
Courtesy of
The Complete Guide to Sushi & Sashimi
by
Jeffrey Elliot
&
Robby Cook
© 2015
www.robertrose.ca
. Reprinted with publisher permission. Available where books are sold.