Turkey Brine
To brine or not to brine, that is the question on many people's minds when it comes to preparing your turkey for any holiday or meal. If you are going to brine you want a really good recipe for a Turkey Brine so that you will have fantastic results every time.
We love to wet brine our turkeys, especially if we are going to smoke them. We also like to even brine just a turkey breast if we are doing it in the oven too. It really gives a much better flavor to the turkey, especially a breast, and gives you lots of drippings for the best gravy too.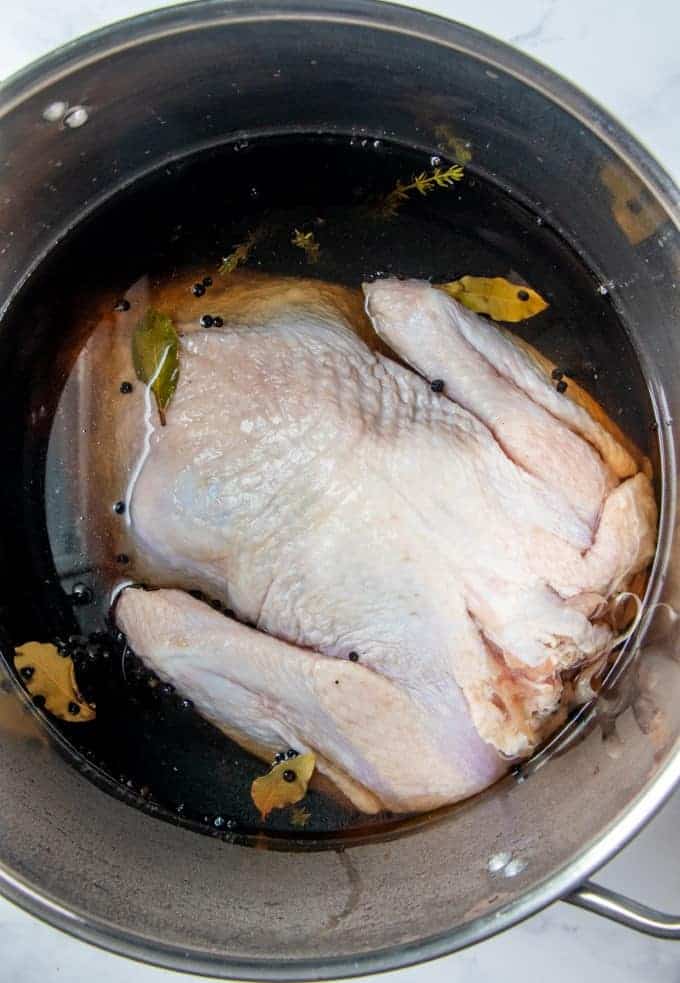 Helpful Items for This Post
This post contains affiliate links. As an Amazon Associate, I earn a small portion from qualifying purchases at no extra charge for you.
Is it Worth it to Brine a Turkey?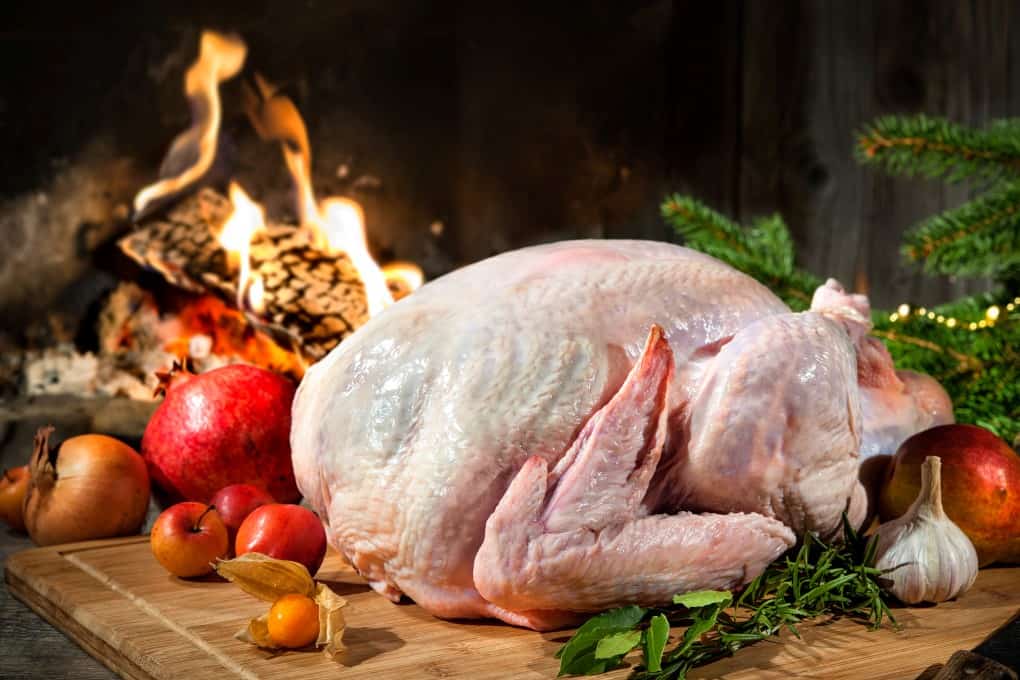 A turkey is an investment and you want to do it right. Plus, when doing a turkey you are usually feeding a large crowd so you want to make sure your turkey is as fabulous as all the sides. Nothing worse than a dried-out turkey. Even a great gravy won't save that!!
Brining your turkey adds more flavor and more moisture making it more difficult for you to end up with a dry result. This is a great foolproof method to make sure your holiday's meals are memorable in a great way.
How to Brine Your Turkey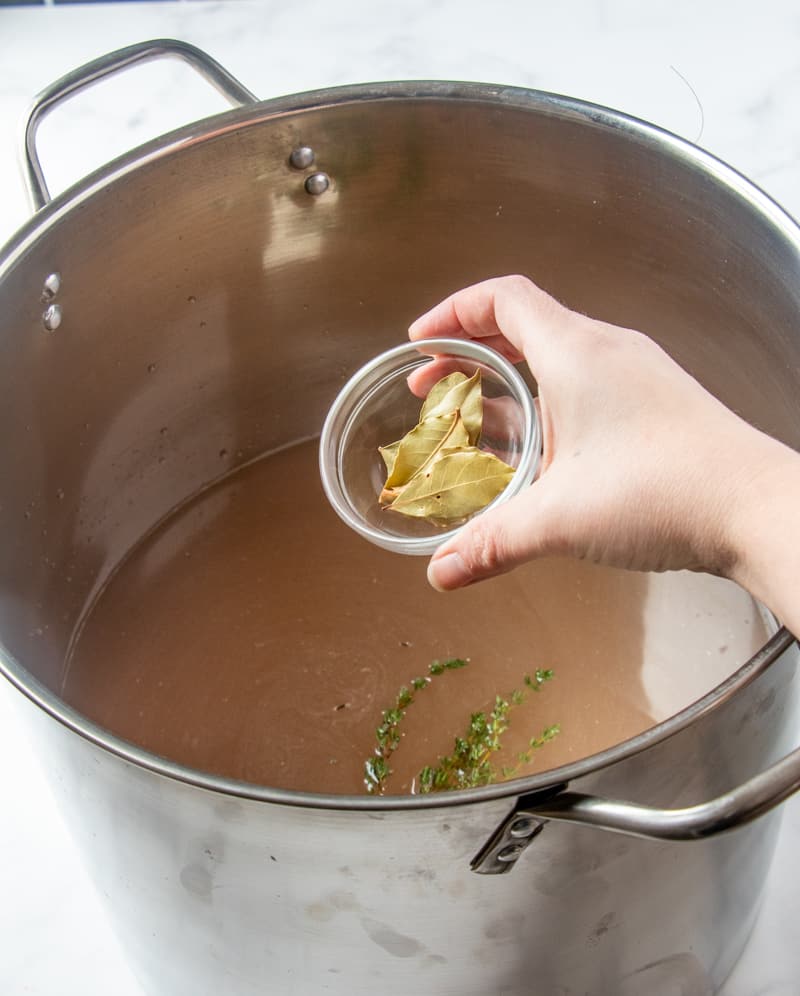 Into a large pot add the water, Kosher salt, maple syrup, fresh bunches of thyme, and bay leaves. Very simple ingredients that can be found in any grocery store.
Then add in the garlic, black peppercorns and bring to a boil, stir and let the salt dissolve. Turn off the heat and let completely cool to room temperature or refrigerate until ready to use.
Then submerge your turkey into the brine in this pot or a clean non-corrosive covered container or brining bag. Either place a lid on the pot or container or tie your brining bag and remove as much air as possible.
Set your pot or brining bag in the refrigerator, make sure you have plenty of room for it. I have also seen that you can brine your turkey in a cooler if you are strapped for space, let me show you how!
How to Brine Turkey in a Cooler
1. Completely defrost your turkey if frozen. Combine the brine solution and turkey in a brining bag. Then carefully remove as much air as possible; this will make sure that the brining liquid will go around the bird as much a possible.
2. Then in a large cooler put about three 5 lb. bags of ice into the cooler. Add the turkey. You can purchase a styrofoam cooler for this and use it only for brining your turkey. This amount of ice should keep a 15 lb turkey cold for at least 12 hours or overnight. Add more ice if needed.
INGREDIENTS FOR TURKEY BRINE
Cold Water
Kosher salt
Maple syrup (use the good stuff)
Fresh bunches of thyme
Bay leaves
Garlic
Black peppercorns
15 pound Turkey
How Long Should You Brine Turkey?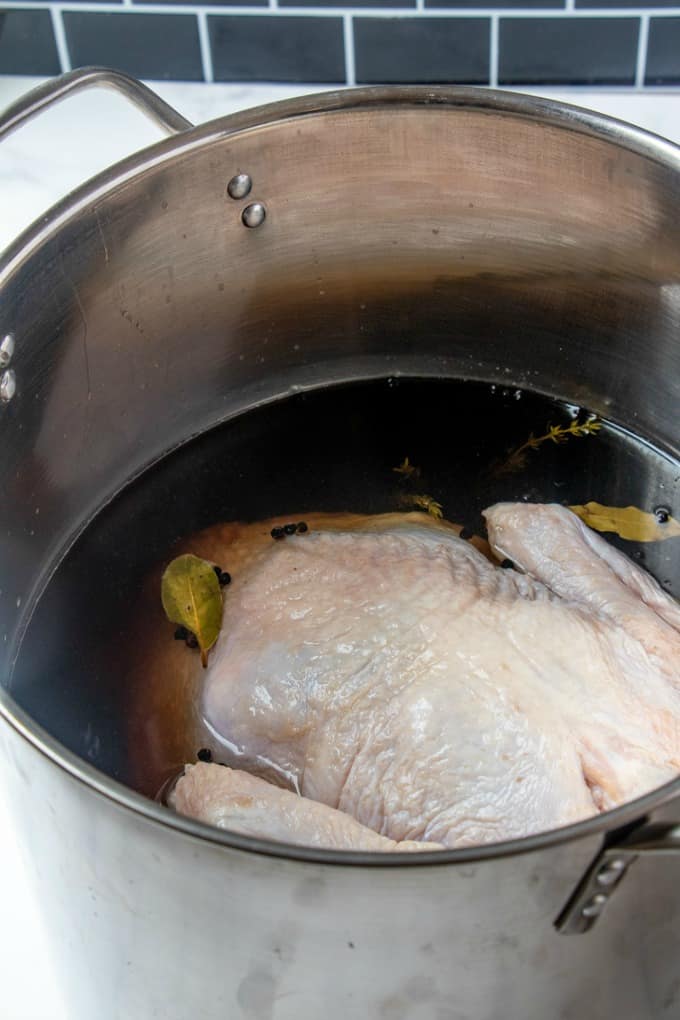 Your turkey should be in the brine overnight at best or up to 24 hours and as little time at 6 hours. Try and turn the turkey in the brine at least once during this time.
Remove the turkey from the brine but do not rinse your turkey after brining. You will then take all the flavor away that you have just tried to add. Do pat it dry though.
It won't be too salty, in my opinion, but don't add additional salt when preparing the turkey as it won't need it. We add olive oil to the outside and Herbs de Provence, or you can add your favorite poultry blend.
Then into the cavity, we add 1/2 onion, apple slices, celery cut into 3″ sizes and a bunch of fresh herbs tied together like thyme, rosemary, and oregano. Do not overfill the cavity though as this will then affect your cooking time.
Smoke or roast the turkey as you normally would but be prepared for a juicier bird with lots of drippings.
Benefits to Brining a Turkey?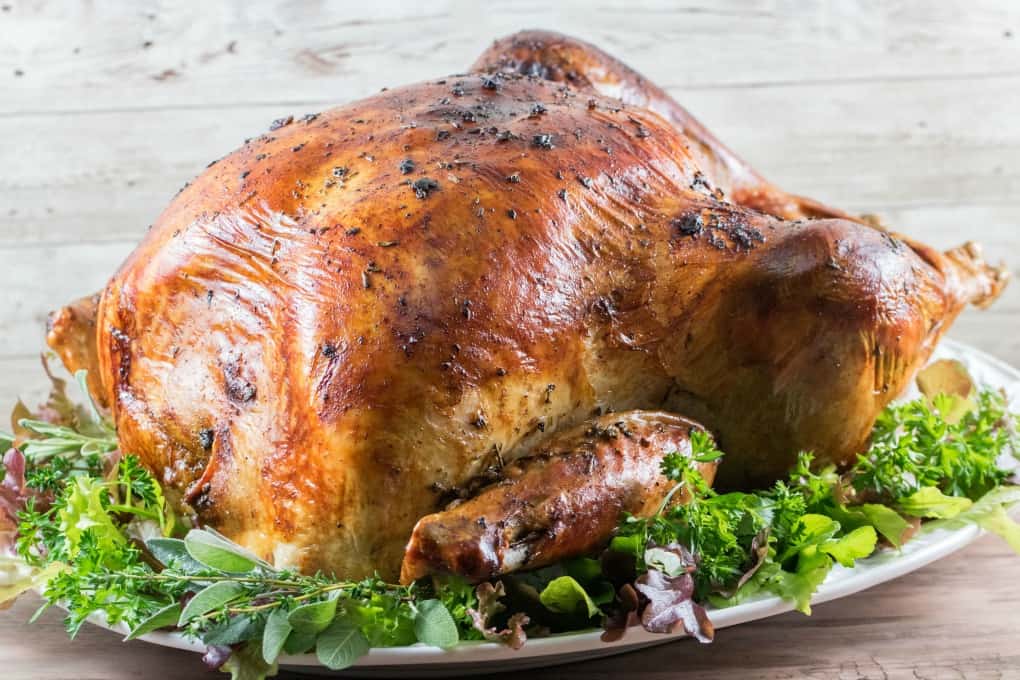 Not only will you end up with a gorgeously moist and flavorful bird but it also makes the best gravy that I have ever had and lots of it. This is one of the best benefits of brining a turkey that I have found.
To make a really good gravy try this recipe, it is our absolute favorite. If you have more or less (which I can't imagine) than 10 oz. of drippings, the recipe will help you adjust to make the right thickness for your gravy. It really is simply the best!!
I also always make our own turkey stock with the giblets, neck, and vegetables. This recipe you can find in our Roast Turkey 101 post. If there is any extra I always put it into the freezer as it is a great substitute for chicken stock for soups, sauces and more.
What Does a Brine do to a Turkey?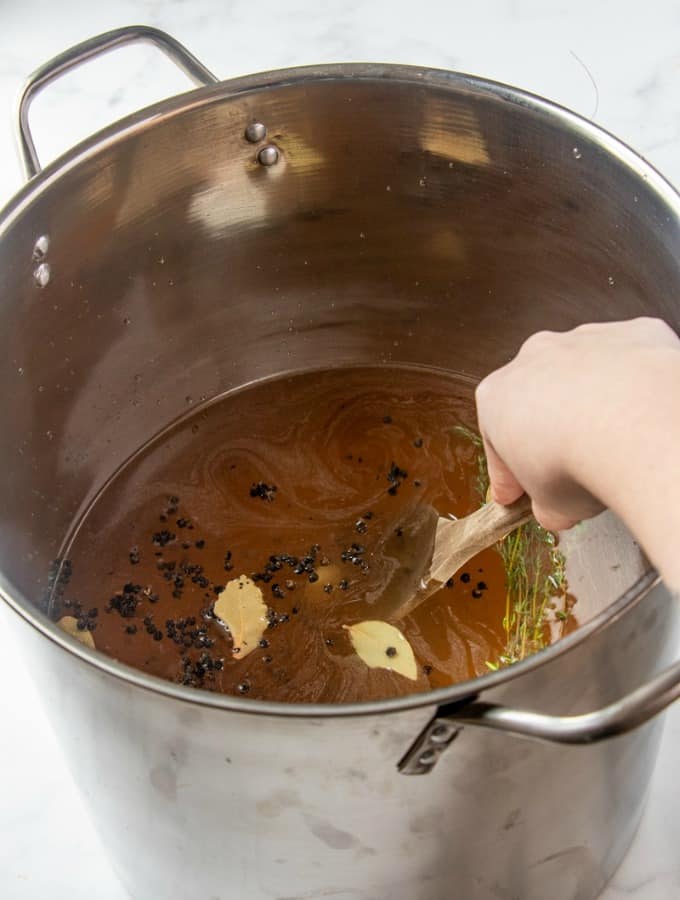 During the process, the turkey absorbs extra moisture. This also helps it stay juicy. With the mixture being salty the turkey absorbs salt too, which makes it nicely seasoned.
The salt, in turn, breaks down some of the turkey's proteins, making it more tender. Win, win in my mind!!
Can you over brine a turkey? Yes, you can and it will then get too salty, 24 hours should be the maximum time needed to brine a turkey. Don't let it sit for days in the brine and also make sure that it is fully defrosted before brining.
A frozen turkey is not going to absorb flavor and become tender and the process is unsafe for defrosting. Do this right and follow our easy instructions for the best turkey you will have ever made.
We like to make our turkey slightly ahead of time and have it already sliced and on a platter. The gravy is then made ahead of time and you can then enjoy your company as opposed to being in the kitchen.
Do as much ahead of time as possible; it's always what we like to do.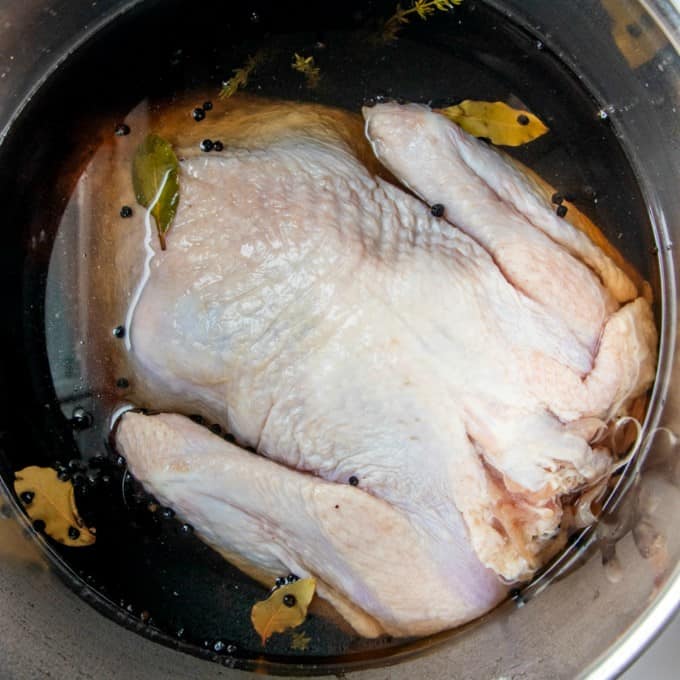 Pin it HERE!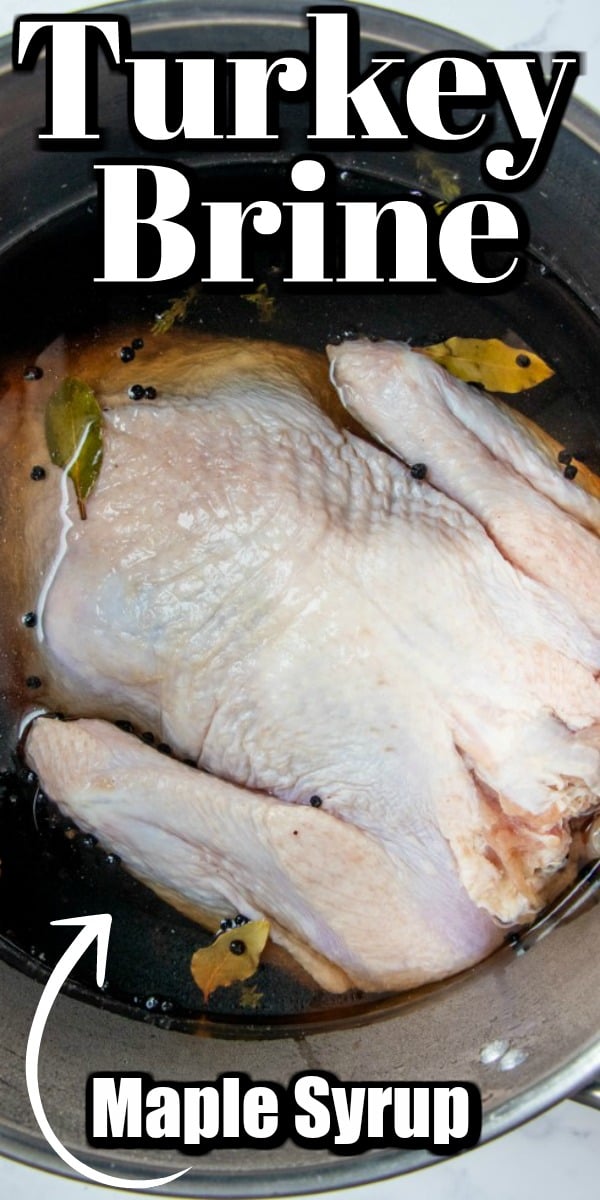 Pin it HERE!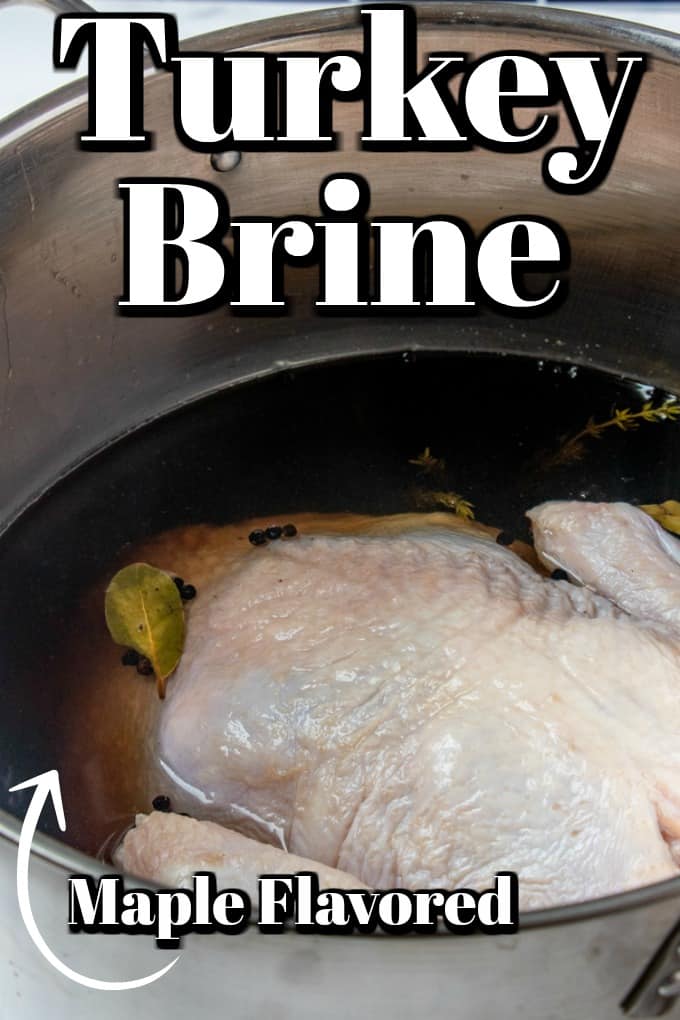 Turkey Brine Recipe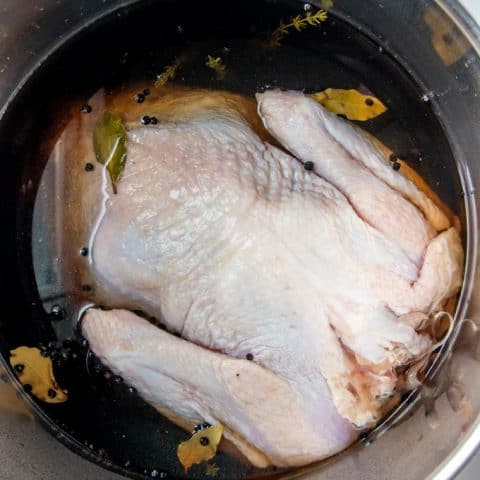 Turkey Brine
Yield: 1 turkey brine
Prep Time: 15 minutes
Total Time: 15 minutes
This amazing maple-flavored Turkey Brine will give you excellent results every time if you are roasting or smoking the bird. It is our favorite and we have used it for years.
Ingredients
6 quarts water
1½ cups Kosher salt
1½ cups maple syrup (use the good stuff)
2 fresh bunches of thyme (2 Tbsp. dry)
6 bay leaves
4 large cloves garlic, crushed
2-3 Tbsp. black peppercorns
1-15 lb turkey
Instructions
Place all ingredients except poultry in a large stockpot. Bring to boil and cook until salt dissolves. Remove from heat and allow to cool completely.
Once cool, put the poultry in the brine and refrigerate overnight. Turn once if possible.
Recommended Products
As an Amazon Associate and member of other affiliate programs, I earn from qualifying purchases.