Vegetable Tempura
Renee is here for you today and I know this hard working lady from #SundaySupper and her great site Kudos Kitchen by Renee. She has brought with her one of my favorites, Vegetable Tempura!! Then has taken it over the edge with an amazing garlic aoili, all in time for spring!! I would love for you to go to her site and have a look around at some of her recipes like this cute Brown Bear Pumpernickel Bread, I love it!! I would also love it if you followed her on Facebook, Twitter, Pinterest, Google+, and Instagram. I now give the floor to Renee!!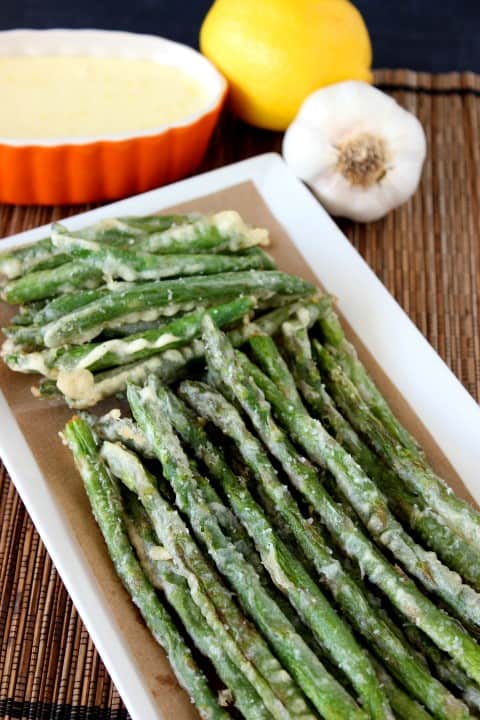 Thank you for the opportunity of guest posting on your site "Noshing with the Nolands", Tara. I really appreciate it!
The recipe I'm sharing with you today is for Vegetable Tempura and is quite possibly the earliest memory I have of falling in love with food, and with the entire process of cooking it in all its various forms.
It all goes a long, long time back to when I was in elementary school, and it was parent day in one of my classes. I remember that a father of one of my classmates came into our classroom to demonstrate how to make the tempura that he had learned to make while living for a while in Japan. Don't ask me how in the world he got permission to fry things in boiling oil, on a step stool while a bunch of little kids gathered around. But that was a different time (the 60's) when things weren't always politically correct, and maybe, just maybe, not thought out as well as they should have been … but, I digress. J
My memory of that day may be a little foggy, but the impact that those crispy tempura vegetables had on my young impressionable mind is one I will never forget, and is, far and away, one my favorite school memories. Quite possibly it's the one that made the biggest impression on me at my young age, and it's one that I carried on into my adult life. Needless to say, I wasn't that into academia, but my love of food and cooking is still going strong!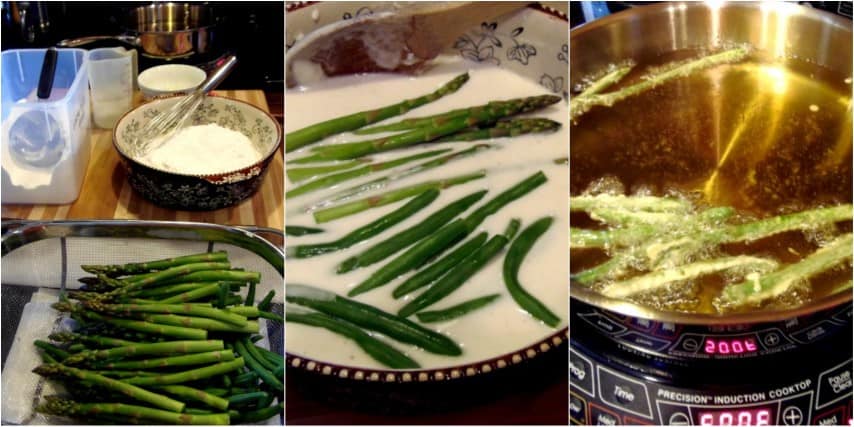 I chose to use spring asparagus and green beans for my tempura batter, but you can use any veggie you like, or even meat or seafood (you'll just need to adjust the cooking time for the latter). This tempura batter is as light as air and is extra crunchy when fried because of the use of rice flour, but you can also use all-purpose flour if you're in a pinch. The idea is to have the batter lightly kiss the veggies and not thickly stick to them as is the norm with other deep fried batters.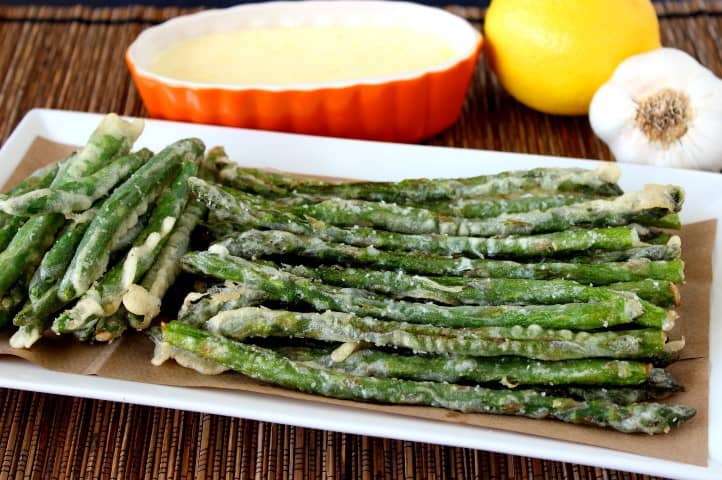 VEGETABLE TEMPURA WITH GARLIC AIOLI DIPPING SAUCE
For the tempura:
Grape seed oil for frying (or you may substitute peanut oil)
2 cups rice flour (or you may substitute all-purpose flour)
2 teaspoons salt
1 teaspoon black pepper
3 egg whites
2 cups ice cold seltzer water (more if needed)
1 bunch asparagus, washed and trimmed
1 pound string beans, washed and trimmed
-Heat about 2 inches of oil in a large high sided pot to approximately 375-400 degrees.
-In a large shallow dish, whisk together the flour, salt and pepper.
-In a small bowl, whisk together the egg white and the seltzer.
-Pour the wet ingredients into the dry ingredients and whisk to form a thin, somewhat runny batter.
-Working in batches, add some of the vegetables into the batter and turn to coat completely. Allow some of the batter to run back into the bowl and then carefully lower the lightly coated vegetables into the hot oil, allowing them to fry for approximately 2-3 minutes per batch. *Note – these will not brown in color and are meant to remain pale.
-Remove the cooked vegetables from the oil with a slotted spoon and place them on a paper towel to drain. Season them immediately with a light sprinkling of sea salt.
-Continue coating and frying the remaining vegetables.
-Serve immediately with the garlic aioli dipping sauce.
For the garlic aioli:
4-5 cloves, garlic
6 egg yolks
2 cups canola oil
2 tablespoons fresh lemon juice
½ teaspoon salt
1/8 teaspoon black pepper
-Combine the garlic and egg yolks into a food processor and pulse to combine.
-With the processor running, stream in the canola oil until the mixture becomes thickened and a light yellow in color.
-Add in the lemon juice, salt and pepper and process until just combined. Refrigerate until ready to serve.