Vegetable Terrine
I have loved this Vegetable Terrine recipe for a long time now. I have seen Laura Calder make this many times. She used to be on TV in the morning when I was getting ready and I so enjoyed watching her. My girlfriend Karen so graciously met her at a book signing and got a signed copy of her latest cookbook for me for Christmas. I was thrilled.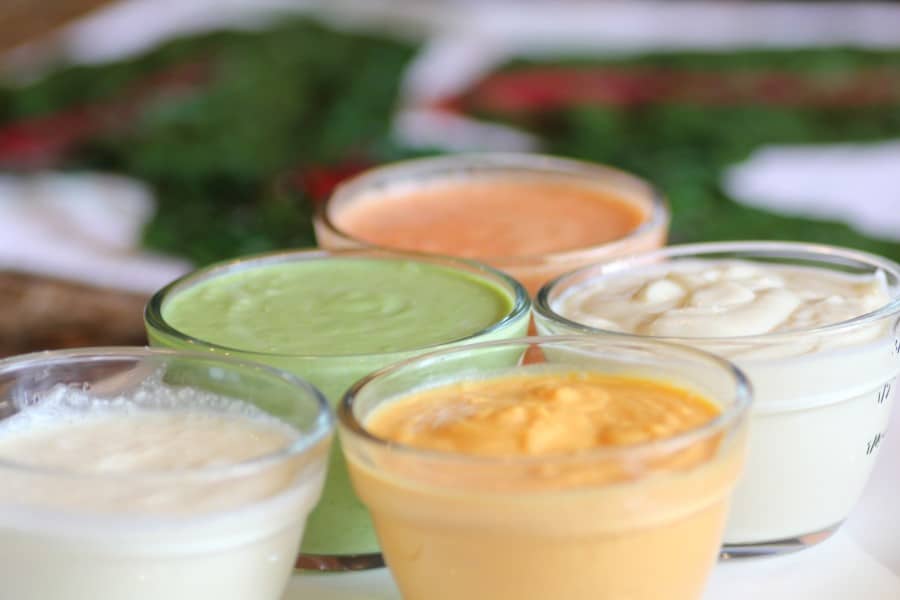 Here is her beautiful and delicious vegetable terrine recipe. I thought this was ideal for Easter. This is a great make-ahead recipe that I would substitute for a soup or salad course.
The ingredients are pretty straightforward and are usually readily available year-round at your grocer.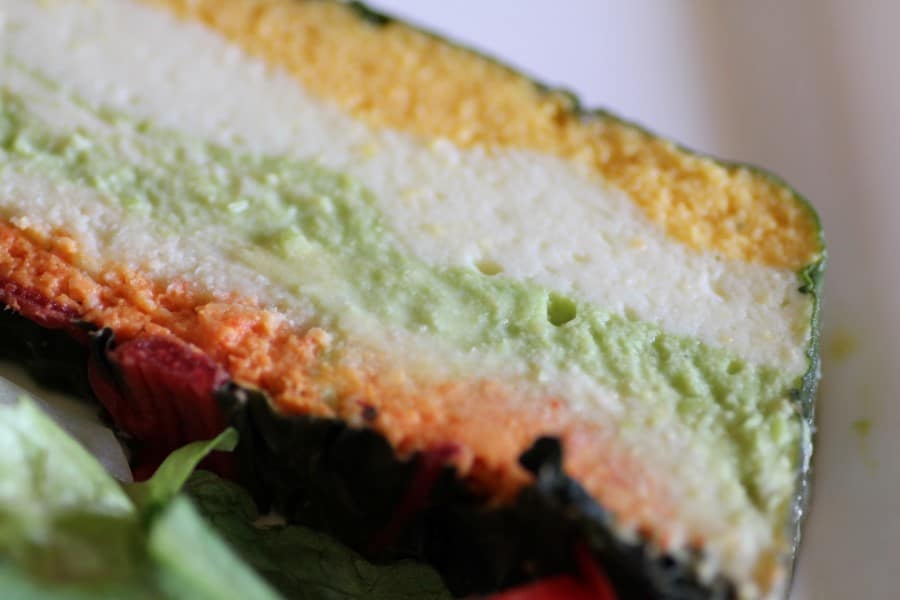 This recipe does take a little time to prepare. You have to be organized, it's not a dish that you can pull together at a moment's notice.
That said, this recipe is definitely worth the effort! it's wonderfully tasty and stunningly beautiful! everyone is going to love this amazing dish!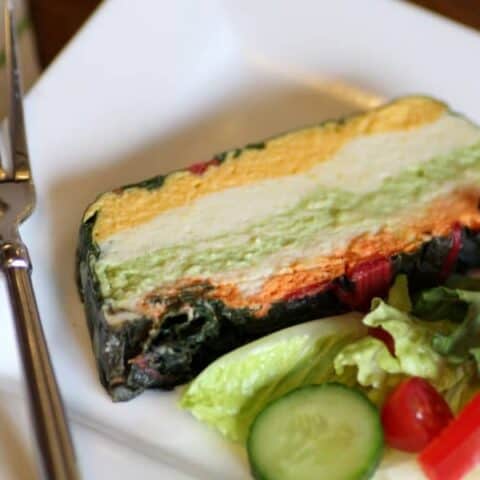 Vegetable Terrine
Yield: 6 Servings
Prep Time: 40 minutes
Cook Time: 1 hour 30 minutes
Additional Time: 12 hours
Total Time: 14 hours 10 minutes
This beautiful vegetable terrine is perfect for any elegant dinner occasion from Easter to Thanksgiving to Christmas!
Ingredients
4 large swiss chard leaves or 8 large beet greens
Kosher salt
Fresh ground pepper
4 oz. cauliflower florets
4 oz. green peas
4 oz. carrots
4 oz. red pepper, seeded
1 1/2 oz. grated parmesan cheese
5 eggs
1 1/4 cups heavy cream
Instructions
Bring a large pot of salted water to a boil. Blanch the swiss chard for one minute.
Remove the leaves and immediately rinse under cold water to set the color. Lay out on tea towels and pat dry carefully.
Butter a terrine or I used my Pampered Chef 10×6″ loaf pan. Neatly lay out the swiss chard into the dish to cover the dish completely and let excess overhang.
Cook the cauliflower, peas, and carrots one at a time until well done in salted boiling water. They should be very tender.
Drain and run under cold water to set the color. Roast the pepper under the broiler until the skin is blackened and the pepper is cooked. Remove the skin and seeds and cut them into pieces.
Individually blend each vegetable with one egg, 1/4 cup cream, and salt and pepper to taste. Pulse to a smooth puree.
Pour into a small bowl.
Rinse out the blender and then do the next vegetable, pouring it into a bowl and continuing until all vegetables are done. Lastly blend the cheese with an egg, 1/4 cream, and salt and pepper to taste.
Spoon the carrot into the terrine first. and smooth out to the edges. Then spoon in the cauliflower carefully.
Don't pour them in as they will all blend together. Smooth cauliflower out to the edges.
Next spoon in the peas, then the parmesan mixture ending with the red pepper.
Fold the overhanging leaves over and bake in a water bath at 350F for one hour and fifteen minutes until set.
Remove the terrine from the bath and let cool completely on a wire rack.
Chill overnight in the refrigerator so that it sets well.
A half an hour before serving take the terrine out of the refrigerator. When ready to serve turn the terrine out onto a cutting board and slice.
Serve instead of a soup or salad course.
Nutrition Information:
Yield: 6
Serving Size: 1
Amount Per Serving:
Calories: 321
Total Fat: 24g
Saturated Fat: 14g
Trans Fat: 1g
Unsaturated Fat: 8g
Cholesterol: 217mg
Sodium: 534mg
Carbohydrates: 16g
Fiber: 6g
Sugar: 6g
Protein: 13g
Recipe calculation was provided by Nutritionix and is estimation only. If you need nutritional calculations for medical reasons, please use a source that you trust