Argentinian Steak Sandwich with Chimichurri
Argentinian Steak Sandwich with Chimichurri. We are starting 5 Days of Sandwiches for you, but they will be spread over couple of weeks as we have some special Mother's Day recipes and #SundaySupper etc. to also share with you.
Today's sandwich is an Argentinian steak on a garlicky naan bread and then doused with yummy chimichurri sauce. Lots of wonderful flavor in this easy sandwich!!
I found this recipe in a Family Fun magazine. I have received that magazine now for a couple of years and enjoy the crafts and recipes.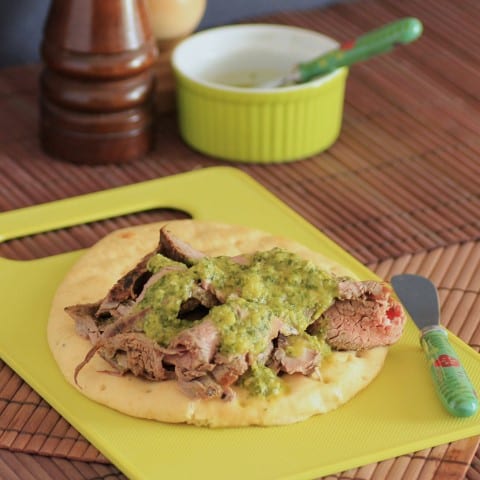 Argentinian Steak Sandwich with Chimichurri
Ingredients
1½ lb. flank steak
4 garlic naan bread, warmed
Chimichurri
½ cup flat leaf parsley
¼ cup fresh cilantro
1 small yellow onion, chopped
3 garlic cloves
½ cup olive oil
⅓ cup apple cider vinegar
½ tsp. cayenne pepper
¼ cup water
Salt and pepper to taste
Instructions
In a food processor mix all the ingredients together reserving the salt and pepper until after it is mixed and then adjust seasoning to taste. Marinate the flank steak with half the chimichurri in a Ziploc bag for 1-8 hours. Reserve the other half for the sandwich.
Discard the chimchurri that you have used to marinate the steak and pat dry. Grill over medium heat for 3-4 min. a side for medium rare. Turning the steak only once to let a nice char. Let the steak rest for 5 min. and then slice against the grain in ¼" slices. Place on top of a naan bread and spoon on the reserved chimichurri. Fold over and enjoy!!
Adapted from Family Fun Magazine