Chef Aaron Sanchez Serves Chipotle-Grape Glazed Adobo Grilled Chicken
We all have back to school on our minds but Chef Aaron Sanchez is here to help you in a delicious way. Using wonderful California Grapes!! We made this amazing Chipotle-Grape Glazed Adobo Grilled Chicken while we were in California a week ago. Adding grapes into dishes is not only easy but gives you and your family a bumped up flavor like no other.
I had the privileged opportunity to speak with Chef Sanchez just before heading to California. He introduced me to this fantastic recipe of his and I couldn't wait to try it. Big juicy California grapes were on the list already to buy. So incorporating them into this recipe was easy.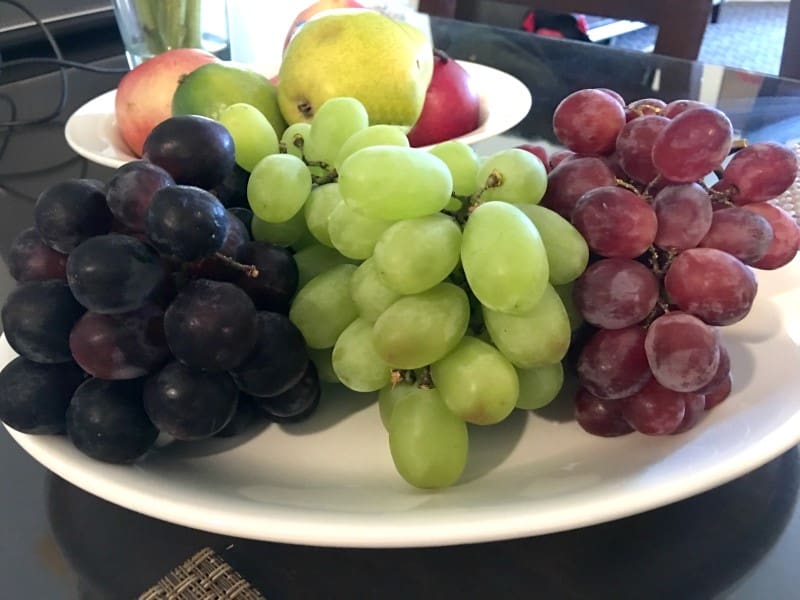 We made this recipe at the condo that were staying at, it has just the bare minimum of supplies but yet with a few tweaks it was a very easy recipe. We didn't have a brush to apply the glaze while barbecuing so I just poured the gorgeous sauce on top. It was an amazing meal and one that I would be very happy to serve at back to school time to my family.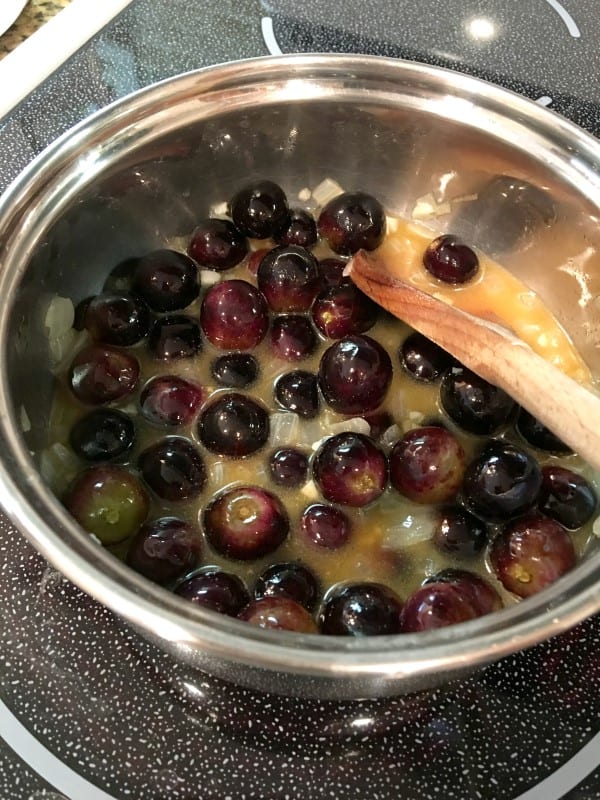 The sauce cooked up easily and the chicken grilled simply but putting this all together takes it over the moon. An incredible meal that we all loved.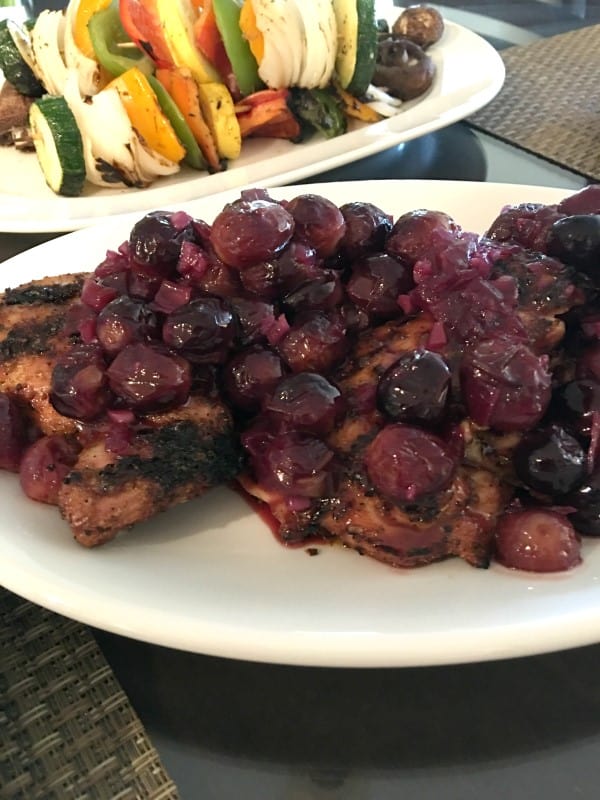 Chef Aaron Sanchez
Aarón Sánchez is an award-winning chef, TV personality, cookbook author and philanthropist. He is the Chef/Partner of Johnny Sánchez restaurants in New Orleans and Baltimore, and the co-star of Food Network's Chopped and Chopped Junior. Aarón is passionate about preserving his family's legacy through food and encouraging diversity in the kitchen.
Aarón shares that being a father has given him a deeper purpose in life – to provide for his son, and set an example for him. His family is his foundation and food is what brings them all together. Aarón believes cooking is a collaborative effort and provides an important opportunity to share quality time and meals with his family.
As a dad Aarón has found that "you shouldn't forget to get the kids involved in meal planning. If they're part of the process, chances are they'll select the healthy choices they enjoy the most and will be more likely to eat them."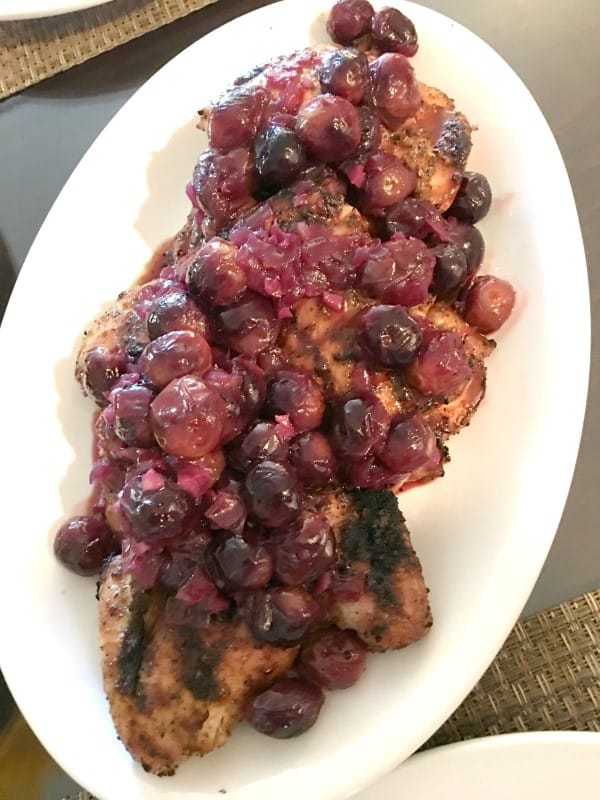 The close of summer marks an excellent opportunity to stir up new healthy habits for your kids and the entire family. After all, good nutrition is important for learning and that includes breakfast, lunch, snack time and dinner. Among the must- have ingredients in the Sánchez kitchen are grapes from California, which are versatile and can be enjoyed as a snack or incorporated into your favorite dishes including salads and desserts.
The Recipe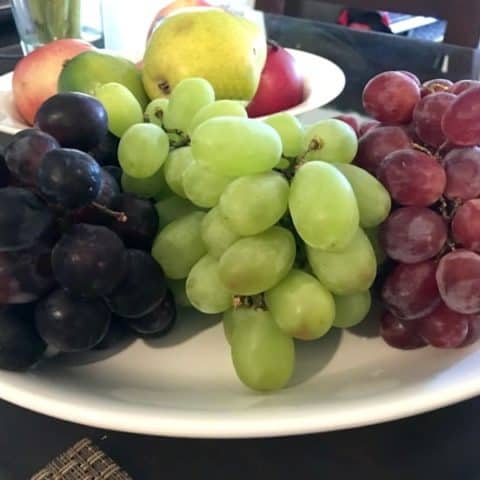 Chef Aaron Sanchez Serves Chipotle-Grape Glazed Adobo Grilled Chicken
Ingredients
Aarón's Adobo
¼ cup cumin seeds
¼ cup coriander seeds
¼ cup fennel seeds
¼ cup yellow mustard seeds
2 pasilla chiles, stemmed, seeded, deveined, and torn into small pieces
2 ancho chiles, stemmed, seeded, deveined, and torn into small pieces
½ cup dried whole oregano (preferably Mexican)
2 tablespoons onion powder
2 tablespoons garlic powder
¼ cup Spanish paprika (pimento), preferably sweet or hot
Chipotle-Grape Glaze
2 tablespoons vegetable oil
2 garlic cloves
¼ white onion
1 pound seedless black grapes (summer royal variety)
3 whole chipotle peppers in adobo sauce
1/3 cup granulated sugar
1/3 cup fresh orange juice
Chicken
4 chicken thighs (skinless & boneless)
Aarón's Adobo
Chipotle-Grape Glaze
Instructions
For Aaron's Adobo: Heat a dry skillet over medium-low heat. Pour in the cumin, coriander, fennel, and mustard seeds along with the pieces of pasilla and ancho chiles. Toast, stirring constantly, until it's very aromatic and just begins to smoke, about 3 minutes. Transfer the mixture onto a plate and let it cool to room temperature. Grind it to a fine powder in a spice grinder or clean coffee grinder. Put the powder in a large bowl and add the oregano, onion powder, garlic powder, and paprika. Stir them really well to combine.
For the Chipotle-Grape Glaze: In a sauce pot, over medium heat, add the vegetable oil and cook the garlic cloves and onion for approximately 5 minutes or until the onions are translucent.
Add the grapes, chipotle peppers, sugar and orange juice. Cook until the sugar has dissolved and has a caramel-like consistency, approximately 15-20 minutes. Reduce the heat to a simmer and continue to cook until most of the liquid has evaporated and has a sauce consistency. Remove from heat and set aside to cool. Once cool, transfer to a blender and blend until smooth. Set aside.
For the chicken: Rinse the thighs and pat dry, season with Aarón's Adobo.
Preheat the grill. Pat dry the thighs with couple of paper towels, Season chicken with adobo, salt and pepper. Place chicken on oiled grill skin side down and cook for 6 minutes on each side. When mostly cooked start basting with chipotle grape glaze; turning and basting until the thighs are cooked through and nicely caramelized. Let sit for 5 minutes, then serve.