Classic Mediterranean Hummus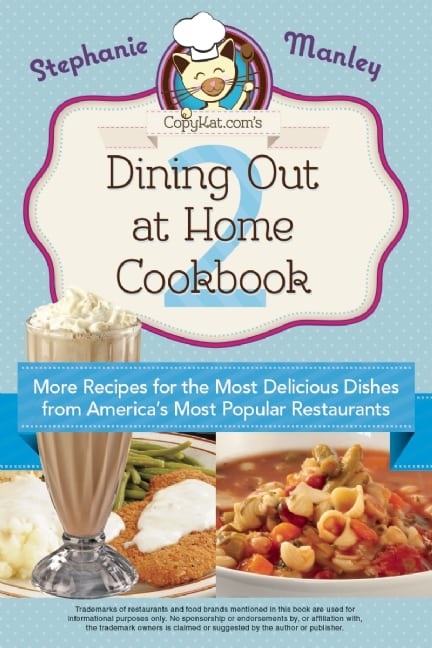 Today we are reviewing a cookbook called Dining Out at Home Cookbook 2. A great cookbook filled with copykat recipes from America's Most Popular Restaurants. Packed full of appetizers, soups, salads, entrees, and desserts.
You can now create over 200 recipes from classic dishes like Ihop's Banana Bread French Toast, Starbucks Eggnog Latte, Olive Garden's Grilled Chicken Flatbread, and Disney's Epcot Canadian Cheese Beer Soup to name a few.
Stephanie Manley, the author of this cookbook lives in Kingwood Texas, and is the creator and author of CopyKat.com. She has written recipes for restaurant-style dishes since 1995.
Easy recipes that anyone can make in their own home. CopyKat.com is known for its delicious recipes and is now one of the internet's most popular websites.
It has been featured in publications like the Wall Street Journal, Newsweek, and Woman's World.
The one downside to this cookbook is that there are no pictures at all. The upside is that you probably have seen many of these dishes before at all the wonderful restaurants.
I chose to make this Classic Mediterranean Hummus from T.G.I.Friday's.
They serve it topped with a traditional bruschetta mixture and crowned with creamy yogurt, a thin slice of jalapeno, green onions, and Sriracha sauce, it's served with grilled pita bread.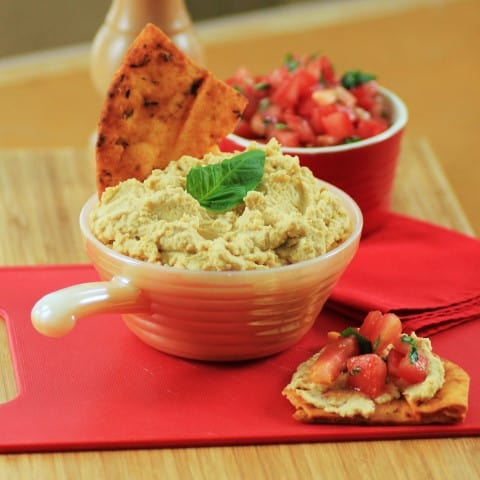 I love creamy hummus, my mouth is watering thinking of this again. It would be so good with the additional toppings too.
I made this for our Canadian Thanksgiving and brought it over to our friends. Thinking that the additional toppings would be too crazy to try to do at someone else's home I opted out on them.
I would just up the garlic in the recipe as I like it a bit more flavorful. I hope you try this, ENJOY!!!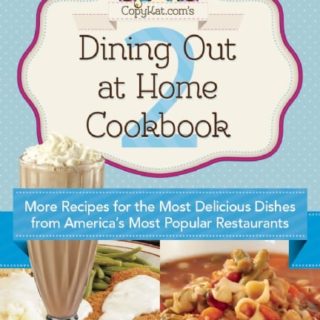 Classic Mediterranean Hummus
Yield: 4 Servings
Prep Time: 8 minutes
Total Time: 8 minutes
A classic hummus served up with traditional bruschetta!!
Ingredients
1 15 oz. can chickpeas, drained and rinsed
1/4 cup plain yogurt
1 tsp. minced garlic
1/2 tsp. Kosher salt
2 tsp. olive oil
2 Tbsp. freshly squeezed lemon juice
1/4 tsp. cumin
1 Tbsp. tahini
Bruschetta Topping
1 cup chopped Roma tomatoes
1 Tbsp. fresh basil
1/2 tsp. Kosher salt
1 tsp. minced garlic
2 Tbsp. olive oil
For serving:
4-5 pieces of pita bread
non-stick cooking spray
2 Tbsp. plain yogurt
1 thinly sliced jalapeno pepper
Sriracha sauce
1 Tbsp. sliced green onion
Instructions
To make the hummus: Use a food processor to combine the beans, yogurt, garlic, salt, olive oil, lemon juice, cumin, and tahini. Pulse until smooth and creamy.
To make the bruschetta topping: Combining the chopped tomatoes, basil, salt, garlic, and olive oil. Stir until just blended. (This will taste best if you make it an hour or two ahead of time.)
For Serving: To toast the pita bread, heat a griddle to medium-high heat. Spray the bread with a little nonstick spray and lay it on the hot griddle. You want to toast the pita just until brown marks appear. If you don't have a griddle, you can heat the bread in a hot skillet until it begins to brown. Cut the warm bread into triangles.
To assemble, scoop the hummus into a bowl and top with several spoonsful of the tomato mixture. The extra bruschetta mix can be served alongside, or refrigerated and used later. Add the 2Tbsp. yogurt in a nice dollop. Garnish with thinly sliced jalapeno-many slices if you like lots of heat, 2 or 3 slices if you like heat. Shake on Sriracha sauce to taste, and top with the green onions. Serve along with the pita triangles for dipping.
Nutrition Information:
Yield: 4
Serving Size: 1
Amount Per Serving:
Calories: 513
Total Fat: 15g
Saturated Fat: 2g
Trans Fat: 0g
Unsaturated Fat: 12g
Cholesterol: 1mg
Sodium: 1487mg
Carbohydrates: 77g
Fiber: 11g
Sugar: 10g
Protein: 19g
Recipe calculation was provided by Nutritionix and is estimation only. If you need nutritional calculations for medical reasons, please use a source that you trust.